As the presidential election looms in the U.S., we're getting more and more e-mails with comments and questions from those looking for a more welcoming environment in which to live.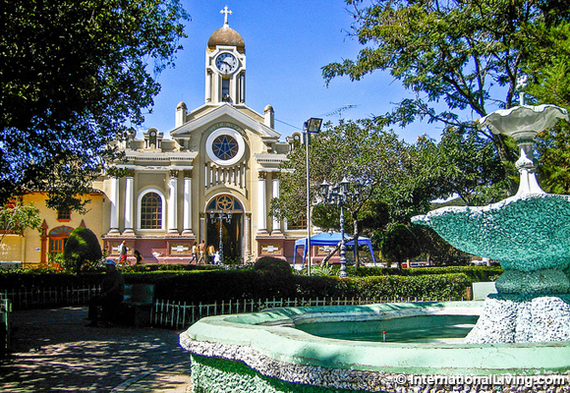 Central Plaza, Vilcabamba, Ecuador
More than a few people, it seems, are disenchanted with today's obsessive focus on politics. Some are concerned about what they describe as "oppressive government policies." Others worry about the rampant commercialism that infiltrates every aspect of life in the "Capitalist Kingdom" these days.
Some just want to escape the rat race once and for all. They're looking for "real communities" ... places where they can make a difference and find the freedom to live a more fulfilling life. A place where they can "disappear" for awhile from the venom and vitriol that floats through the U.S. at election time, like an unnamed virus.
This is something we have firsthand knowledge of ... In the states this summer visiting family and friends, the constant barrage of political news was exhausting. It's saddening. Maddening.
Lucky for us, in our hometown in Ecuador, we are far removed from this madness.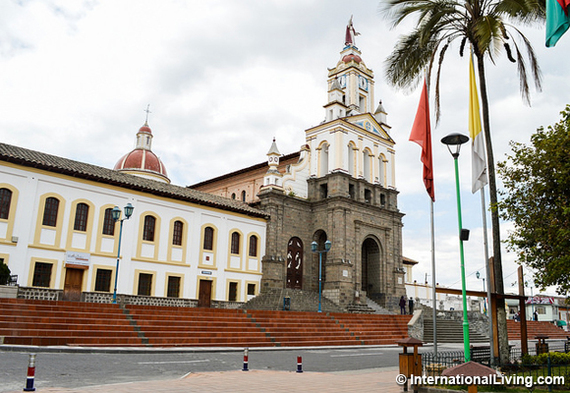 Church off Main Plaza, Cotacachi, Ecuador
Our local friends just shake their heads. "What's going on in the U.S.?" they ask incredulously. (Truthfully, they're just being polite ... most of them don't really care much about what's going on in the states, although the political circus is somewhat amusing.)
"Do you really think so-and-so can win?" they ask.
"It's anyone's ballgame," we say. Anyone can win, especially the candidate with the most money to spend on ads, personal appearances, and otherwise greasing the skids that lead to the White House.
Don't get us wrong ... we care very much about who wins the election, and we'll soon be sending in our absentee ballots. Who we -- as U.S. citizens -- choose as president reflects on our values as a society. And that value statement will soon be displayed quite prominently around the world.
We're happy, though, to be in Ecuador as summer begins to wane in the states. Temperatures may cool off, but the political rhetoric in the U.S. will be heating up to a hellish fever pitch.
In Ecuador, we barely notice it. The televisions in airports, shopping malls, bars and restaurants aren't turned to the incessant political garbling of Fox News, CNN, and MSNBC, but to soccer games, kids shows, local news, and telenovelas.
Local newspapers are full of stories about what's happening in Quito and Cuenca ... along the coast ... in the Amazon ... Hillary and Donald are thankfully relegated to a back page.
Sure, we can tune in to the theatrics if we want to -- we do have high-speed internet, cable, and satellite TV in our little mountain village. But we don't have to.
Personally, we rarely watch TV when we're at home in Ecuador (no political blather, no Kardashians, no Kanye...) Instead, we take long walks on mountain trails, or to our small local supermarket, or the open-air mercado where we stock up on fresh produce for our evening meal.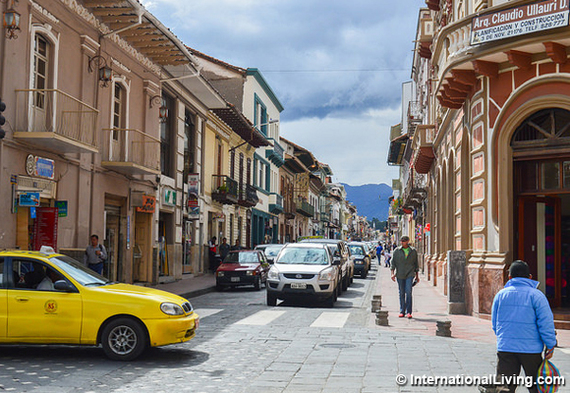 Busy Corner in Cuenca, Ecuador
The climate is perfect for walking ... never too hot and never too cold. That's thanks to our latitude and altitude. We live almost directly on the equator but at an elevation of about 8,000 feet above sea level.
Typical temperatures range from 50 F at night to 75 F during the day. And yes, we have a rainy season, and that's our favorite time of the year, when the hillsides are even more impossibly green than they usually are, and rainy, foggy evenings make for a perfect time to light a cozy fire.
Some days we stop for a coffee at the local coffee shop -- Ecuador is a coffee-growing country and coffee is fresh and delicious. And inexpensive. We throw down $1.50 for a chocolatey mocaccino and some spare change for a big slice of carrot cake or strawberry pie.
Maybe we'll go out to lunch. At El Convento, a gorgeous restaurant behind the local church on the main plaza we can dine al fresco in a pretty 18th century courtyard. For $2.50 each, we can have a creamy soup, an entrée of pork, chicken, or beef, served with salad, veggies, rice or potatoes, a dessert, and a beverage. All made right there, on the spot. A fresh bowl of popcorn is offered while we wait.
Sometimes we'll go out for dinner, too. More often, we might have friends to our house, or maybe we'll go to theirs. We'll pull out the guitars or turn on some music and watch the sun play against the mountains as its bids us farewell.
If it's just the two of us, after dinner we might watch a Royals baseball game on MLB.com or listen to it via an internet radio feed. Sometimes we'll watch a movie on Netflix.
Then we go to bed, windows flung open for a fresh, cool mountain breeze. And we get up the next day and do it all again. Unless there's a fiesta, parade day, or community service day...
You can bet, though, that while we'll be checking in now and again, we won't be listening to a constant barrage of political rhetoric. And that's just the way we like it.
This article comes to us courtesy of InternationalLiving.com, the world's leading authority on how to live, work, invest, travel, and retire better overseas.
PHOTO GALLERY
2016 Top 10 Best Places to Retire Overseas
PHOTO GALLERY
Hotwire's 5 Most-Booked Vacation Destinations