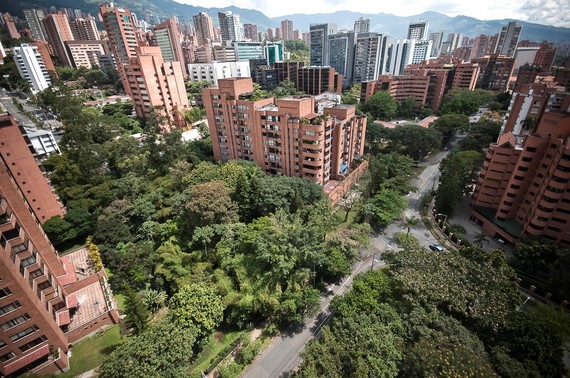 Arriving in Medellin yesterday afternoon was like coming finally to rest at the end of a sprint following a marathon.
Like all businesses, ours made a final-quarter push October, November, and December. Then we pushed harder right up until the holidays were upon us, laying the groundwork for 2016. Then we traveled from our home in Panama to the States to spend Christmas with family and old friends. The past two weeks have been filled with reunion brunches, lunches, dinners, and cocktail parties ... plus shopping, wrapping, giving gifts, and opening presents...
When we repacked our suitcases yesterday morning and set off from my mother's house in Baltimore, where we'd enjoyed Christmas, for the airport and the flight to Colombia, the bunch of us, Lief, me, our kids, and my mom, were frazzled and fatigued.
We boarded the plane in Baltimore with slouched shoulders and long faces.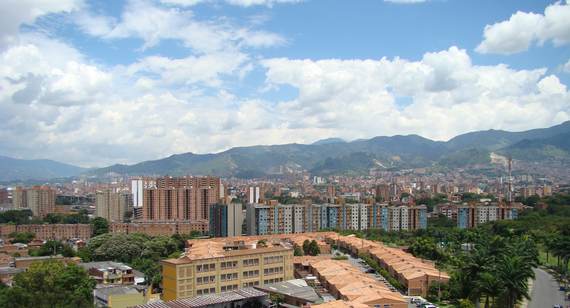 When we walked out from the airport in Medellin, it was our 16-year-old son Jackson who put words to it first.
"I don't really understand why," he said, after we'd loaded into a taxi for the drive down the mountain to the city, "but I suddenly don't feel as tired as I was feeling this morning..."
"Yes," responded my mom. "I know what you mean, Jackson. I feel like I can breathe easier... better. I feel brighter ... lighter, somehow."
"We have that reaction every time we arrive here," I said. "It's the climate, I guess, and the elevation. Coming out of the airport here is like stepping into a wellness zone."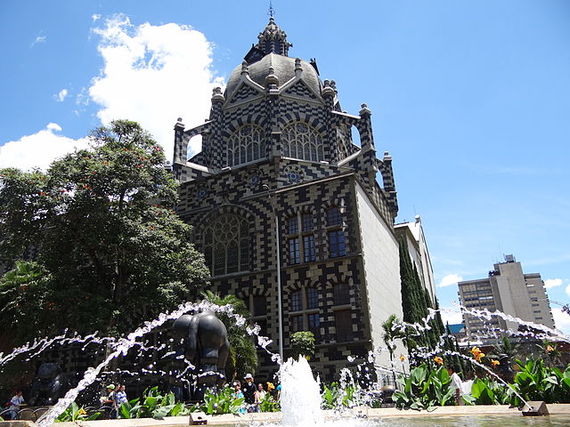 The crazy, hectic scene we'd left behind in Baltimore faded in a blink. Here before us now were clear blue skies, warm sunshine, colorful gardens, and rolling green fields.
"The countryside reminds me of Ireland," my mother observed as we continued down the hill toward the city. "It's like a patchwork quilt in shades of green.
"I told everyone back home how nice it is here," she continued, "after my first visit a couple of years ago. But no one believed me. They just humored me when I tried to describe what it's really like here..."
What is life really like in Medellin? Your life anywhere is part what you bring with you and part what you open yourself up to when you arrive. In our case, we've brought our daughter and her new husband, our son, my mom, and our laptops. As I write, Lief, our daughter, and our son-in-law are, like me, bent over their keyboards, helping to produce the dispatches and reports you'll receive from us today, tomorrow, etc. Jackson and my mother are bent over the living room coffee table, putting together a world map puzzle.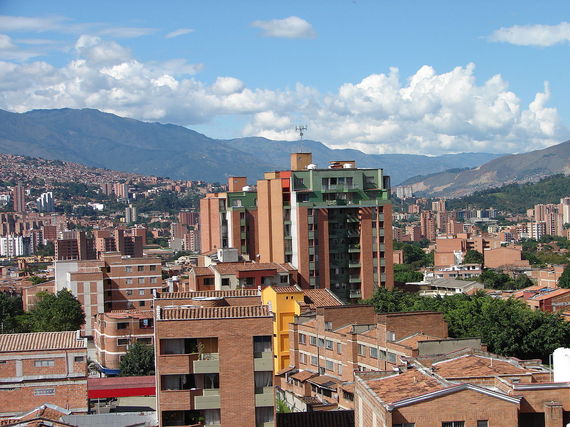 All around us, the windows and doors are open to the breezes. It's another sunny, clear blue sky day. The sounds floating in through the open windows are from birds and crickets and our neighbors greeting each other in passing. Next-door is a white-washed Spanish colonial-style church. This morning's mass ended a couple of hours ago. There'll be another this evening. The church hosts mass twice a day every day except Sunday, when there are four.
The view from the terrace is of the Medellin valley and primarily green. Our apartment is in the heart of El Poblado, the center of the city, yet everywhere is green... not only in residential neighborhoods like ours, but along the highways, too. Trees, shrubs, hedges, flowers, and plants of great variety are all around all the time. This city is so committed to keeping itself as green as it is that it requires developers to invest in parks and plantings along with their housing communities and apartment towers.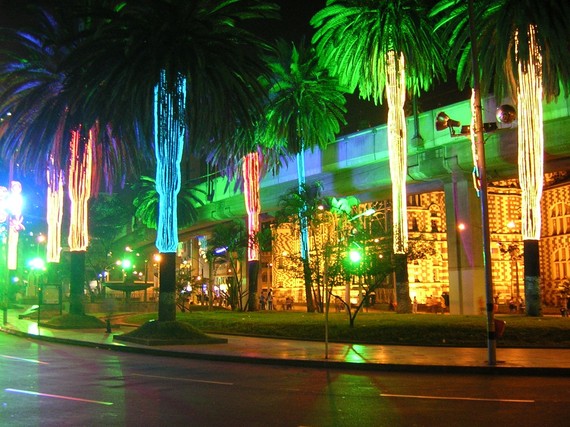 Right now, all the parks and public spaces are trimmed for the season. Tiny white lights and big colorful ones twinkle at every turn. Medellin hosts one of the world's biggest and best Festival of Lights each Christmas, which we intend to visit New Year's Eve.
Otherwise, our plans for the next seven days are modest, almost nonexistent.
"After the past two weeks, I'm really looking forward to doing nothing for a while," our daughter said yesterday when we arrived, articulating what we all were thinking.
For us, that's what Medellin is -- the most comfortable and pleasant place we know to settle in, settle back, and simply savor the setting, the circumstance, and the company. For our family, this is as good as it gets.
PHOTO GALLERY
Great College Towns For Retirees
REAL LIFE. REAL NEWS. REAL VOICES.
Help us tell more of the stories that matter from voices that too often remain unheard.