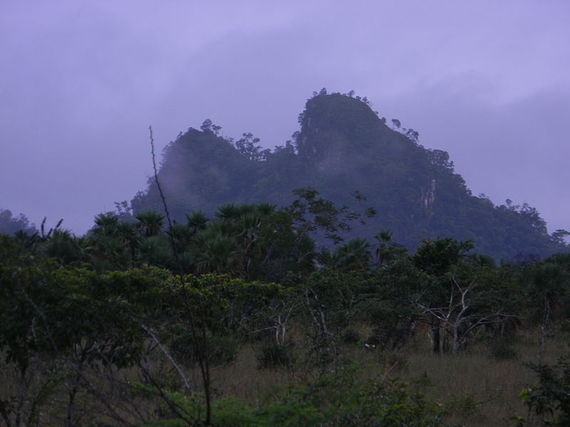 One year ago, David and Cathy Thompkins moved from northern Idaho to Cayo, Belize.
I'll let them tell you their story in their own words...
Cathy: When David came to me and said, "We are going to be retiring, and I really want to live outside the country," I replied, "Not with me! I don't know who you're going with, but it won't be me."
David (with a smile): Yes, Cathy wasn't open to the idea at first. Her only experience outside the United States at that point had been a trip to Paris, a birthday gift from our daughter.
I had been living in Europe before Cathy and I got married. I already knew that I wanted to travel. I wanted to see a bunch of different countries. But Cathy said no way. Then life took over. We had our kids, raised them, had careers. After the kids were grown, we had an opportunity to travel to Central America and Mexico.
Cathy: No, I was not open to this at all. Then, when we traveled a little around Ecuador, Panama, and Mexico, I thought, "Uh, OK... I can see where this is interesting." But I couldn't live in any of those places. I don't speak the language, and I knew I just wasn't going to learn it.
David: Then, about two years ago, we visited Belize. That experience -- the people that we met, the things that we learned -- was enough for Cathy to agree to come back later that year. We agreed we'd take it one step at a time. We returned to Belize a few months after our initial visit to look for a place to live, telling ourselves that if we found a place we liked we'd stay for a year.
Cathy: I thought I would be attracted to the Caribbean -- the beach, the sunsets, the white sand, the blue water. In fact, I made that part of my conditions for our extended stay. I told David I'd come back and try Belize out for a year but that we had to live on the beach. Fortunately, though, we made a plan to travel all around the country. We went south to Placencia. We went to the cayes and spent time in San Pedro. We went north to Corazol. I was interested in that part of the country because it's near to Chetzumal, Mexico, where they've got movies and Walmart and Sam's Club.
I wasn't interested in Cayo at all. I told David, "I am not living in the jungle. No way." I was picturing bugs, wild animals, and Pygmies or something, all running around everywhere. But I agreed to look all around the country, so we went to Cayo on a tour. And I fell in love with the jungle. Even more, I fell in love with the people in the jungle. The people of Cayo won me over.
David: Cathy was a social worker in the states. She loves people, and she doesn't like to sit idle. One big concern I had when we started seriously considering making this move was what we'd do with ourselves all day long, especially Cathy.
Cathy: That was a big concern for me, too, and it's a big part of the reason I was interested in Belize when I wasn't so interested in Ecuador or Panama. Everybody speaks English here. Belize is the easiest place in the world for people like us to meet people. That's partly because of the kind of people you find in Belize, but it's also because they all speak English.
I fell in love with Cayo for the people, but also because this is a more affordable place to live than the cayes. Also, it's cooler than on the islands or the coast. So we settled on Cayo as our location for our year-long visit. But I put another hurdle in the way. I said, "Let's see if we can find a place to live in Cayo where we'll be comfortable." I really didn't think we would, because I am picky.
Finally, the next to the last day of that trip, as I was thinking I was off the hook because we weren't going to find a place that passed muster. Then, that afternoon, we met a guy in a smoothie shop who made a call to a friend who knew about a house for rent. I agreed to go see the house even though it was in Cristo Rey village.
I'd said that I wouldn't live outside San Ignacio. I wanted to be in the main town, for the shopping and for the people. "Cristo Rey is too far away," I told David.
The next thing I knew we were driving up this road into the most beautiful area I had seen anywhere. We passed through a beautiful gate and came to a stream with waterfalls, and I thought, "We've found our house."
We met the landlord, put some money down, and I realized it wasn't going to be easy to get out of this now. I'd agreed. We'd committed.
After 32 years of marriage and four children, we were moving to Belize.
The next question was: What in the world were we going to do with all our stuff? Being married 32 years and raising four children results in a lot of stuff. What were we going to do with all of it? Our plan was to move to Belize for a year, to try out the idea, so we decided we'd take six of everything with us. The rest we'd put in storage. I packed six plates, six forks, six spoons, six tank tops, six pairs of shoes, six, six, six, because I thought that'd be enough for a year.
Then we showed up and unpacked our six of this and six of that. Now what?
Our first two challenges in Belize were food and relationships.
How do you go about finding food in this country? Don't laugh. It's not all that easy. You start with the Chinese grocery stores. All the grocery stores in San Ignacio and Santa Elenea, the "twin cities" of Cayo, are owned by Chinese. This is where you get your basic supplies but not your produce. For produce, you go to the open-air market. Find a vendor you like and get to know them, ask their name. We've gotten to know a very nice lady. She gives us good deals, and she's also teaching us about Belizean fruits and vegetables, showing us how to prepare and eat some things we had never seen before.
Shopping for food here is similar to shopping for food in Europe. You go to meat stores to buy your meat, you go to a bakery to buy your baked goods. It's all fresh. The cattle you see grazing in the fields... that's the beef you're buying in the meat shop. It's all very healthy.
The other big thing we had to figure out when we got here was relationships. My family, our kids, everyone thought we were crazy for doing this. "You're going where and why?" they wanted to know. In the beginning I tried to explain what we were doing by saying it was David's dream. And so they'd say, "Well, OK, you'll be back in a year." That was one part of the relationships challenge -- staying connected with friends and family in the states who really didn't get what we were doing.
The second part of the challenge was meeting new people here. This part was way easier to deal with because it's way easy to meet new people here. I thought I had a lot of friends in the United States. We have many more friends in Belize, all different kinds of friends. Not just people like us, in our age group, in our church, or at our gym. I'm talking diverse ages, diverse ethnicities, diverse mental health (no kidding!) -- diverse. The people here are so interesting.
I decided when I moved to Belize that I was going to be outgoing. Being shy when making a move like this just is not an option. As soon as we got here, we started going to everything expat we could find.
David: Once a week, we shoot darts. I had never played darts in my life, but in San Ignacio there is an open-air bar with New Jersey-style pizza. A couple of people from New Jersey make the pizza and provide free beer. You can't beat it.
Once a week, we go country line-dancing. There are a lot of people here from Texas who think that country dancing is the only way to go.
We go to potluck lunches and dinners. At one, I sit at the men's table and Cathy sits with the women. These are all different groups, not the same people going from activity to activity. In other words, there are a lot of expats living here in Cayo, many more than we would have guessed at first.
Cathy: We've gotten to know so many people here, and these relationships are taking the place of what I used to distract myself with. We used to go to the movies or watch TV. We don't do those things here. In the winter, in northern Idaho, where we're from, it's cold. For seven or eight months out of the year, people cocoon in their houses because it is freezing. Everyone is isolated for much of the year. Here it is beautiful all year round, and everyone is outside all the time.
David: Of course, it's not all sunshine and flowers. Some challenges are ongoing. In the area where we live, the Internet is beyond slow. In the States, 1MB to 3MB is slow. Where we are living, I'm not even getting 1KB per second. I'm getting 500 bytes. I scheduled a software upgrade, and I got a little message on the side telling me how long it would take: 23 days 14 hours and 8 minutes. In other areas of the country, the Internet is better -- not super fast but a whole lot faster than what we've got. It depends where you choose to live.
Cathy: So here we are at the end of our trial year. What are our plans now?
We're staying put. We have no intentions of returning to the states. We love it here.
I came to Belize with the idea that I would suffer through a year for my husband. It was his dream, so I agreed to give it a try. Now it's my dream. I feel like this is my dream come true, a dream I didn't even know I had.
This year in Belize has taught me that I can do anything I want. A year ago, I didn't feel that way. A year ago, I felt my life was over. I was being forced into retirement from a job that I loved to sit at home. Belize has changed everything. Here in Belize I've made new friends who are just as close to me as family. Belize has given me a second chance, a whole new life.
PHOTO GALLERY
10 Worst Places To Retire
REAL LIFE. REAL NEWS. REAL VOICES.
Help us tell more of the stories that matter from voices that too often remain unheard.