So you're thinking of retiring to Latin America, are you? Then you'd best learn some Spanish. At least a little, por favor. Not only will it enrich your experiences living, traveling, and interacting with people in your new home country, but it will certainly save you money and could even save your life.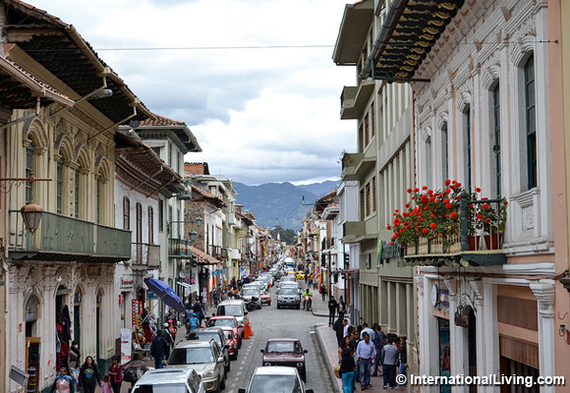 Busy Street in Cuenca, Ecuador
Sure, there are plenty of locals in Latin America who speak English and will kindly come to your rescue in every situation ... from asking directions, to making an inquiry at the bank or a doctor's office, to requesting a toilet plunger at the hardware store, or -- heaven forbid -- something of an even more personal nature.
(Pantomime works, yes -- but only so far -- and at what damage to your self-respect?)
Even just knowing your numbers is a good start. As beginners, we had difficulties with the easiest of things ... like the numbers dos (two) and doce (12). Pronounced dohss and dohss-ay, they sounded similar enough to our untrained ears that when we were quoted a price, we had to stop and think -- was it $2 or $12? Surely we may have erred once or twice and spent more than we should have.
And once, on a small island off the coast of Venezuela, we waited in the hot sun for a ferry to return us to our hotel on another island. It leaves at "dos," they told us. At least that's what we thought they'd said. So off we went to grab a bite of lunch and when we returned at 2 p.m., we learned the ferry had come and gone, at ... you guessed it ... 12 noon.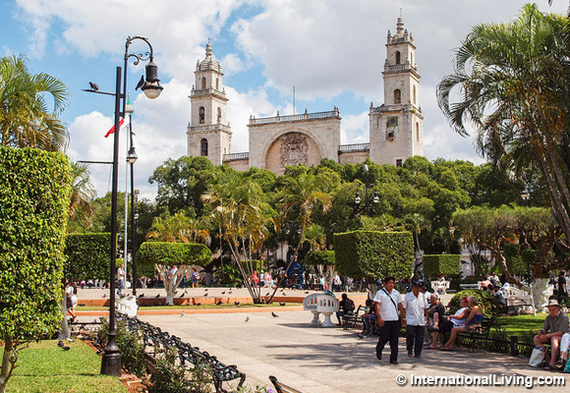 Plaza Grande in Merida, Mexico
Those are minor inconveniences, of course. But if there hadn't been a later ferry, we'd have been stuck.
But what if you retire to Latin America? As you know, many retirees are living the good life in Mexico, Costa Rica, Panama, Ecuador, and beyond. They're finding that not only is the weather better, but their retirement income goes two to four times as far when they head south from the U.S. or Canada.
In Latin America, they speak Spanish. (Belize is the only country in Central America with English as the official language, although you'll also find it commonly spoken on the Honduras island of Roatán and Nicaragua's Corn Islands, both in the Caribbean.)
So what happens when you're awakened in your new homes in Latin America in the middle of the night by the smell of smoke ... and you see that the vacant lot down the street is on fire? Will you be able to summon the bomberos?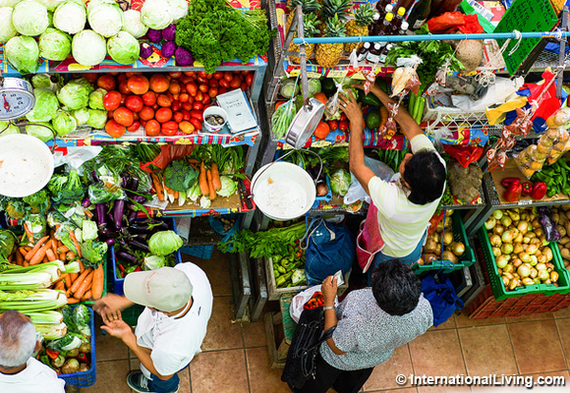 Local Feria in Panama
At the very least, you must learn your numbers so you can recite your telephone number and address in Spanish. It's not at all hard to do. In fact, that's the reason we were taught to count as children. Numbers are about the easiest thing to learn. (We quickly got over our dos and doce hurdle during that trip to Venezuela.)
Right along with all the other things you do to prepare for your move overseas, we heartily recommend getting a jumpstart on your basic Spanish skills. Yes, it takes persistence. Repetition is key. Pronunciation is critical. And for sure, you will embarrass yourself ... probably more than once.
But despite what you might think, you can teach and old dog new tricks. You can learn Spanish. You may not ever be fluent, but you can (and need to) be functional.
Think of learning a new language as one of the fun adventures in your upcoming retirement. We always recommend that once you settle in, you immediately start your language lessons. It's only right -- and polite -- to learn the language of your home country.
Organized classes will help you with far more than just learning words and numbers. You'll get a great introduction to the culture of your community. You'll make friends -- both your fellow students and the teachers, who will introduce you to other locals and their way of life.
Most language schools offer cultural outings -- dance classes, an introduction to the local cuisine, the customs, and holidays, making it well worth the time and expense to sign up for classes. Many even offer homestays if you want to totally immerse yourself in the language -- truly the best way to learn.
Or start before you ever leave home by taking classes online. There are many programs and services out there and many of them are free.
A silver lining is that you already know more Spanish than you think you do. For instance, amigo (friend), cerveza (beer), baño (bathroom), and casa (house). And the good thing is that many Spanish words are very similar to English words... like nacion (nation), banco (bank), and carro (car).
Once you learn the basics and you add a little more to that every day, you'll quickly be on your way to conversing with your new Latin American friends.
By the way, did you know there are more than 45 million Spanish speakers in the U.S. these days? There are more Spanish speakers in the U.S. than there are speakers of Chinese, French, German, Italian, Hawaiian, and the Native American languages combined. And in Canada, estimates are that there are almost one million native Spanish speakers.
In fact, experts say there half a billion Spanish speakers in the world today. Think about how great it would be if you could have even just a basic conversation with even just a handful of them?
Take it from us, knowing a bit of Spanish will greatly enrich your experience when you live or travel in the Spanish-speaking world ... and maybe even at home.
This article comes to us courtesy of InternationalLiving.com, the world's leading authority on how to live, work, invest, travel, and retire better overseas.
PHOTO GALLERY
7 Factors To Consider: Moving Overseas
PHOTO GALLERY
6 Warm-Weather Getaways
Calling all HuffPost superfans!
Sign up for membership to become a founding member and help shape HuffPost's next chapter