This article comes to us courtesy of InternationalLiving.com, the world's leading authority on how to live, work, invest, travel, and retire better overseas.
Isabelle and Robert Shahverdians lived and breathed stress and chaos in Los Angeles. Their lives were filled with long work days and long commutes, all to pay for life in the fast lane.
Robert had a catering business, while Isabelle worked in art galleries and museums. During their 20 years in California, they enjoyed "good money, good times, and good business," Robert says. But into the 21st century, L.A. was changing -- it was more crowded and competitive than ever. They became aware of more shootings. And they grew disenchanted with their way of life.
"We worked harder for less," says Robert. "We thought we could do better, have time for ourselves, and enjoy a better quality and a more natural way of life."
After a trip to Costa Rica in 2003, they knew they wanted to move permanently to somewhere in Central America. "We missed living in nature, surrounded by nature," Robert explains. "Central America seemed to have the natural lifestyle we were looking for."
They explored Costa Rica and considered Nicaragua. But it was after a visit to Panama that they fell in love. Here was a country where people were friendly and newcomers could find plenty of opportunities for starting a new business.
In August 2005 Robert and Isabelle made the leap, renting a furnished three-bedroom home on the town square in Pedasí, about five hours from Panama City. They lived there while they finalized the purchase of a five-acre property with a view of the Pacific Ocean.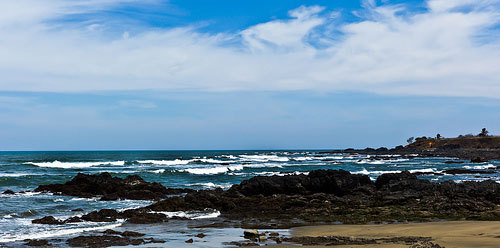 Photo by Hugo Ghiara, InternationalLiving.com
Although the building process took longer than they expected, they found that building materials were less expensive than in the States and that labor was a fraction of U.S. cost.
According to Robert, you can expect to pay a Panamanian laborer per day about what you'd pay someone per hour in the States. Pay for professional contractors is about $25 or $30 a day and laborers, gardeners, and household help about $15 a day.
Today the couple spend their time running their small bed and breakfast, La Rosa de los Vientos, or "The Wind Rose," which is walking distance to a volcanic-rock beach with a mostly-local presence.
Instead of competing in the stressful catering industry in bustling L.A., Robert cooks healthy breakfasts of farm-raised eggs, fresh fruit, and local, robust coffee for guests from all over the world. Instead of rushing to and from work, Isabelle wakes with the sun and enjoys her days in a natural setting, complete with languid sea breezes and the constant chattering of hundreds of birds.
The pair claims that their health is better in Pedasí, Panama. "We don't get colds or flu. We have a lot less stress. We live more naturally," Isabelle explains. "We tend to go to bed earlier and get up earlier. We're more rested overall."
She also attributes better health to the lack of junk food. If you can even find it in the stores, junk food is more expensive. "Eating locally is the way everyone eats in Pedasí. Everything is seasonal," says Robert. "Fruits and vegetables grow and we eat them until we're sick of them and then they're done."
The couple love how Panamanians are so friendly and social. When they first moved to Pedasí they were among the first foreigners (nowadays there are more tourists). They felt accepted into a safe and caring community where everyone treated each other with respect.
"When we lived on the square in Pedasí, it was like a big community, a big family. Everyone watched out for each other," says Robert. "And here where we live now, just a few minutes' drive from the center of town, it's the same."
Most people here live their days outdoors and go inside only to sleep. "In California the area where you spend time with your family is usually the backyard," Isabelle laughs. "Here, it is the opposite. They put the backyard in the front of the house. They put a chair in front and greet passers-by."
Health care doesn't concern them. If they need simple services or basic medications, the local public health clinic suits the couple fine, at prices unheard-of in the United States. For instance, a few years back, Robert broke his arm. He was stabilized at the local clinic in Pedasí and then driven in an ambulance to the hospital in Las Tablas. A nurse rode with him to the hospital, where he received x-rays, saw a specialist, and was put in a cast. The cost of the entire day of health care? Only $1.
For basic care the couple feels extremely comfortable going to the local doctors. In their old life in L.A., they paid $600 a month for health insurance; here, they pay $29 a month.
They say their biggest challenge has been going through the administrative process of building a home in Panama as an expat. Still, costs were low. And the prize at the end was a true and simple Paradise. So the building process didn't really faze them.
"We came here at just the right time," Isabelle says. "There were still possibilities to buy the land we wanted to buy, and at a good price. We knew it the moment we saw it, when we got to the point where our driveway would be and saw that the view opened up to the ocean."
The couple shop at local markets for their supplies, with the occasional run into the larger towns of Las Tablas or Chitre, a couple of hours away.
They keep themselves busy running their bed and breakfast, but they find that it attracts so many like-minded individuals looking for tranquility and awareness that it's well worth the effort. Panama has become popular among expats seeking a warm-weather Paradise. Prices for food, rental housing, and land are cheaper than what you'd expect to pay in the States or Europe.
Still, costs have risen since foreigners moved in. Food prices have increased by about 50% since 2006, says Robert. But more money coming in means more jobs in construction, hotels, and restaurants.
"Mostly people are very friendly and open here. They are still not overwhelmed by tourism and will take the time to understand you if you don't speak Spanish, especially if they see that you're trying to. They take the time to listen to you."
For those looking to move to Panama, the Shahverdians recommend that you find a place you really love before you decide to hang your hat. "Don't rush into it. Rent first and get a feel for how people live," advises Isabelle.
"You have to be willing to adapt to a different way of life," Robert adds. "Some people complain all the time, not getting it. But then, what are you doing here? You cannot change your neighbors in Panama. They've lived here forever and this is how they choose to live."
Robert and Isabelle can't imagine a better way of life than the one they've chosen in Panama. Even when they truly "retire," their plans don't involve moving from Panama. Rather, their next dream is to simply buy land away from Pedasi's heat and salt air where they can more easily grow their own food. They want to live near a river, where they can have fresh water.
"We got what we wanted. We have absolutely no regrets," Isabelle says. "We hesitated at first, since you're always afraid to leave everything behind. But we are so glad we moved to Panama. The only regret was that we waited so long."
PHOTO GALLERY
Awesome Dads
Calling all HuffPost superfans!
Sign up for membership to become a founding member and help shape HuffPost's next chapter