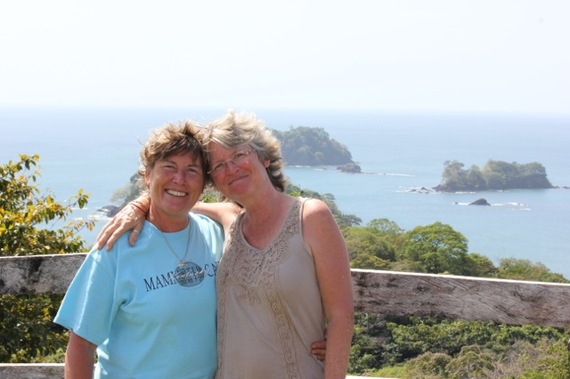 Two-and-a-half years ago, Peg Fairbairn and April Hess moved, together, from Texas to Panama. Here's their story, in their own words...
"I was a schoolteacher for 30 years," Peg begins. "For 20 of those years, I taught hormonally stressed adolescents. When I retired in 2008, I was ready for an adventure."
"The good news was that Peg had a teacher's pension to retire on," April continues. "I'd worked my whole life, too, but I had no pension. That meant the two of us would be retiring on the income of a single teacher's pension.
"Then we went to a neighborhood party," April explains, "and a friend had just gotten back from Uruguay. He was talking about a waterfront community there for expats.
"I asked him: What's an expat? I'd never heard the word before. The next day, Peg got on the computer and started researching the idea," April says.
"I found an article by a lady called Kathleen Peddicord," Peg says, "and I saw an ad for her book, 'How To Retire Overseas.' Twenty minutes later, I was in line in Barnes and Noble buying the book.
"When April came home from work that day, I told her, 'I've figured it out. We're going to retire to another country," Peg says.
"I showed her the book and told her it was the answer for us. She took a little persuading but not a lot. We both got really excited about the idea from the start."
"The trouble," April continues, "was that we had no idea where to go. We knew we needed someplace cheap because we had only the small, fixed income. And we needed someplace safe. Safety was critical for us. We were two women thinking about making this move on our own. We also wanted good health care and easy access to the States for visits with family.
"We'd been to Costa Rica. In our research, Panama and Uruguay got our attention. We decided Uruguay was too far and Costa Rica was too expensive. So we focused on Panama."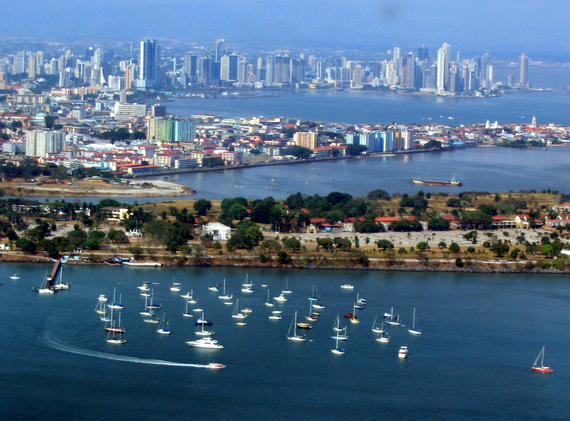 "April was still working, but I was retired, so I was spending all day every day researching Panama," Peg explained. "I mean, I was on this!
"Online I stumbled onto two development projects in Pedasí. I contacted both developers and started conversations. One of them had me convinced after one day that if I didn't buy right then, right away, the opportunity would be gone.
"So that night when April got home, I said, 'OK, we're buying this lot. And we need to move quickly. But don't worry. I got this. We just need to send 20 percent of the money tomorrow...
"April looked at me as though I'd lost my mind. 'We're not buying anything until we've seen it first!'" she told me.
"The next day, April went to work, and I was back online. This time I found and a link to a development in another part of Panama, in Veraguas. The developer was offering an excursion tour.
"Well, April told me we should go see for ourselves, I thought... and so I signed us up," Peg says.
"That night when I walked through the door," April remembers, "Peg told me she'd booked us a trip to Panama in two weeks. Fine, I told her, but we're leaving the checkbook at home."
"That was February 2011," Peg continues. "We traveled with a group of six other people out to see the property on the Veraguas coast. It was jungle. There was no road. We hiked in with machetes in hand. I was like, 'where's the beach house?' These were very early days. There was nothing there yet. But we loved it. It was amazingly beautiful. We were sold."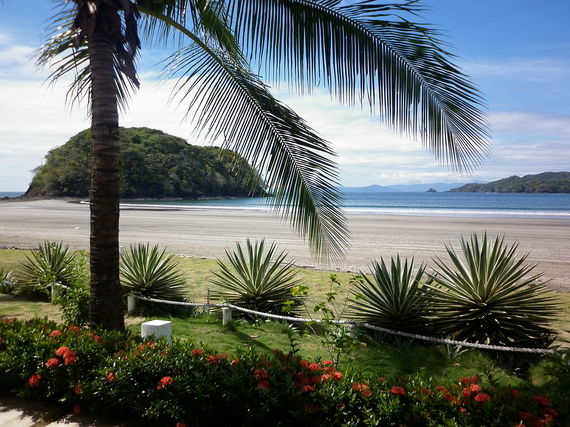 "We didn't have our checkbook, but we did have PayPal. We bought a building lot on the spot. We were moving to Panama."
"Then we went back home," April continues, "and we told our families what we'd done. They all thought we'd lost our minds. The enormity of what we'd set in motion began to settle in.
"We'd both lived in the United States our whole lives, but neither of us had seen more than a handful of states. Now we were leaving.
"So I had a great idea," April says. "We'd take a year to tour our home country before moving to a new one. We bought a fifth-wheel RV and drove from coast to coast, seeing almost every state."
"Now, neither of us had ever driven anything like this in our lives," Peg adds, "but the salesman told us we could do it!
"What a trip that was. We had three flat tires and got rammed and then stranded in Massachusetts for six weeks. One morning we woke up and a tire was gone. We still don't know where it went.
"We didn't plan it this way, but that trip was great preparation for our move to Panama in every possible way. We learned how to travel, how to keep in touch, how to keep up with mail, how to live in a small space with only bare necessities, and how to rely on ourselves for everything. We learned how to problem solve on the fly. We had no choice.
"And that's what life is like here in Panama. You just have to figure it out.
"After that year on the road in the States, we were ready. We began getting all our documents together and facing the practical logistics of a move like this. How would we get ourselves, our stuff, our two dogs, and our two cats to Panama? How much luggage should we plan for? What should we bring with us?"
"We made a deal that we'd each bring four suitcases," April explains. "Peg packed all her knives and kitchen things. I packed high heels and winter clothes."
"She's used my stuff way more than I've used her stuff," Peg says.
"Our pets were the biggest problem," April continues. "Finally, we thought we had everything figured out, but then we found out that the cage for one of the dogs was too big for the plane and that the cats had to go cargo, not in the cabin. Then we found out that, if a plane is too full, they can bump the animals, even at the last minute, no notice. In the end, we hired a pet relocation company and were glad we did.
"Finally, we were all in Panama."
"We decided to begin our new lives with some language study," Peg explains. "We found a Spanish immersion program in Pedasí, so that's where we went first. Pedasí is a nice little town on the east coast of Panama's Azuero Peninsula. We found a cute local house that we rented for $600 per month. This was very basic living. No hot water, no oven, no washing machine, no closets, no TV...
"It was simple and basic, but we loved it. We had a great time.
"After a few months in Pedasí learning Spanish, we were ready to move closer to the place where we planned to build our house. We moved first to Santa Fé, which is a beautiful mountain town in Veraguas, then, recently, we moved to Palo Seco, which is where you'll find us until our house is finished. We broke ground last week, and we couldn't be more excited.
"We never could have predicted that this new life in Panama would be our retirement. Years ago, we never would have imagined this. It's been a great big incredible adventure, and we're really only just getting started."
PHOTO GALLERY
6 Warm-Weather Getaways
Calling all HuffPost superfans!
Sign up for membership to become a founding member and help shape HuffPost's next chapter