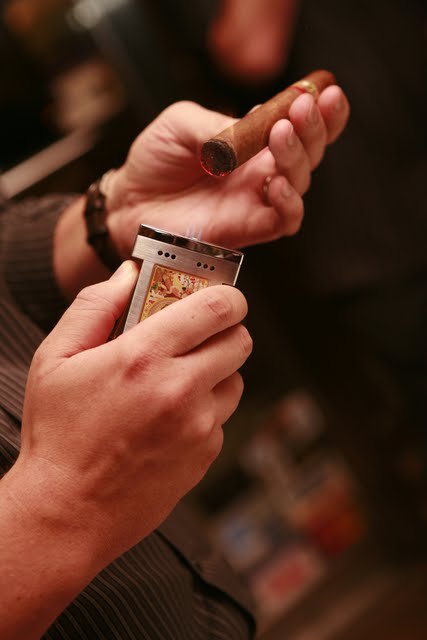 The smoking ban has been in effect for years in New York City, and new measures are proposed with alarming regularity for so-called "brothers of the leaf." If you like to cut and light, it's tough to find an accommodating place. Only a handful of bars in Manhattan allow you to smoke a cigar while imbibing or munching, and each has its problems. Seeing a gap in the market -- and an opportunity to help cigar smokers out -- one New York tobacconist has found a unique solution.
De La Concha has been at its Sixth Ave location -- between 56th Street and 57th Street -- for more than 40 years. The regulars can be found daily in front of the store's floor-to-ceiling, wall-to-wall window, but there are occasions when the cigar retailer becomes a restaurant - with help from local dining destinations Uncle Jack's, Rue 57 or Obika - and provides an unusual cigar and culinary experience. Cigar smokers lucky enough to visit Manhattan would be wise to check in with De La Concha to see if there's a cigar dinner planned at the same time as their trips.
The concept is as simple as it is effective: tables are set up throughout the store, and customers can enjoy a meal with a cigar celebrity, while smoking several cigars paired with an open bar. There are raffles and speeches and such, but the main event is the meal and what you puff between bites.
I attended the most recent dinner, involving Jesus Fuego, a cigar savant who now has his own line of tasty sticks. In addition to meeting and hearing the details on each of the night's cigars from the maker himself -- not to mention watching the waiters march down Sixth Ave from Rue 57 with trays elevated to provide the evening's sustenance -- I was struck by the camaraderie of the occasion. I'm no stranger to the cigar culture, having been a part of it for a decade and a half and having attended De La Concha's dinners for two years. Nonetheless, the procession on a major Manhattan avenue's sidewalk remains an impressive sight.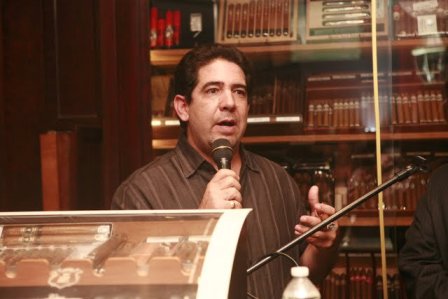 For cigar smokers, this is a return to days we haven't seen in nearly a decade, when one could cut into a steak and top it off with a cigar at any number of restaurants. The events at De La Concha, which are held almost monthly, make the impossible possible. You can finally smoke and dine at the same time in a city that continues to become as unfriendly to cigar smokers as possible. Hit De La Concha on your next trip, especially if there's a cigar dinner: it's an experience you won't forget.
Popular in the Community