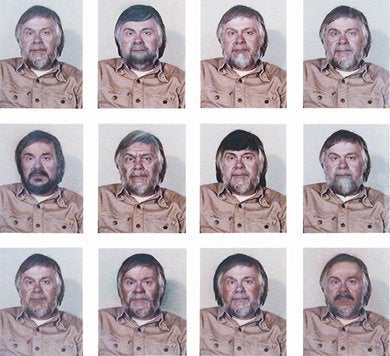 For as long as I can remember the name John Baldessari has been synonymous with brilliance - even near godliness - in the Los Angeles art world, but global cognizance of his monumental influence on contemporary art is a far more recent development. In the past decade, it seems as though the international art world has "rediscovered" John (and the art market finally stumbled upon him).
The Baldessari renaissance reached new heights in October (2009) as the art world's most prominent leaders - Nicolas Serota (Tate), Michael Govan (LACMA), Ann Goldstein (Stedelijk), Iwona Blazwick (Whitechapel), Julia Peyton-Jones (Serpentine) and the like - gathered high above the Thames and raised their Champagne flutes to the artist on the occasion of his major traveling retrospective John Baldessari: Pure Beauty opening at the Tate Modern. Following a spectacular (and critically-acclaimed run) in London, the exhibition spent several months in Barcelona (Museu d'Art Contemporani de Barcelona, 5 February-25 April 2010), and opens officially in the artist's hometown this Sunday (Los Angeles County Museum of Art, 20 June-12 September 2010).
Last week, John's friends and supporters in the LA art community gathered to toast him once again (and pat ourselves on the back that we knew about his greatness long before the rest of the art world so warmly embraced him). The usual suspects of curators, collectors, and gallerists were all accounted for, along with renowned artists Mike Kelley, Chris Burden, Nancy Rubins, and Ed Moses, but the greatest testament to Baldessari's sphere of influence, was the number of younger artists on-hand, such as Edgar Arceneaux, Alexandra Grant, Karl Haendel, Shana Lutker, and Diana Thater. The words "brilliant," "insightful" and "eye-opening" seemed to flow like the wine, along with promises to be back for second, third, and maybe even fourth visits to give the conceptually-rich exhibition its due diligence. The show closes September 12; I suspect I'll be "living" at LACMA until then...
Popular in the Community