The anti-war movement had a small but important victory today, not in the form of legislation on Iraq, but rather in the reemergence of a prominent aide to Senate Majority Leader Harry Reid, D-NV.
Susan McCue, who held the title of Reid's chief of staff before leaving to serve as an executive for the ONE Campaign, announced today that she would return to consulting her former boss.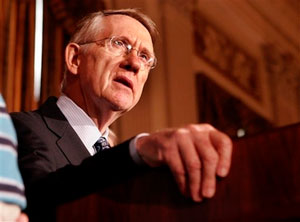 "This is going to be a really important election cycle for Democrats and I look forward to being part of the process," McCue told the Huffington Post. "Now is the time to reengage after being at ONE for a year, and [there are] many opportunities with [Sen.] Reid to advance Democrats in many areas."
The move, which should take place by December 1, was applauded by some activists, many of whom view McCue as a strong voice on the Iraq war.
"Rocky had Mick, Reid has McCue," said Tom Matzzie, Washington director of MoveOn. "This is great news."
"She is very smart and adept and was very important in doing good work in the leader's office," another top figure in the anti-war movement told the Huffington Post. "It was a big loss when she left."
On Capitol Hill, aides were already anticipating a more progressive and perhaps aggressive agenda for the Majority Leader.
"Susan has deep roots in [progressive] communities and they trust her," a Democratic aide told the Huffington Post. "She's long been Reid's eyes and ears in those and other liberal groups. I can't imagine anyone thinking her return to the fold is anything but great news."
Calling all HuffPost superfans!
Sign up for membership to become a founding member and help shape HuffPost's next chapter