Youngest New Kid on the Block, Joey McIntyre, returns to television. Fans can catch the premiere of his show, Return of the Mac, on Wednesday, April 12 on Pop TV at 8:30 pm EST/ 7:30 pm CST. Return of the Mac is Pop TV's newest original comedy series. McIntyre plays a version of himself—he is both the star of the show and Executive Producer. I interviewed McIntyre when he came to Studio Xfinity in Chicago, Illinois on March 29. We talked about New Kids fans, Return of the Mac, his dream celebrity guest stars, and New Kids on the Block's recent appearance on Fuller House. The line to meet McIntyre wrapped around the block. To accommodate fans, McIntyre started signing autographs and taking pictures early and stayed after the event was supposed to end.
Return of the Mac: Not Just a Show For New Kids Fans
I had a chance to preview the pilot and second episode. Return of the Mac is a treat, and it's not just for New Kids on the Block fans. It's a half-hour scripted comedy that blends in McIntyre's real life family (his wife Barrett and three kids are in it), celebrity appearances (like January Jones), and a story about a celebrity trying to do a serious TV show with TV executives who do not take him seriously. Return of the Mac pokes fun at our reality TV-obsessed culture that will pay to watch celebrities do virtually anything—the more ridiculous, the better. The pilot opens up with a scene of McIntyre wearing a spandex leotard at a circus. The show takes advantage of McIntyre's underrated comedic timing and follows his character as he reluctantly takes on the job of a late night talk show host at a fledgling cable network. In addition to his work with the New Kids on the Block (who have another summer tour starting in May featuring opening acts Paula Abdul and Boyz II Men), McIntyre has a versatile acting resume on and off Broadway that includes Wicked, "The Fantasticks," and Tick Tick BOOM.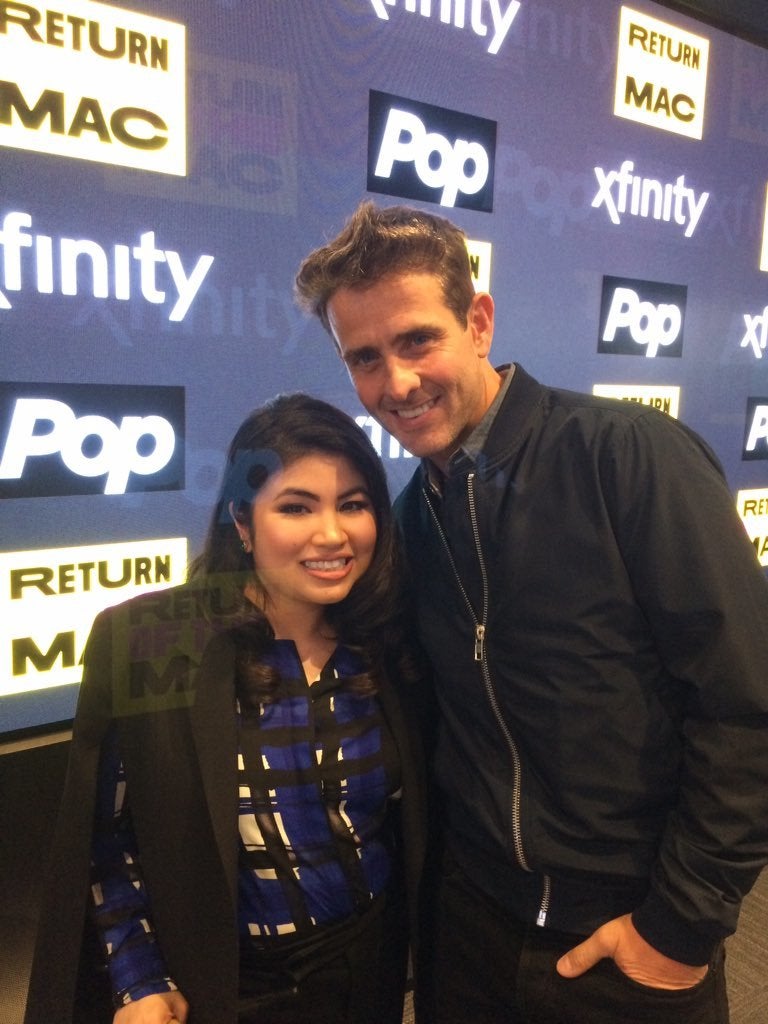 My Interview With Joey McIntyre
Q1: In the TV show, you play a fictional late-night talk show host. If you hosted a late night show in real life, who would your ideal guest be?
A: [Laughs] Well, January Jones comes to mind actually! She was so amazing to step up and do this favor [appearing on the show]. She gets big New Kid Blockhead points for that. That was really nice. Alec Baldwin—I love Alec Baldwin! That would be really interesting. And Bruno Mars. That would be my ideal musical act.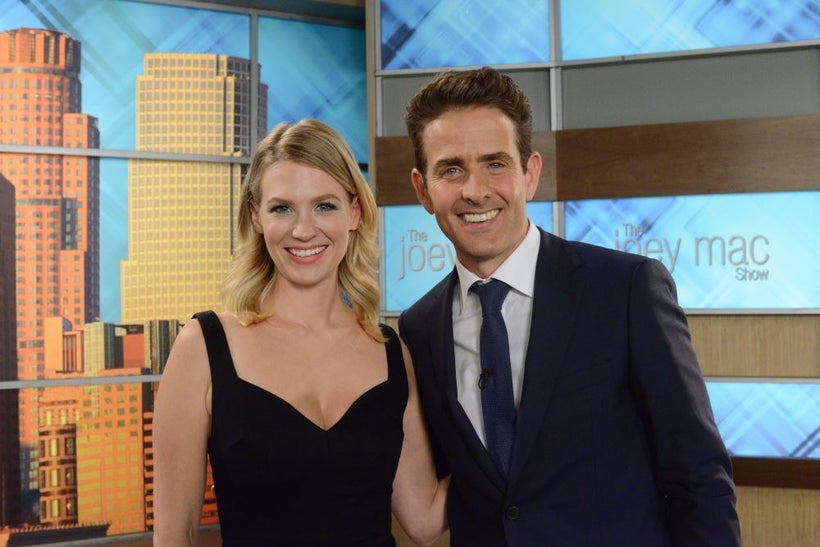 Q2: New Kids on the Block appeared in a very memorable episode of Fuller House recently. Will we be seeing the cast of Fuller House on your show?
A: Ah, that's a good idea! Well Pop TV has Jodie Sweetin on Hollywood Darlings. She's on Fuller House. We could work that out. There's an in there somewhere.
Q3: Andrea Barber and Candace Cameron Bure could appear?
A: I'm thrilled for them! Andrea Barber has been a New Kids fan and she's been to shows over the years. To see her put the show back together with those guys. To have it be so embraced and have it do so well is really exciting. I'm proud of those women.
Q4: Your oldest child, Griffin McIntyre, is the sixth New Kid on the Block when you're on tour. Is he ever going to perform on Return of the Mac? Is he going show us his moves?
A: No. We don't get into that. But all three kids have scenes and they do their thing. It was fun for them; it was a learning experience. But, no singing yet.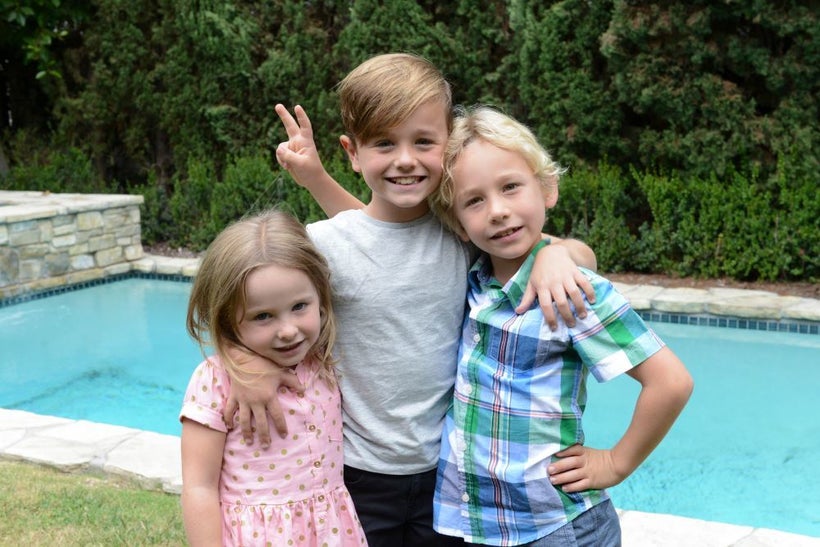 Q5: One thing I was thinking about as I was watching Dave Chappelle's Netflix special today: New Kids on the Block came back in 2008–
A: –Yeah! Is that out already? I have to watch it.
Q6: It's out. Be careful; don't do what I did. I watched the whole thing in one sitting. It's so good. We tend to under appreciate our celebrities while they are performing and doing great work. But Chappelle went away for ten years and New Kids went away for fifteen years. Nobody ever says, "I don't have time to see Dave Chappelle!" or, "I don't have time for New Kids." People don't take it for granted. Do you think people appreciate you more?
A: Yeah, I think so. He didn't plan it that way and we didn't plan it that way. People say, "What's the secret to New Kids' success? You come back and you're doing arenas and all that stuff. " Well, first you take fifteen years off. [Laughs] It was just in the stars for us. We have amazing fans and we know how lucky we are to have them. We treat them with respect and want to be there for them as much as possible…I know how grateful I am. As a group, there are five of us. And we all interact with the fans differently. I think Donnie [Wahlberg] takes the cake as far as being interactive and being there. He sets a great example but so does everyone else. It's kind of unheard of what we've been able to experience together.
Hollywood Darlings premieres on Pop TV on April 12 (8 pm EST/7 pm CST), and is the lead in to Return of the Mac. Darlings features 90s actresses Jodie Sweetin (Full House; Fuller House), Christine Lakin (Step By Step), and Beverley Mitchell (7th Heaven).
Return of the Mac's got the right stuff! (I had to include an obligatory New Kids-pun.) Don't miss out. Mark your calendars: Wednesday, April 12 at 8:30 pm EST.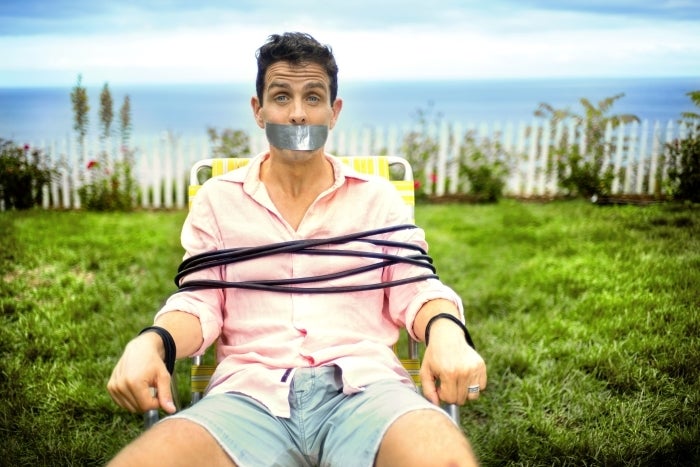 Calling all HuffPost superfans!
Sign up for membership to become a founding member and help shape HuffPost's next chapter
This post was published on the now-closed HuffPost Contributor platform. Contributors control their own work and posted freely to our site. If you need to flag this entry as abusive,
send us an email
.