A beautiful girl is mysteriously murdered amid the winding canals of Venice. A handsome, arrogant anti-hero with unique powers of deduction is hired by a billionaire to investigate -- and in a journey that takes him from Cairo to Paris and beyond, discovers a pattern with global and potentially devastating consequences.
No, it's not an upcoming book or movie -- it's the premise of "Moebius," an adventure game designed for the iPad by Jane Jensen, whose new studio Pinkerton Road was an enormous Kickstarter success in May of this year. Together with husband and collaborator Robert Holmes -- the two met as colleagues at Sierra On-Line, where he was both a producer and composing the musical scores for games -- Jane launched Pinkerton Road Studio with the goal of bringing back the sophisticated adventure games for which she is renowned in the gaming community.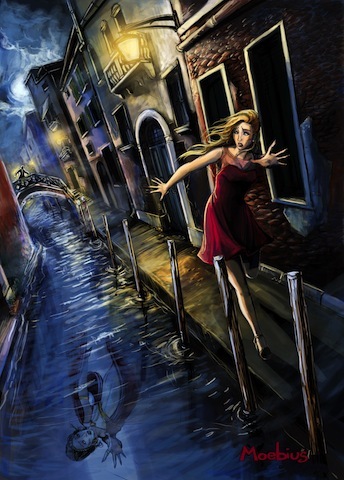 Puzzle-based adventure games perished in the late '90s when games moved to action-based shoot-em-ups. In the years since, Jane co-founded a game company and has been designing casual games based on novels by bestselling authors James Patterson and Charlaine Harris -- but the dream of returning to classic adventure games, with full autonomy in the design process, was always in the back of her mind.
Jane is best known for the internationally popular Gabriel Knight series: psychological, supernatural thriller-mysteries deeply grounded in historical research. Gabriel Knight belongs in the same genre as The Da Vinci Code, but preceded Dan Brown's bestselling novel by a decade. In the award-winning game "The Beast Within," Gabriel's struggle with his inner demons is set against a backdrop of werewolves, historic castles in Germany and a lost Wagner opera. The game goes so far as to feature actual scenes from the faux opera, all composed by Robert and enacted by professional opera singers. Creatively, these games pulled out all the stops.
Nearly 6,000 backers on Kickstarter voted with their wallets to bring back Jane Jensen's games, in a sum that exceeded her goal of $300,000 (the final tally, not counting subsequent donations via PayPal, came to $435,316).
Drawing inspiration from their home -- a functioning farm in Pennsylvania with three cows, chickens and an assortment of pets -- Jane and Robert dubbed their model a CSG, a takeoff on the CSA model. Just as CSA members pay for freshly delivered organic produce from the farm of their choice, Pinkerton Road's CSG members will receive a year's worth of newly minted games. In its debut year, the studio will release two adventure games: "Moebius," and a project that is currently secret and has been temporarily christened, "Mystery Game X."

Robert Holmes, Jane Jensen and their bulldogs Lola and Lucy on the Pinkerton Road farm in Mount Joy, Pennsylvania, September 2012.
But the studio's inaugural release is something more lighthearted: Lola and Lucy, an interactive children's book for the iPad now available on iTunes and inspired by Robert's and Jane's beloved pet bulldogs of the same name. Even Lola and Lucy possesses the hallmarks of a Jane Jensen game -- it goes further and does much more than the description suggests. Kids won't just read Lola and Lucy -- there are enough games and visual tricks packed into each frame to keep them busy for hours.
A Visit to Pinkerton Road Studio
In 2010, Robert and Jane were vacationing in Mount Joy, Pennsylvania, when they fell in love with the place. Jane grew up in Pennsylvania and had always hoped to return. Robert was reluctant to leave their home on the West Coast, but was persuaded by the serene beauty of the town. The couple discovered a farmhouse on Pinkerton Road, complete with a barn and a picturesque, stagnant pond, and thus the farm-studio concept was born.
"I've always liked to know where my food comes from," Jane explained in an interview when I visited the Pinkerton Road farm. She was introducing me to their cows and chickens. Stroking one of the Jersey cows that had trundled out of the barn to greet her, she said, "I also love animals, so I knew I wanted that to be a part of our lives."
Before they knew they were going to be a Kickstarter hit, Jane and Robert dug into their savings to make Lola and Lucy. The project came out bigger and more complex than they'd planned, at 29 interactive pages and 15 games. In the story, the bulldogs Lola and Lucy, realizing that everyone they know has a job, journey across the country in search of their own mission. Jane commented, "For older children, and even adults, Lola and Lucy has a message that resonates about the challenge of finding your place in the world."
Robert picked my husband, Jack, and I up from the train station when we arrived on a crisp morning in September. Our train from New York City had skimmed through forests and pumpkin fields for three hours to reach this spot, where the only predominant sound was the wind in the trees. So I would recognize him, Robert described himself via email as a "grey-haired guy who looks like he should be in California or Seattle." A soft-spoken man with a ready smile, Robert is also humble about his prodigious talents -- the haunting score he composed for the "Gabriel Knight" games has been widely acclaimed. Yet in his day job Robert uses a different set of skills as a strategic digital marketing executive. Perhaps that is one of the reasons he and Jane are well-matched: she, too, combines right-brained and left-brained talents, designing stories with a powerful emotional core, while constructing logic-based puzzles.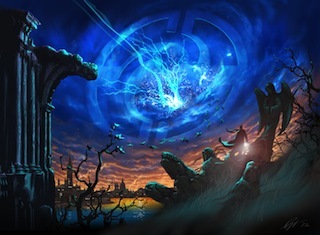 Jane is modest, too, and reserved at first -- I was the first journalist to visit the farm, and it was clear that hosting strangers in this private space was not a usual pastime for the couple. But soon we were talking animatedly about the games -- a shared passion, if from very different points of view. At intervals, Jane would pet the new addition to their family -- a black and white bulldog puppy Robert had picked up the day before. With a rueful smile, Jane explained that the puppy was a consolation for the absence of Robert's daughter, Raleigh, who had recently gone away to college. (Raleigh is musical, too, and she and Robert are in a band together called The Scarlet Furies.)
Since the Kickstarter campaign, activity at Pinkerton Road Studio has exploded, with "Mystery Game X" due by the end of 2012, and "Moebius" slated for release in spring 2013. Coordinating with teams in such far-flung places as St. Petersburg, Russia and San Diego, California, Jane begins her day with international emails, and is often juggling the two projects simultaneously, along with marketing for the newly-released Lola and Lucy and updates for CSG members. But not all the work can be done remotely: On the day of our interview, Jane had just returned from recording the voice acting for "Mystery Game X" in San Francisco. While Jane was tired from the trip, she was also elated about how skillfully the actors had performed their roles.
Jane showed me some of the art for "Mystery Game X," which I can tell you is beautiful. Then, we listened to some of the game's music, composed by Robert. At one point while we were listening to a piece, Jane said admiringly to Robert, "That's you playing the guitar, right? That's really cool."

"Moebius"
Malachi Rector, the protagonist of "Moebius," has a towering IQ and an ego to match. Channeling his genius into an encyclopedic knowledge of history, Malachi evaluates antiques in New York City for high-end clients. That is until a billionaire hires Malachi to solve a murder mystery in Venice. Malachi's journey takes him around the world, and into an investigation of beautiful women throughout history.
Being a Jane Jensen story, "Moebius" also has a science fiction twist -- she did win the Philip K. Dick Award for her science fiction novel, Dante's Equation. Jane's research into the "ripple effect" and patterns in time were an inspiration in "Moebius."
Malachi is very much a Jane Jensen anti-hero -- her description of him as "very pretty and very, very arrogant" might well be a reference to "Gabriel Knight." When I pointed this out, she laughed. "Gabriel is not that intellectually gifted," she said, sounding like Gabriel's cynical partner Grace Nakimura.
In Cairo, Malachi's car breaks down in the desert, and he meets David Walker, formerly of the U.S. military special forces. They become a powerful duo combining Malachi's genius with Walker's fighting skills, and their developing friendship will be a centerpiece of the storyline.
"There's a lot of sensuality in all my games," Jane comments. She points to the second Gabriel Knight game as an example: there, Gabriel is lured towards werewolfry by the handsome and seductive Baron Von Glower. "There will be subtle sensuality between the protagonists of Moebius, who are really hot guys. Nothing is going to be overt, though..." She laughs. "...Except maybe in fan fiction."
* Artwork featured is Moebius concept art by Andy Hoyos, 2012
Popular in the Community