I have been to over 100 countries, but there is none I prefer to return more than Italy, and Italy is where my wife, Marcia Jacobson, and I spent March 29-April 9, 2017. The combination of scenery, history, the world's best food, and the art are reasons for the pleasure of a visit. So too are the triggering memories of past satisfying visits even while discovering new pleasures. Nor should I leave out the intense delights of Italian gelato which tempted us to indulgence almost daily. If my count is correct, this was my twelfth visit to Italy, beginning with a driving trip during my junior year abroad when I drove from Vienna into Northern Italy and drove down to Rome and up the west coast, including a stop in Florence.
Every day of our trip was sunny with temperatures reaching into the mid to highs 70s, although evenings and early mornings were cooler. With the euro at about 1.07 to the dollar, we received good value at restaurants, trains, and for any purchases.
While my wife and I focus more on art than some visitors, and this time perhaps more than some other visits, I hope that what follows gives some sense of the vast variety of opportunities that Italy offers. We have spent more time on other visits exploring classical and medieval Italy or spending a day in Borghese garden featuring its wonderful zoo.
We flew to Rome via Philadelphia on a joint Air Atalia-American Airlines flight and had a comfortable flight in part because the plane was half full, although these are minimalist airlines with modest food and service. A train from the airport through Rome to Florence gave us a chance to appreciate beautiful scenery. One can also take a direct train from the Rome airport to Florence although they run less frequently.
Trains are an excellent and inexpensive means of transportation in Italy, but they are often late and sometimes only the final destination is clearly marked in busy stations while the intermediate ones are hard to identify. Thus tourists need leave time to figure out the terminal signs and ask questions.
If you can't be happy in Florence, perhaps you can't be happy anywhere. I still love to be in Florence and walk the streets I remember and visit the places I visited before. Wandering the narrow centuries-old streets of Florence is itself a special pleasure. Yet it does seems as if the tourist population doubles each time we visit and this was my sixth visit.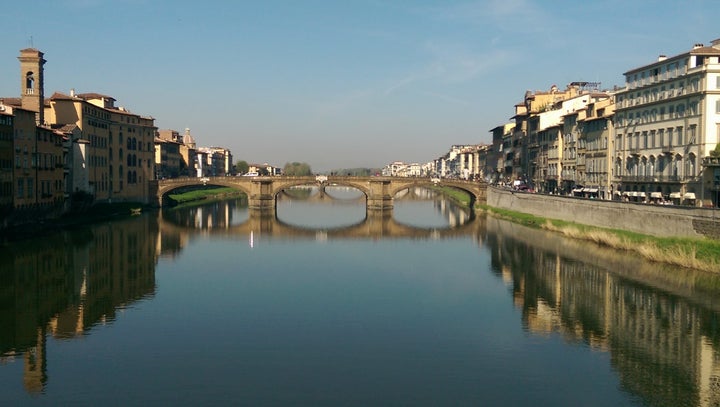 Florence is rich with history and culture, and its small size within the old city emphasizes this, even the main activity along the winding narrow streets--especially near the main tourist attractions--sometimes seems to be tourism. Piazza della Signoria and Palazzo Vecchio have for centuries has been the center of Florence's political and social life. Florence was alive one not so warm night with a jazz violinist playing in a central square and local couples dancing.
The most important art museum in Florence if not Italy is the Uffizi where we spent five and half hours savoring many paintings. Containing some of world's Italian masterpieces by Giotto, Duccio, Cimabue, Michelangelo, Botticelli, Leonardo, Raphael, Titian and Andre Del Sarto, the Uffizi provides a refresher course in Italian Renaissance painting from the pre-Renaissance through Caravaggio. Although in English as well as Italian, neither the descriptions on walls or audio tells you as much as you might want to know if you are remotely familiar with the field. The audio could have more depth and often focuses too much on history of the museum's acquisitions.
No matter how many times I visit, I marvel at the beauty of the Duomo, begun in 1296-1436 and highlighted by the brilliantly engineered dome by Brunelleschi. Next to it is the Baptistery of St. John, built in the 11th century, and containing the famous early fifteenth century gilded bronze Ghiberti door, known as "The Gates of Paradise," although in fact what visitors see since 1990 is a copy.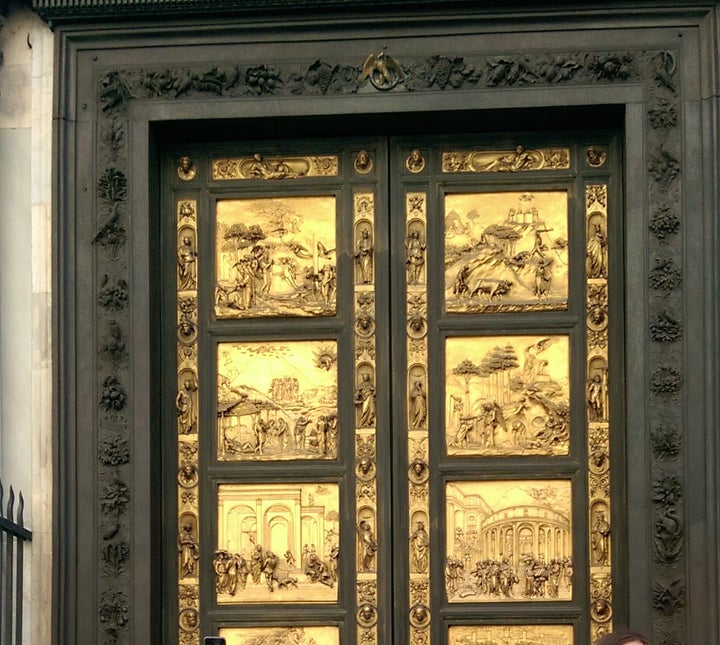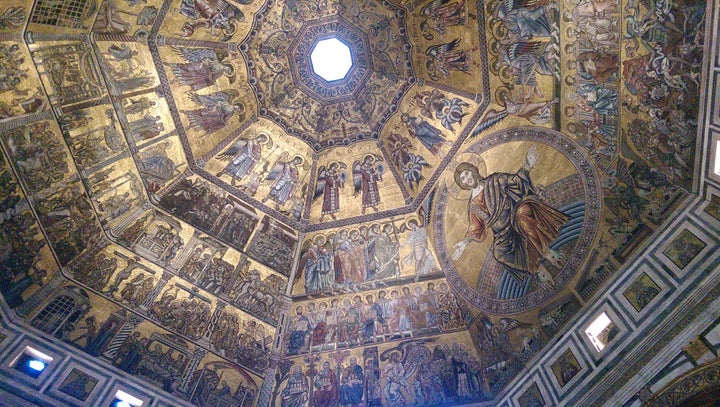 Entrance to the Duomo is free, but it costs 15 Euros for access to its museum, baptistery, bell tower, and the dome. The Baptistery is a must and climbing the dome and bell tower is worth doing once.
The Pitti Palace contains major paintings by Raphael (Madonna of the Chair), Caravaggio,Titian, and Del Sarto, and baroque ceilings by Pietra da Cortona.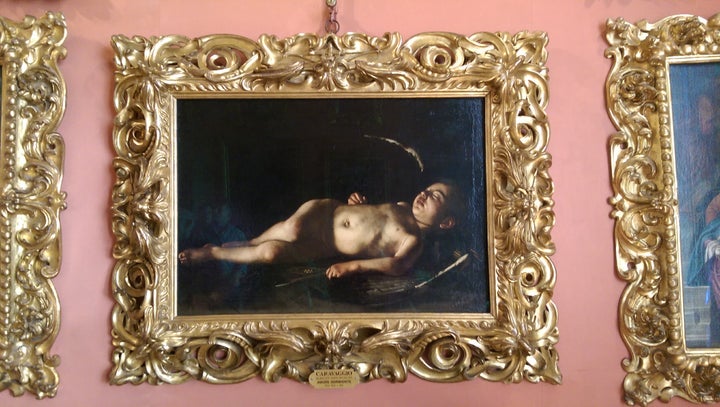 After three hours there, we spent much of the afternoon in the adjacent Boboli Gardens—really a somewhat disheveled park without many flower gardens-- which at the top contains a porcelain museum and also offers great views.
Do not miss the great sculpture collection, the Bargello. We also visited the Accademia Gallery the highlight of which is still Michelangelo's monumental David, although it also contains some fine Renaissance paintings and was featuring Pre-Renaissance Florentine painting after Giotto while we there.
A must see is The Basilica of Santa Croce, the world's largest Franciscan Church, begun in the late 13th century, with its wonderful Donatello and della Robbia sculptures as well as frescoes by Giotto and Taddeo Daddi and a cross by Cimabue that was badly damaged in the aforementioned flood. With the graves of Dante, Machiavelli, Galileo, and Michelangelo. Santa Croce is as much a mausoleum honoring the dead as well as church. Strongly recommended, too, Santa Mario Novella, with its fresco of the Trinity by Masaccio, and, if time permits, a drive around Tuscany.
I was deeply moved by a Saturday morning visit to the splendid Great Synagogue of Florence during a Shabbat service. When my wife and I light the Shabbat candles when we are home Fridays night an remember to do, we use silver candleholders that we purchased at this synagogue over 20 years ago. Thus we feel a special tie to this synagogue and try to visit whenever we are in Florence.
Let us recall the positions of Jews in Italy during WWII. Despite anti-Semitic laws, Mussolini didn't deport Italian Jews. Only after Mussolini was overthrown in 1943 and Germans occupied much of Italy were 243 Jews deported from Florence, only 13 of whom returned. Italian Fascists participated in these activities. The Nazis vandalized the synagogue, used the synagogue as a military base, and had plans to destroy it. Rebuilt after the Second World War, it is one of Europe's most beautiful synagogue. Alas, most of those at the service were quite old, but there were a handful of younger people.
After four nights in Florence, we took a train to Monterosso al Mare, one of the five villages in Cinque Terre--meaning "Five Lands"—which is a rugged portion of coast on the Italian Riviera in the Liguria region of Italy, the capital of which is Genoa, a city we had visited on a prior trip and which has many pleasures of its own. We had been through Cinque Terre on train but never spent time there. To the west of the city of La Spezia, Cinque Terre comprises four villages in addition to Monterosso al Mare, namely Vernazza, Corniglia, Manarola, and Riomaggiore, each of which has its own special charms. Cinque Terre is one of the Italy's great scenic areas with its juxtaposition of hilly terrain, sea, imposing rocks. and sea walls.
On our first day in Monterosso al Mare, we took a short hike to the Capuchin monastery and to a cemetery above the village. Our major activity the second day was a challenging walk from Monterosso al Mare to Vernazza with countless steps, often over uneven rocks but with the compensation of great scenery overlooking the sea. The walk took our 75 year old legs over three hours and twenty minutes. There is a 7.5 euro charge per person to use the trail. After exploring Vernazza, we took the train back (4 euros). You need to take ample water on the hike. Even in April it was near 80 at high noon. I am sure in summer we would have been better off starting in early morning.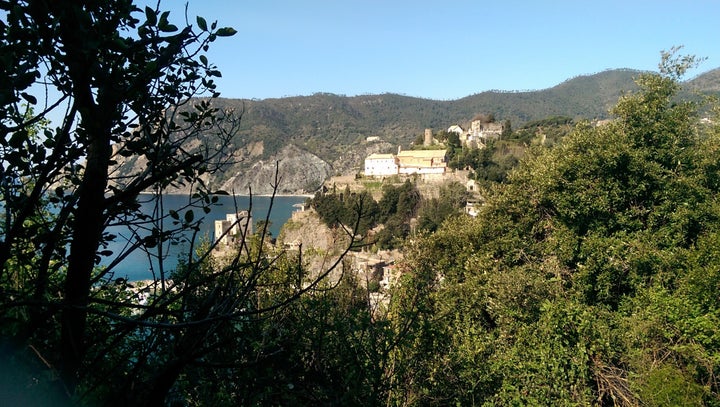 On our third day we took a boat to Riomaggiore (12 euros; 25 euros for taking boat from village to village the entire day), climbed to the ancient castle, and then took a train to Manarola.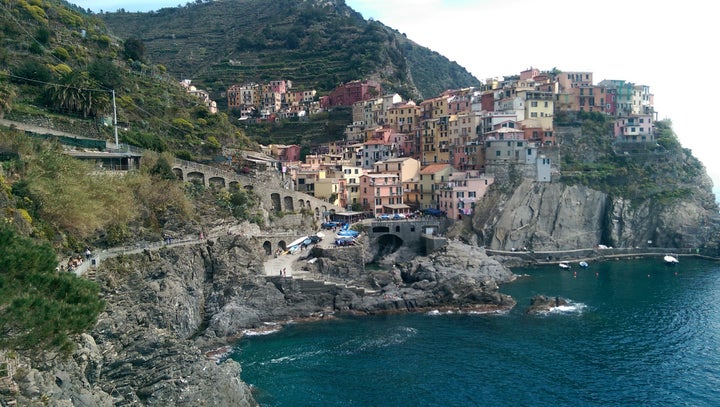 Our next stop was Corniglia which requires some climbing or taking a bus to get to the village; we took the bus up and walked back before returning by train to Monterosso al Mare, The train which runs frequently is 4 Euros a stop or 16 Euros for the whole day including the bus ride to Corniglia.
Arriving at the main train station after a five and a half hour train ride from Monterosso al Mare, we took an Uber to the hotel but we learned that Uber in Rome is comparable to taxis in price. In fact on our last day we took a fixed price taxi (48 Euros) from our hotel to the airport. As in many if not all big cities, one need be wary about taxis and be sure the arrangements are clear before you get into the cab.
Like Paris, Rome is a great walking city, and walking is history from the Roman Empire to the present. Because the Barbarini museum was close to the hotel we made it our first stop after checking in. I always include the Barbarini on my Rome visits because it is never crowded and its collection includes Raphael's La fornarina and three world-class Caravaggios. The museum's presentation has become more teacherly and I recommend a visit, although I would like more discussion on the wall of the most important paintings, including Fra Lippo Lippi's dazzling but puzzling The Annunciation.
As is our custom when in Rome, we spent an entire day at St. Peter's and the Vatican Museum. Depending on the time and the season, you may have to wait on line for some time to get into St. Peter's, although various groups seem to cut the line. The highlights are Michelangelo's Pieta, the dome which he designed, the entire scale of the enormous basilica, and the tomb of Peter, the founder of the Catholic Church. The museum, for which you can get tickets in advance and save the wait on a long line that can last two hours or more, contains Michelangelo's sublime Sistine chapel with its "Creation of Adam" at the center of the ceiling and "The Last Judgment" high on the altar wall. the Raphael rooms which include his The School of Athens, as well as art and sculptural collections museums. Among the treasures within the sculpture museum are Laocoon and Apollo of Belvedere.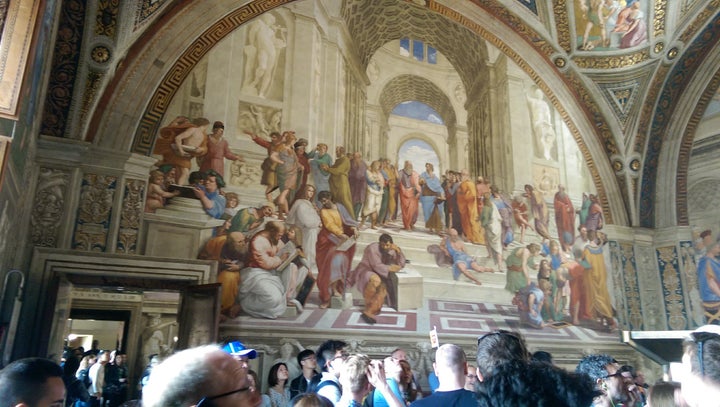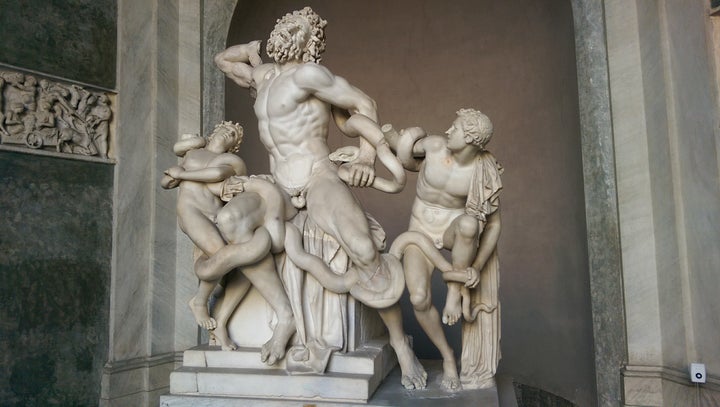 The Borghese Gardens is where Rome citizens spend weekends and days off. On our prior visit, we took a rest from fine art and enjoyed the zoo. With its six fine Caravaggios and Raphael's complex Deposition, The Borghese gallery is perhaps the most important art museum in Rome. To visit, you need to buy tickets in advance and they can be found online.
After our two hour stay—the limit allowed each time you visit and a policy that does limit crowds-- we visited some of the sights that retrieve our memories of past visits to Rome: The Spanish Steps including the Trinità dei Monti church on the top; the well-preserved circular Pantheon, formerly a Roman temple built by Hadrian , now a church; Piazza Navona with the stunning Bernini fountain sculpture of four great rivers in the center, and the Trevi Fountain made famous to Americans by the film Three Coins in the Fountain.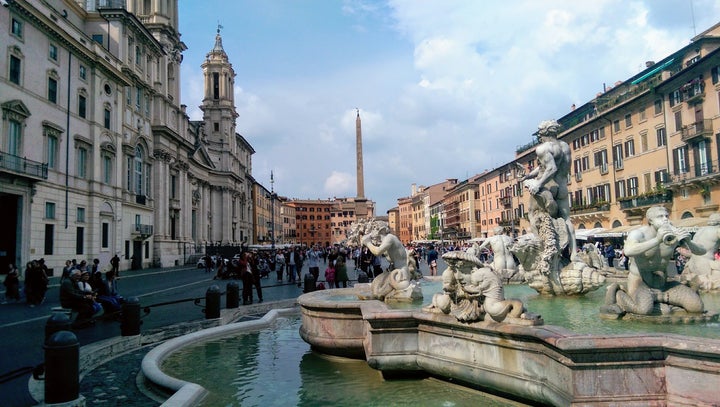 We tracked down four Caravaggios in churches in the Piazza Navona which meant the pleasure and privilege of seeing 13 Caravaggios in less than 24 hours after arriving in Rome. Of course when I first visited Rome 55 years ago he was not held in such high regard as he is today. But the high drama of his Baroque work , with its intensely realistic subject matter and theatrical light, has placed him among the Italian artists who is most appreciated.
Walking into virtually any church yields pleasant architectural and decorative surprises. Virtually every street in Rome has a church hundreds of years old and worth a look. Many Caravaggio paintings are in relatively obscure churches. Now guidebooks tell you where to find masterworks, but several; decades ago I was told about two Caravaggios in Santa Maria del Popolo, and we always visit them along with the small twin churches (Santa Maria dei Miracoli and Santa Maria di Montesanto) in Piazza del Popolo which is at the end of Via de Corso adjacent to the Borghese Gardens.
After enjoying a picnic lunch on the benches of Piazza del Popolo, we enjoyed walking to the Capitoline museum at the other end of the busy Via del Corso. It is here where we usually begin our exploration of classical Rome with the great sculptures: The Equestrian Statue of Marcus Aurelius; the Capitolone She-Wolf, Romulus and Remus; and The Boy With Thorn (Spinario). After that one can walk among the various ruins –notably the Roman Forum--adjacent to the museum, although many of these can be viewed reasonably close-up from the museum itself. On some visits we have given greater stress to classical Rome, including the Coliseum, which is east of the Forum and the largest amphitheater ever built.
In Florence we stayed at Hotel Hermitage, a quaint, funky well-run three star hotel, where we have stayed a number of times. It is a block from Uffizi overlooking the Arno and the Ponte Vecchio bridge. The rooms are small but ours had a king size bed (or two singles pushed together), whirlpool bath, a partial view of the Arno and the bridge, wonderful roof garden where you can have breakfast in season and a glass of wine in the evening,. The hotel serves a nice breakfast with cappuccino or espresso. although eggs and bacon are extra. Good value and strongly recommended.
In Monterosso al Mare, we stayed at a comfortable three star hotel above Old Town, Hotel Villa Steno. The friendly and hospitable owner Matteo Pasini presides over every aspect of the 16 room hotel and he and his staff make guests feel welcome and cared for. We had a nice breakfast, including fried eggs. In terms of warmly hosting his guests and taking care of every detail, you won't be treated better at a five star hotel. My highest recommendation.
In Rome, we returned for a second visit to the well-located four star Marriott Grand Flora. Although we had nicely appointed room with high ceilings overlooking Via Veneto, we had asked when booking directly with the hotel for one with the better view which we had last time, namely overlooking the Borghese garden,. As a Marriott Platinum Elite member, I usually get VIP treatment at Marriotts and that provides an incentive to stay there. Breakfast was quite nice, but the hotel can be impersonal, lacks a full-time concierge, and is not as tightly run as I remember it. After a slow start and a little push back on my part which should not be necessary, our visit was for the most part up to the standards I expected. We have stayed on other trips and might return to two smaller hotels: the somewhat better located Valadier on Via Corso and La Residenzia on Via Emilia, which is in the same neighborhood as the Marriott Grand Hotel Flora.
A trip to Italy needs to balance the sightseeing with eating. We do less in the way of evening activities and focus a good deal on dinnertime. Is there anything better than Italian food? It is inventive, yet not overly elaborate, made with fresh ingredients, and delicious without being pretentious. Some of the highly regarded NYC chefs could learn from their example of doing just enough but not too much in terms of preparation.
One is more likely to get reservations or even walk in if you eat early because for many Italians dinner time is 8:30 or later, and some excellent neighborhood restaurants do open at 7 or 7:30.
For us dinner meant sharing two selections from either the pastas or meat/fish courses, sometimes preceded by a salad or followed by desert. If we had a gelato during the day, we skipped desert or chose a bowl of fresh berries. Without wine, we averaged about $60 per meal. Sometimes a cover charge is added, sometimes not, but service is included.
I have some favorite restaurants from past visits (see below). One of the pleasures of our trip was returning to restaurants we know and whose owners recognized us. If the owners recognize you as a returning customer they may not only make a little fuss over you but also send over a few complimentary items or not charge you for something,
On our first night, we had an excellent dinner at one of our favorites: Quatra Leoni (via Vellutini 1/R). After splitting a large salad, we shared small Ravioli stuffed with pears and ricotta—a Florentine specialty-- that was covered by asparagus sauce followed by black cabbage pesto on homemade noodles.
We returned to L' Osteria di Giovanni (Via del Moro, 22, 50123) which is presided over by an gracious and enthusiastic owner who takes great pride in his restaurant. We had wonderful Beefsteak Florentine with delicious roast potatoes (55 Euros\for two) and a side order of fried artichokes. Our desert was deliciously light lemon cake with ice cream. Giovanni serves a glass of complimentary Prosecco when you sit down. Highly recommended.
Vini e Vecchi Sapori (Via de 3r Magazzini) is a simple but excellent with modest prices. The osso bucco was somewhat unimaginative (my wife's is better) but the pasta dish with zucchini blossoms and mascarpone cheese was up to the standard of our prior visit, This is a small restaurant and reservations are a must.
La Maremma (Via Verdi 14/R) is more reasonably priced and more basic than the aforementioned. We had tagliatelle with meat and mushroom sauce, ravioli stuffed spinach and ricotta, and Caprese--tomatoes and mozzarella—salad.
Lunches were fun and inexpensive and we found good sandwiches whenever we needed them, but I do recommend: All'Antico Vinaio (Via dei Neri, 74/R, 50100 Firenze, Italy) which has amazing sandwiches for which people stand in line (5 Euros). The Café at Pitti Palace was inexpensive, with decent pastry stuffed with cheese.
Liguria features its own delicious cooking. We had an excellent dinner at L'ancora della Tortuga (via Salita Cappucini 4, Monterosso, al Mare), which has a fine view of the sea and excellent service. Our meal included risotto with pine nuts, basil and shrimp, followed by a spaghetti dish with anchovies, cherry tomatoes, and capers. We concluded with panna cotta served with a generous portion of strawberries.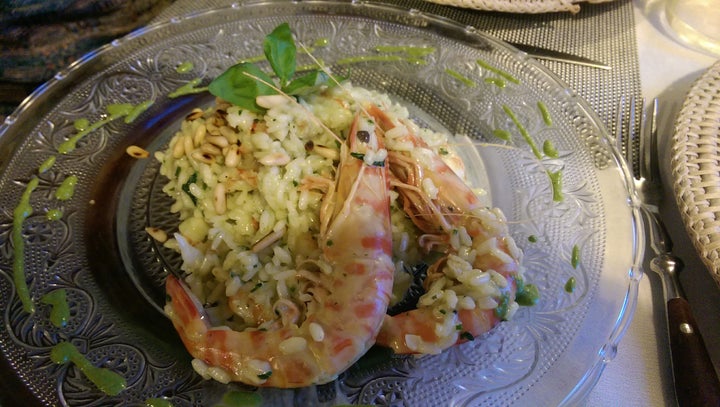 Another Monterosso restaurant which I recommend is Miky's (Lungomare, Fegina, 104; 19016 Monterosso al Mare). After a mixed salad, we had ravioli filled with pumpkin and artichoke topped by seafood followed by a whole bronzino. The bronzino (European sea bass) could have been sweeter and stronger tasting. The service was attentive.
On the final night we tried Al Pozzo (via Roma, 24—19016 Monterosso Al Mare) in part because the well-known Belvedere was unexpectedly closed. We had two interesting pastas--notably tagliatelle made with cacao with pesto with topped by pine nuts (a Ligurian staple) on top--and a nice mixed salad. But he welcome was cold, and service the bare minimum. On balance, Al Pozzo seems not anxious to please first-time guests.
While we ate well in Rome and with some exceptions noted below, enjoyed well-prepared food, Rome restaurants are much more impersonal, at least in my experience. It is wise to check your bill for small deviations from the menu or even what you were told. After long sightseeing days, we tended to eat near our hotel.
Ai Fienaroli (Via Sardegna 135/13) offers excellent and creative pasta dishes at moderate prices, but desert was supposed to be something other than the mess of whip cream over chocolate and a few crackers that appeared. I had recommended this in the past but loud music disrupted the dinner and the owner's son, presiding the night we were there, seemed indifferent.
Sapori D'Ischis (Via Marche n.19) is excellent but the service on the night of our visit was excruciatingly slow. We ha mixed salad, lasagna, chicken scaloppini, and fresh strawberries. It is a small family restaurant which takes great pride in its food and we might try it again.
Girarrosto Florentino via Sicilia, 46, is a tad more expensive that the aforementioned two. We had risotto with artichokes, spaghetti with Bolognese sauce, a delicious fresh mixed berry desert. I was less impressed with the bean and pasta soup. The waiters are warmer to people they know, and the bill was not correct.
Cabiria, the Marriott Hotel Restaurant. After splitting a generous salad, we had fusilli with a sauce made of anchovies, pine nuts, and fennel seed. Our next course was salmon with a potato crust, and we concluded with fresh strawberries. Service was professional and attentive and the meal was quite fine.
A Few Final Observations:
-- In my experience, ATMs in Italy have the highest fees in Europe. and you should charge everything to a credit card that does not have a surcharge for conversion.
--More English is spoken than in the past and more tourist sites and museum have English labels.
--Shops where Gelato is sold seem to have proliferated and that has brought the price down, especially off the main tourist areas. Small gelatos are often only 2 Euros and I saw 1.80 at one shop where we didn't stop.
--If you have never been to Europe, include Italy on your first trip. This is a glorious trip that you can organize yourself or with a travel agent.
Author of numerous travel articles as well as seventeen books, including the recently published How to Succeed in College and Beyond; The Art of Learning (Wiley, 2016) and the well-received 2012 book Endtimes? Crises and Turmoil at the New York Times (Excelsior Editions of SUNY Press; 2014, a new paperback edition). Daniel R. Schwarz is Frederic J. Whiton Professor of English and Stephen H. Weiss Presidential Fellow at Cornell University. His prior published travel articles can be found http://courses.cit.cornell.edu/drs6/. He can be reached at drs6@cornell.edu and followed on twitter at www.twitter.com/danRSchwarz or on facebook at https://www.facebook.com/SchwarzEndtimes.
Related
Popular in the Community