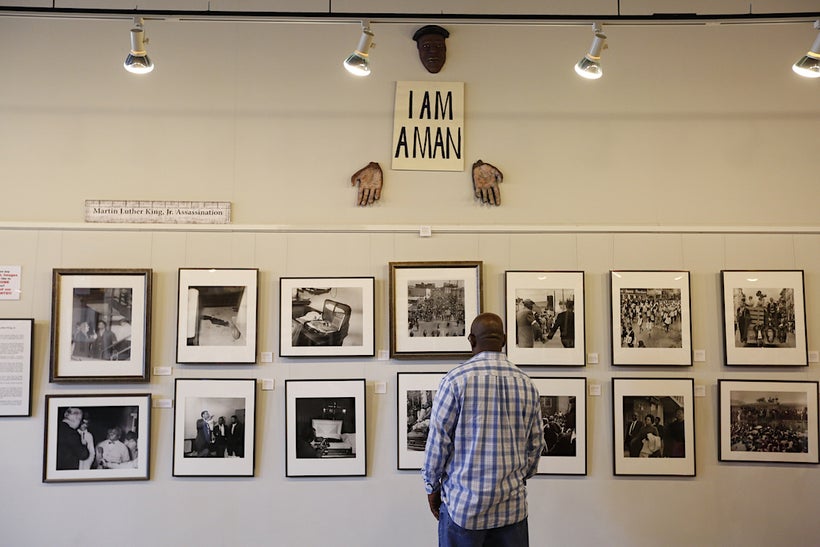 Withers Collection Museum & Gallery
Two years ago I reported on Memphis in these pages. It took three articles to cover it all, yet that didn't exhaust the city's attractions. So I returned a few months ago to see what I had not seen and eat what I had not eaten. I suspect I'll be back sooner than later for more.
In my last report I focused a good deal on the changing music scene in Memphis, from the re-opening of The New Daisy, now a venue for top rock and roll, country and western, and hip hop; The Memphis Music Hall of Fame and the Memphis Rock n' Soul Museum; the legendary Sun Studio, where Jerry Lee Lewis, Carl Perkins, Elvis and Johnny Cash recorded; Stax Museum, operated by Soulsville USA; the W.C. Handy Home & Museum and the new Blues Hall of Fame.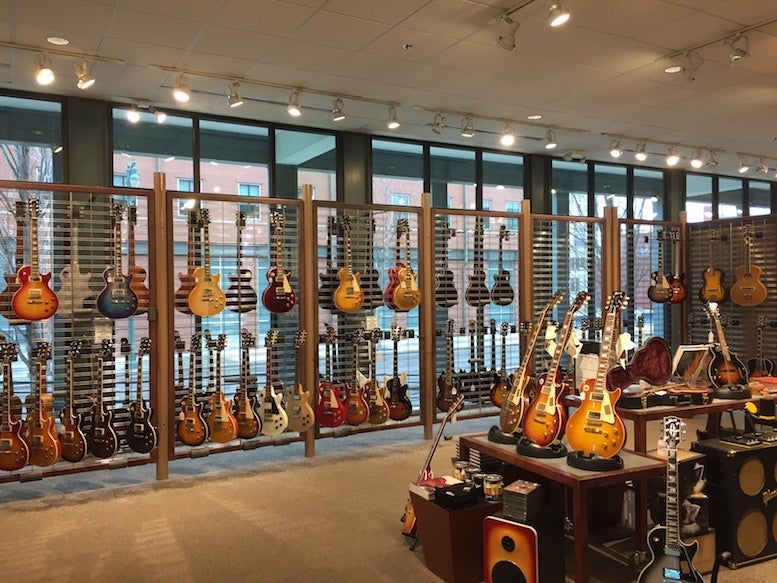 Had I the time I would visit all these every time I come to town, but there was so much more I hadn't seen, not least the Gibson Factory Tour, attached to a showroom of Gibson instruments that will make any pro or amateur guitar player's jaw drop. Nice thing is, they let you pick any instrument off the wall and just sit down to try it out.
The tour itself (reservations necessary) brings you face to face with the people who make these classic American instruments, from the intricate process of binding, neck-fitting, painting, buffing, and final tuning, plus a video of the company's history.
I also had a chance to visit the humbly named Music Store, which is actually a place stacked floor to ceiling, wall to wall, bin after bin with blues records, from Robert Johnson and Mississippi John Hurt to B.B. King and Guitar Shorty, from Eric Clapton to John Mayer. Start up a conversation with owner Dr. Malcolm Anthony, "Bluesologist," and you'll spend an hour getting a musical education.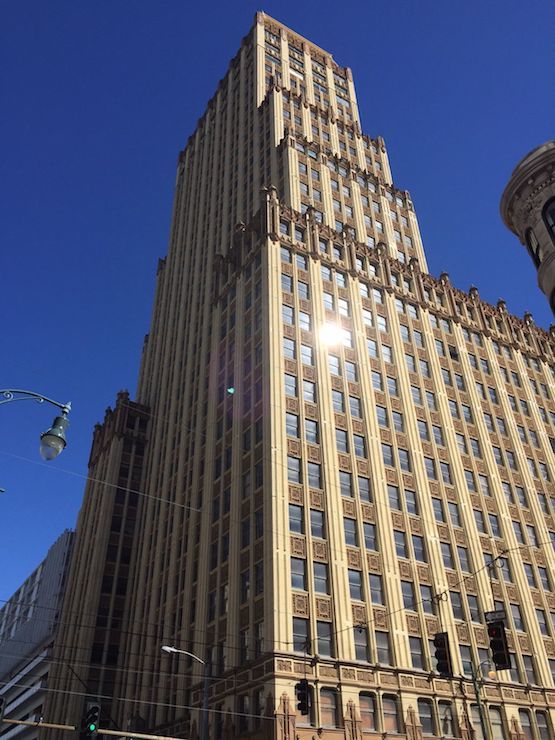 Downtown Memphis is still an amalgam of stunning city architecture like the Sterrick Building (above) and the strikingly modern FedEx Forum, the Metropolitan Inter-Faith Association and the Benjamin L. Hooks Public Library. But it must co-exist with a good deal of wholly mundane architecture and brutally ugly multi-story parking lots.
Many people don't know of Memphis's place in movie history, but a plaque on South Main Street commemorates King Vidor's production of Hallelujah! (1928) filmed there and the wave of moviemaking beginning in the late 1980s, including The Firm, Mystery Train, Hustle & Flow, The Rainmaker and the Johnny Cash bio Walk the Line.
One of the places new to me that I was most excited about was the Withers Collection on Beale Street, devoted to the work of Ernest Columbus Withers, a photographer who chronicled all the great leaders and events of the American Civil Rights Movement, as well as the musicians and artists of a period that ranged from the 1940s to 2007. Many of his photos—among 1.8 million in the collection—became iconic images of their day in the Washington Post, Ebony, Newsweek, and Life, and they are as beautiful, startling, troubling, and glorious today as when they first appeared. The Withers family oversees the Collection, working to some day have every image digitalized.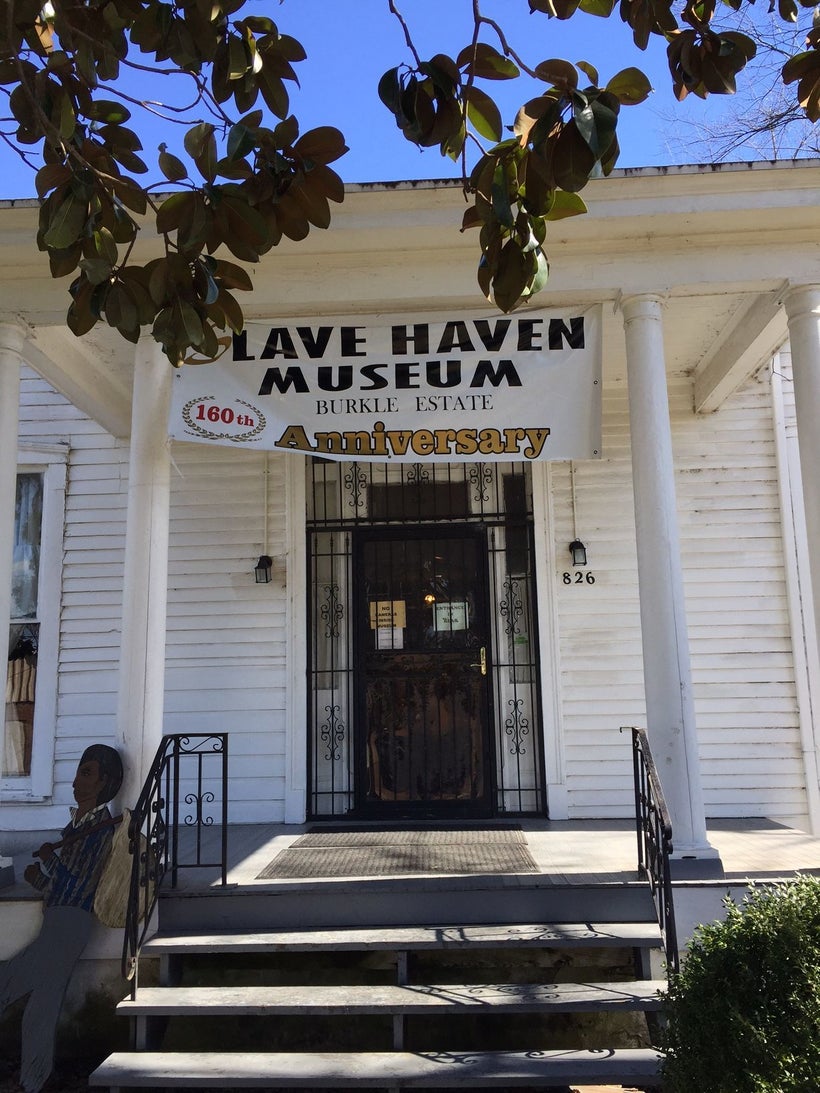 Just outside of downtown is another remarkable place of great historic significance. It looks like nothing from the outside but a modest-sized antebellum white clapboard house. The lawn is unkempt, the wood needs a paint job. But above the door is a banner reading "Slave Haven Museum Burkle Estate 160th Anniversary." Inside, a series of small rooms reveals artifacts from the era of the Underground Railroad, which ran through the property. Here, from 1855 to 1863, Jacob Burkle, a German immigrant and stockyard owner, risked his life to help escaping slaves by harboring them in the cramped cellar of his home, located not far from the Mississippi. When the time was right, the runaway slaves ran to the shore to be rowed across the wide river to make their way to northern states.
You can go down into the cellar now and see the trap doors and the narrow slits of daylight coming into the room. Upstairs there are photos, maps with the trade routes from Africa, clinical lay-outs of the slave ships, diabolical manuals on the treatment of slaves. And then there is the charming African-American folk art, quilts and memoirs, some for sale. For so peaceful a place it is hard to remember how fearsome it was once, both for the runaways and for Jacob Burkle himself, knowing he could suffer the same fate as those he sought to help get to freedom.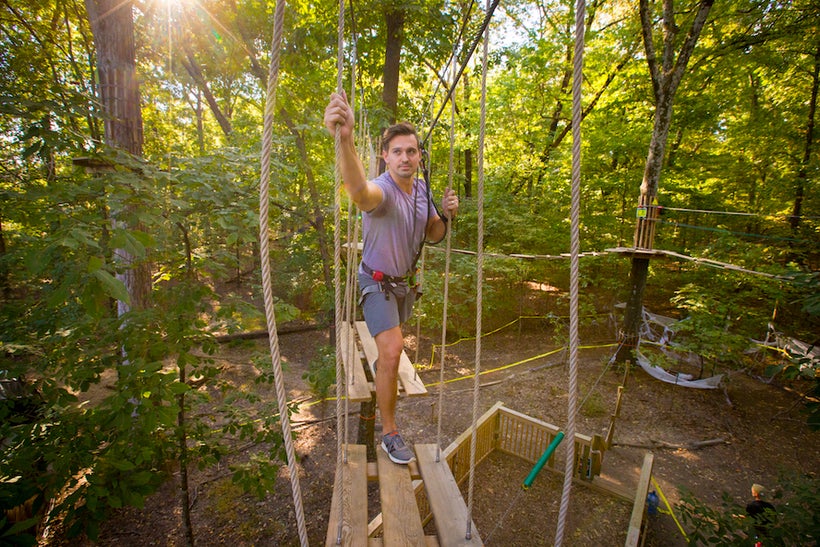 Move beyond the city center and Memphis's Shelby Farms Park—once a penal farm—seems far away from the downtown bustle, although Memphis is rarely thronged with people or traffic. Set on 4,500 acres of recreational land, with 50 acres devoted to a buffalo herd, the park is actually five times the size of New York's Central Park. Pine Lake, within a forest, has a treetop adventure by which you can swing and climb through the forest on more than 40 crossings of rope ladders and net bridges. There are horseback riding trails and pony rides, an off-leash dog park, and 20 lakes for boating.
I also visited the growing Pink Palace Museums, which holds a section on Tennessee history and artifacts, the Sharpe Planetarium and 3D Theatre, the Lichterman Nature Center, and the superb Mallory-Neel and Magevney historic houses.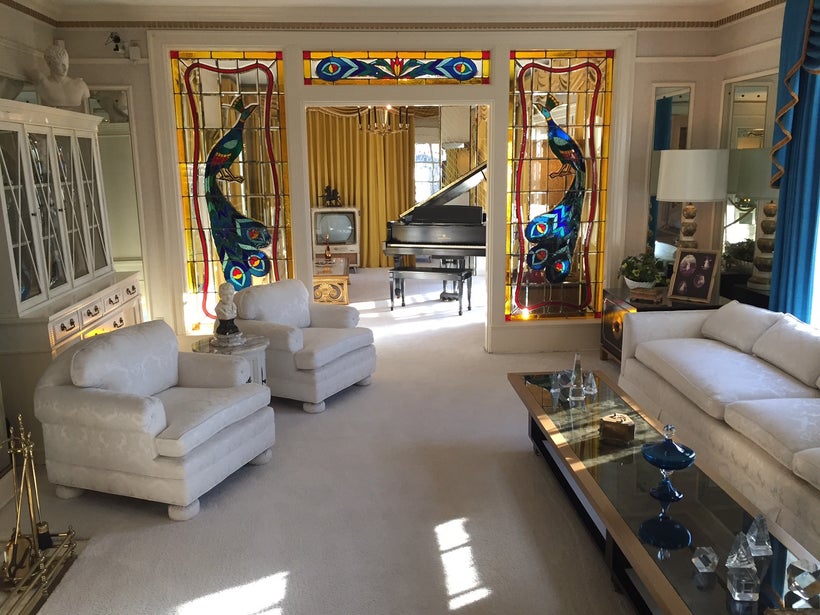 And then, there's Graceland, Elvis Presley's home, once a 14-acre farm, purchased by the entertainer for $102,500 for his family in 1957. He lived there until his death in 1977, and the mansion was opened to the public as a museum in 1982 and in 2006 acquired National Historic Landmark status.
I happened to be passing through Memphis a week after Elvis died, and I remember the stone walls, as now, splattered with graffiti, one of them reading, "Elvis is not dead, He's Just On Tour with God." Later I got to visit the house and found it garish beyond imagining. But on my most recent visit I came to realize that Graceland—even its name—can be anything anyone wants it to be. Some may see it as the ultimate in Country Kitsch, others as a significant example of 1960s-1970s Populuxe interior design, from its strong colors of pink and purple and its gilded furniture to the Jungle Room with its indoor foliage, heavy carved armchairs and oversized teddy bear.
Others may see it as testament to a life of sheer excess—whatever Elvis wanted here, he got, and his entourage was omnipresent. TVs blared in every room. And still others might see it as the American Dream realized in Technicolor.
The museum section of Graceland is certainly testament to Elvis's global idolization and his achievements in music, from the dozens of gold records and photos with U.S. Presidents to the various onstage outfits that grew more outlandish—and larger—as The King grew older. You see the famous photos of the young heartthrob getting his hair cut in the Army, posters from his films, the pictures of Priscilla Presley from their wedding.
Only a cynic will find Graceland distasteful in the sense of being repellant, for whatever else it is, it was a house and a home and a retreat from a world of pop celebrity that could be truly distasteful and demanding of a fantasy Elvis had to live up to every day away from Graceland.
After Graceland, you might want to head over and take a walk by twilight over Big River Crossing (below), which spans the Mississippi. Opened just last autumn, it was once a rusting train trestle and now the river's longest pedestrian and biking bridge, connecting Memphis to Arkansas. And if you stand there when a train whistle blows, maybe you can still hear an echo of Elvis singing "Mystery Train."
Train train rolling down the line, Train train rolling down the line, Well it took my baby And left poor me behind.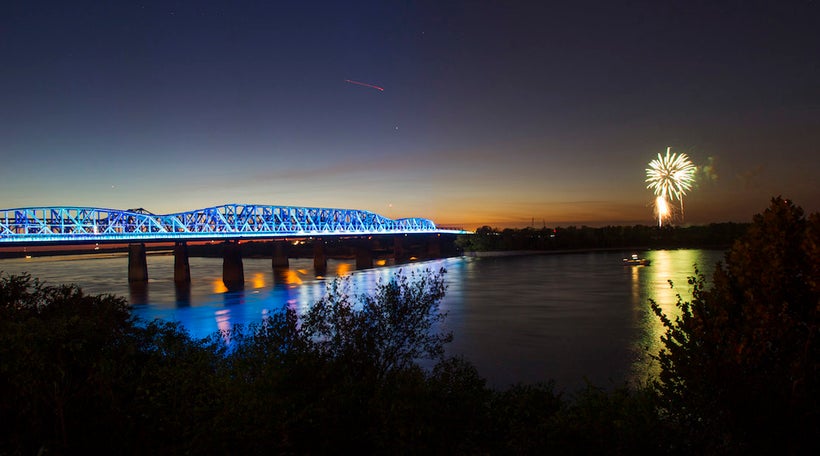 REAL LIFE. REAL NEWS. REAL VOICES.
Help us tell more of the stories that matter from voices that too often remain unheard.
This post was published on the now-closed HuffPost Contributor platform. Contributors control their own work and posted freely to our site. If you need to flag this entry as abusive,
send us an email
.