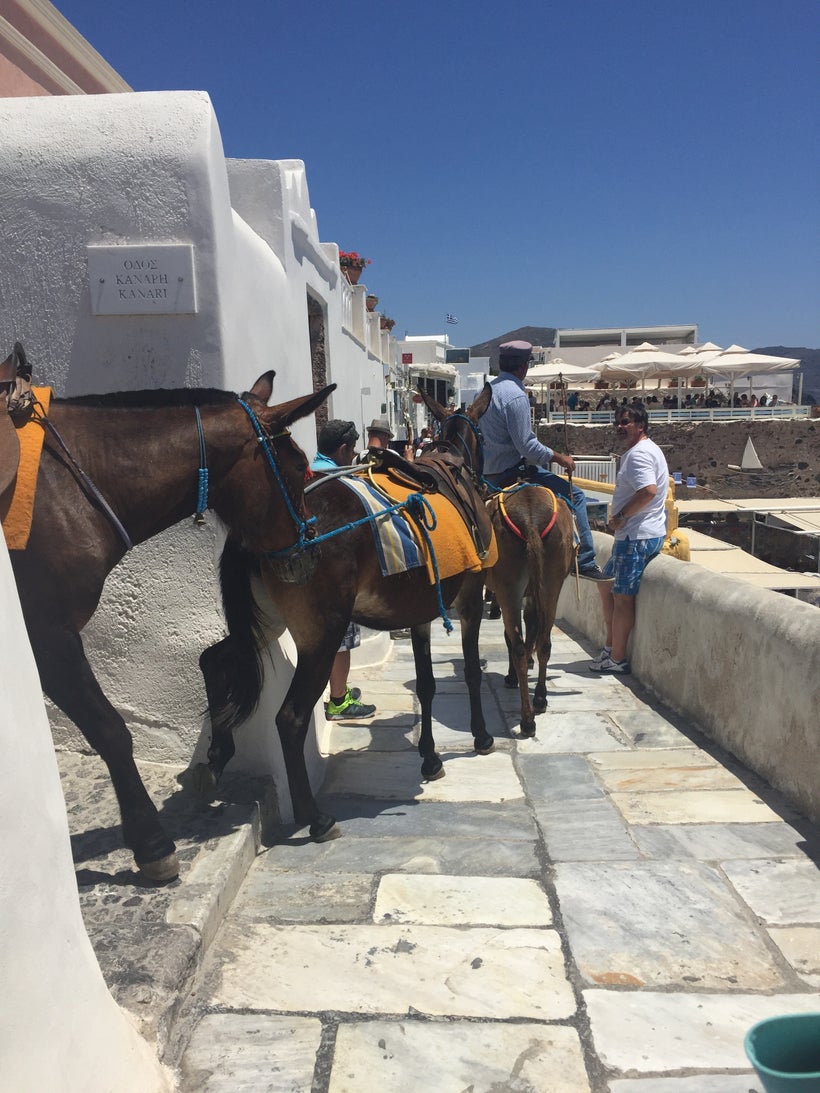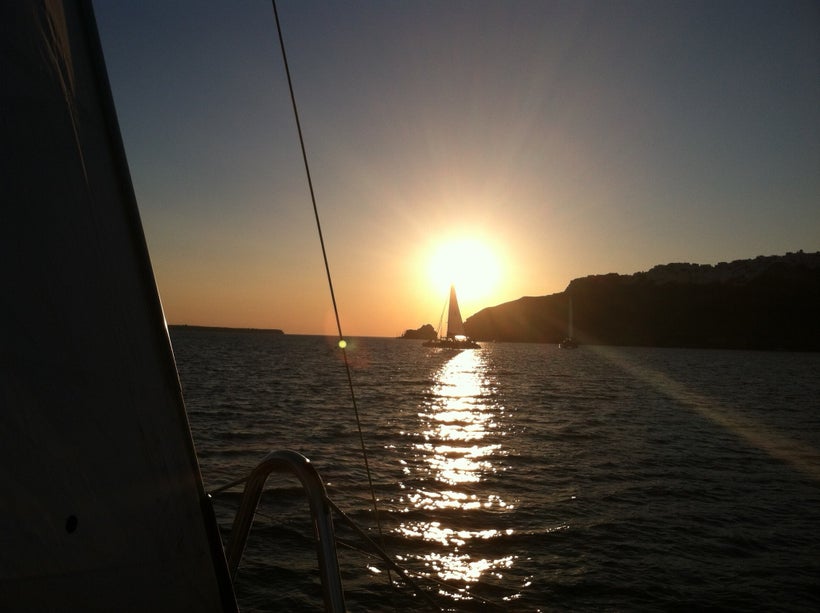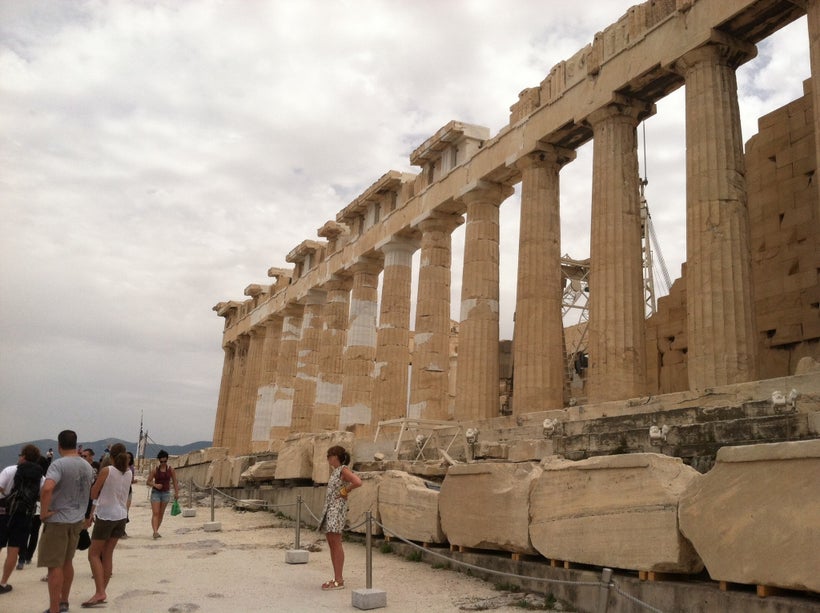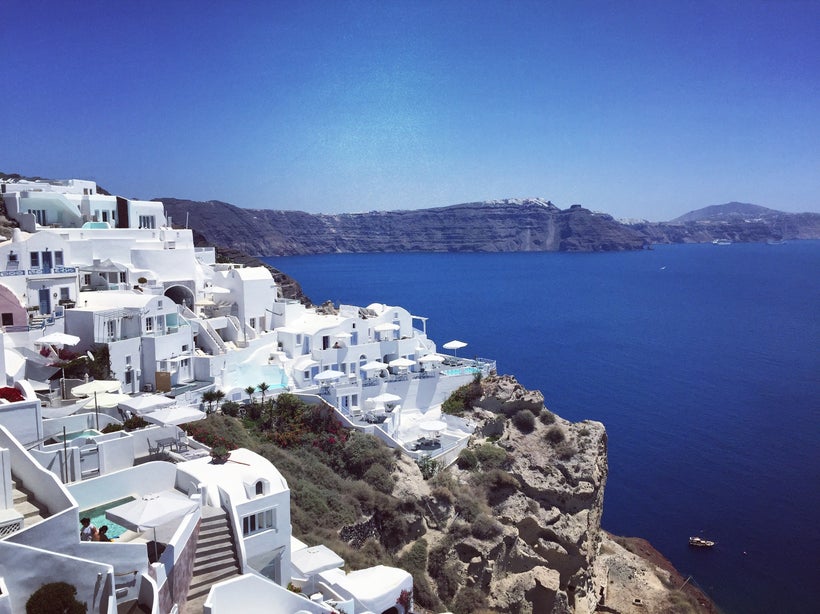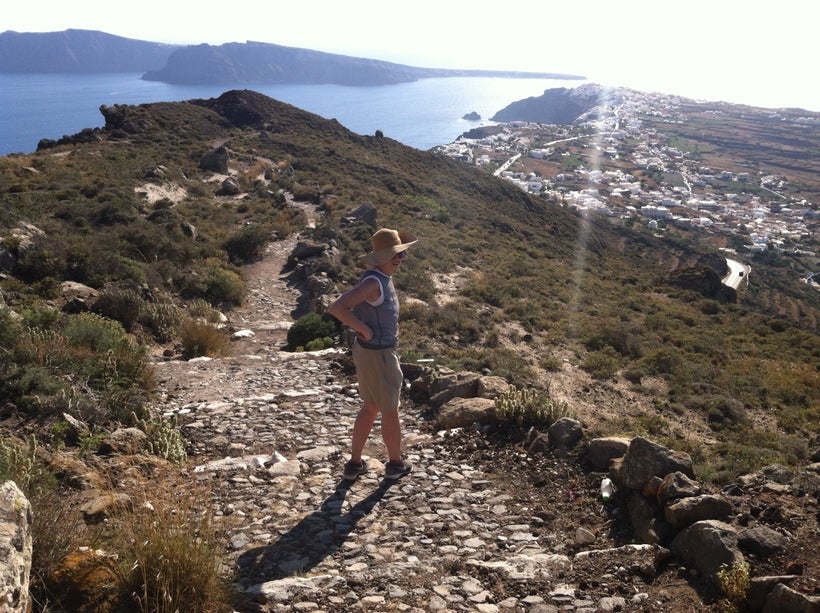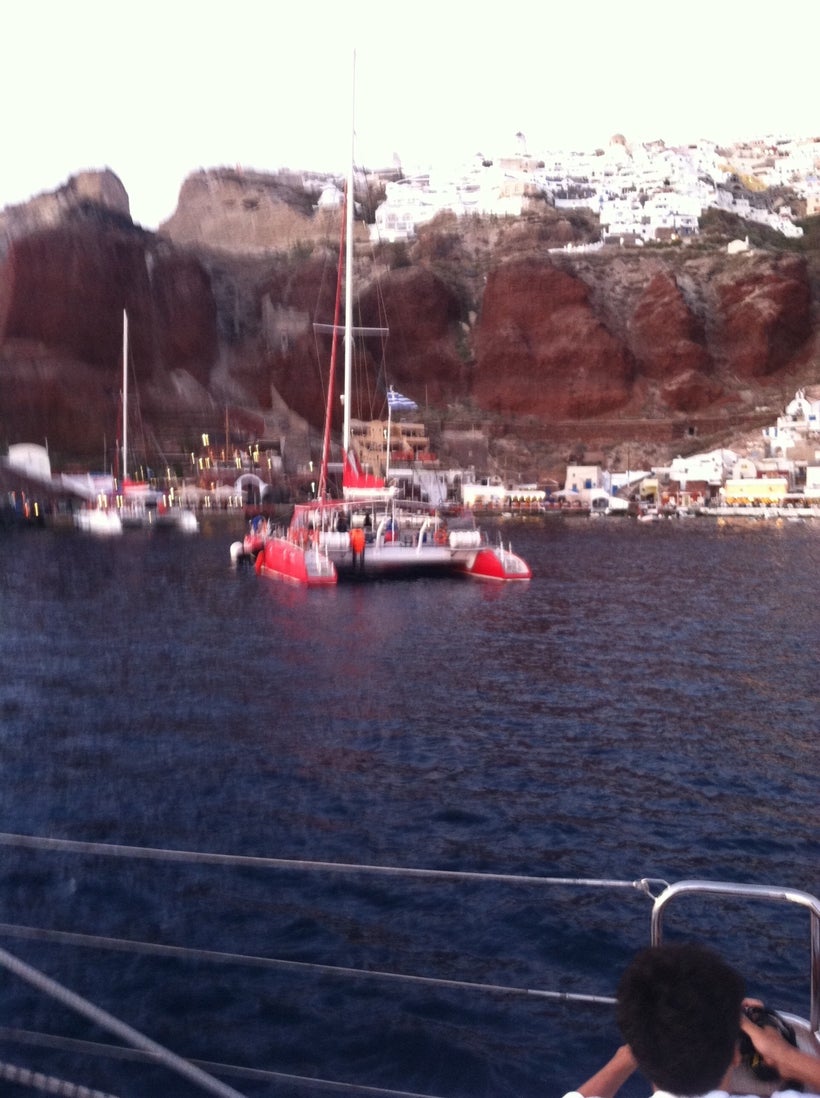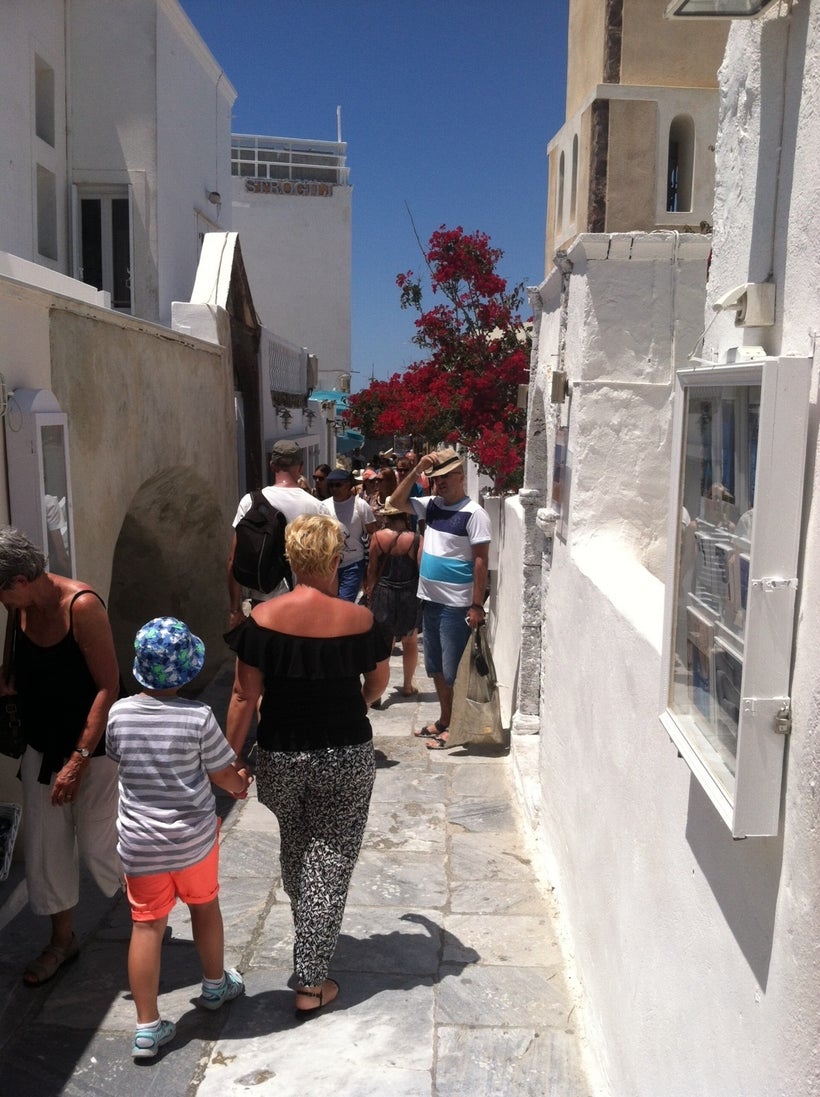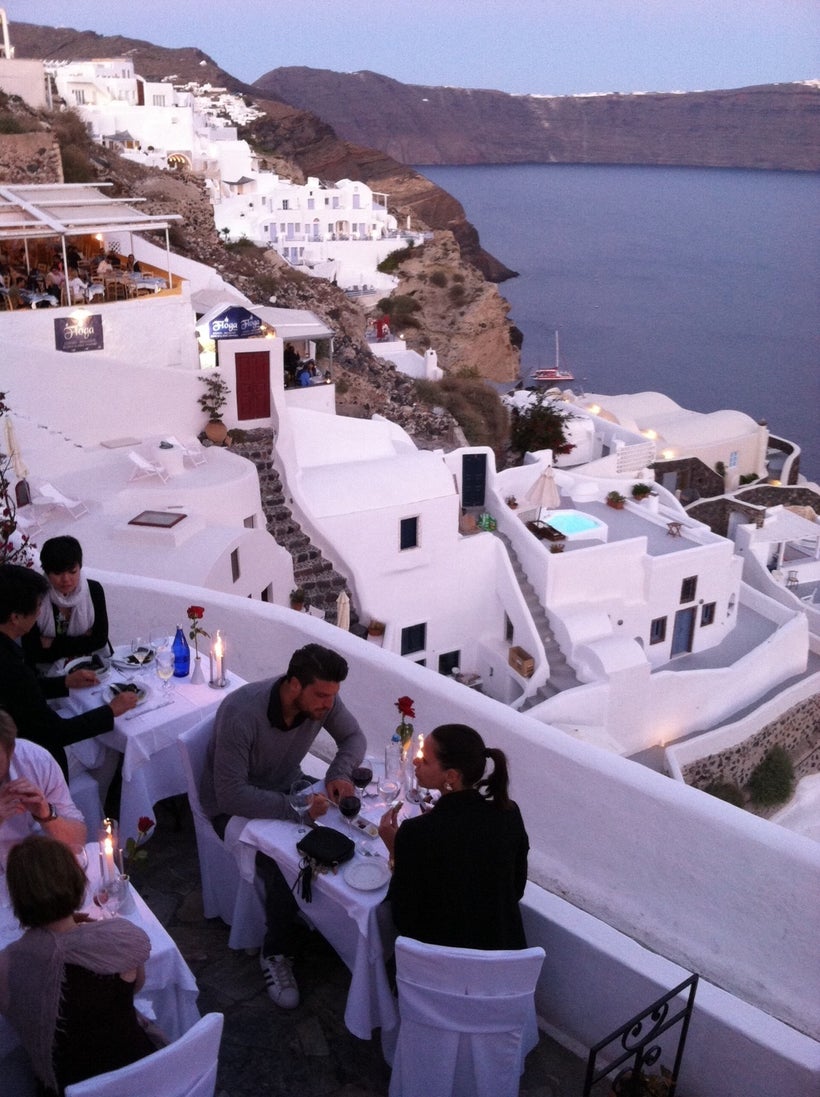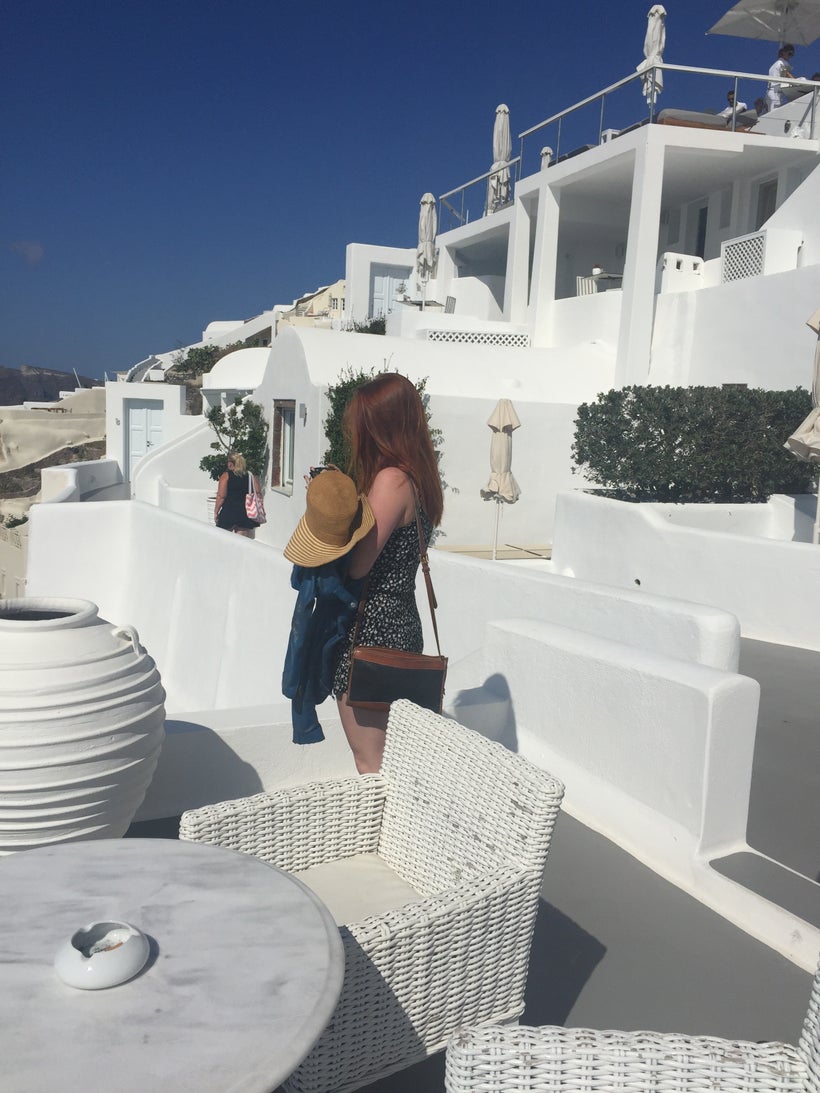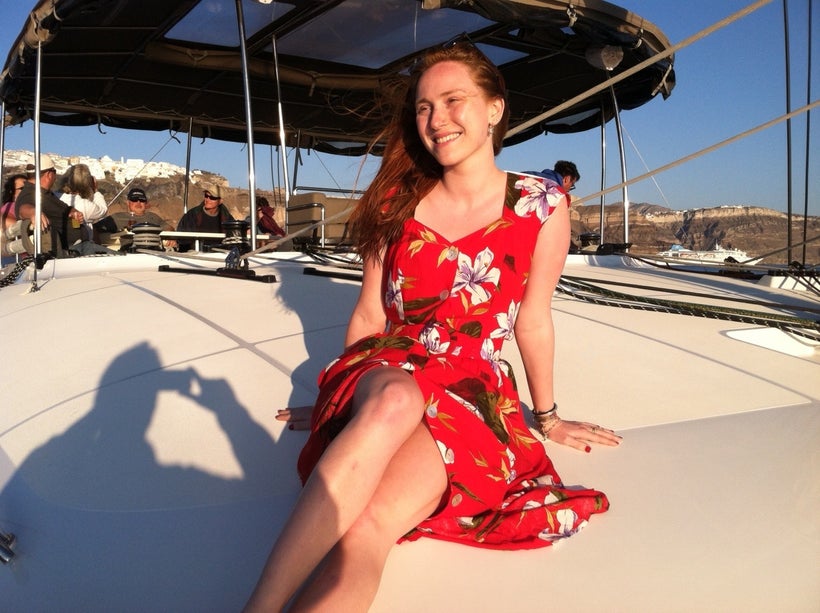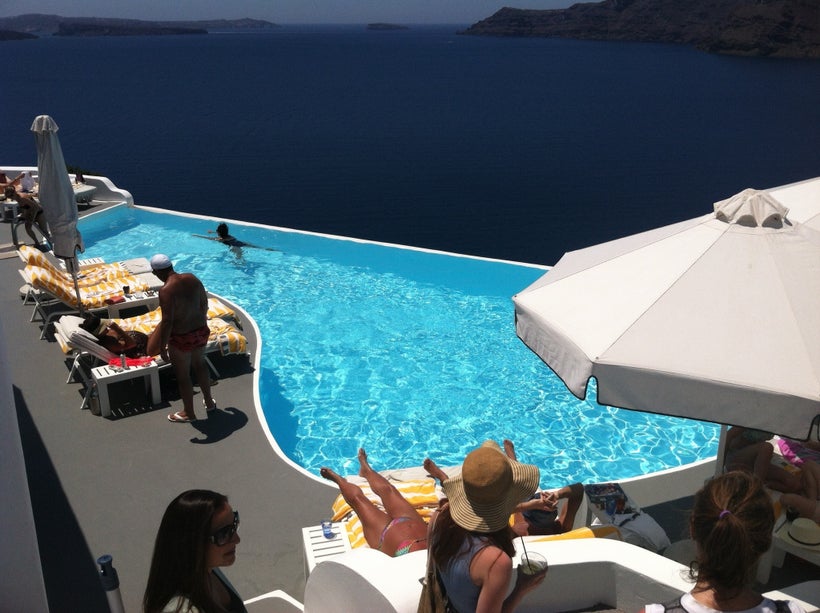 Return to Santorini by Illeana Hoffman and Steven Lapidus
How does one recapture youth, a special vacation, a fabulous time, a distant memory of paradise shimmering in the mind these last 35 years?
A heady question for sure; one not easily solved! A happy answer: alighting on circular archipelago, volcanic remnant, Santorini, an island voted over and over again as one of the world's most beautiful destinations. We are not glitterati who trumpet our stay on social media or newlyweds seeking honeymoon bliss, rather, mere seekers spell bound by dramatic surroundings, vibrant blue waters, pristine beaches and whitewashed stone homes nestled above volcanic caldera.
Canaves Oia Hotel was a fortunate choice; the setting and location perfect, a boutique 16 - room 5-star hotel carved into a cliff-side (one of the highest points of Santorini), beautiful in its minimalism and white form aesthetic. Location, location, location is a mantra for us and Canaves delivered. We grabbed our gifts to bring home early on, with easy access (a whole 3 minutes away on foot) to the main shopping district and restaurants. Be forewarned there are no real bargains, price points very much targetPublish TITLE Return to Santorini Styles well-heeled tourists but the main strip nevertheless offers endless choices on merchandise and elegant dining. The first night, we picked Ambrosia Restaurant dining on Mediterranean and Modern Greek cuisine to please the senses. Be sure to grab an outside table. We sat on a dreamlike terrace framed by Santorini's one-of-a-kind sunsets, candlelight at our table and stars over head.
Next day, Steven and our daughter jumped at the opportunity to board a Sunset Oia Cruise luxury catamaran offered by Santorini's premier yacht rental company and circumnavigated the island to end point Ammoudi Bay Port. At dusk, the Port attracts crowds of people to watch the Aegean sunset. Illeana walked vertically down a pedestrian path, 588 zigzagging steps, worn and slick from time, interspersed with donkey manure, quite an adventure to the backdrop of crowd seeking, i-phone ready tourists waiting for that perfect photo opportunity. We all rendezvoused from path and yacht at Ammoudi Fish Tavern, once again for the treat of sea-side dining. We were served the freshest of fish, exquisite cheese pie, Mediterranean food at its best. Heaven exists at the base of a volcanic-thrown cliff just as it does at the top!
Always curious to have multiple hotel experiences we jumped at the opportunity to sample the neighboring Katikes Hotel. Graced with an infinity pool, amazing view over-looking the caldera and champagne poolside bar where our daughter ordered endless drinks that fizzled with dry ice nestled in the base of the cocktail, spectacular scenery and people watching is intense. Not to be outdone much by the view, a Brazilian couple adorned in beautiful attire at all times hung out at the pool, BMW at the ready with hotel staff available to pour wine as needed. Not surprisingly, they preferred to sample from Santorini's flourishing wine industry.
Great hotels and restaurants are fun but a must of a different variety on Santorini is to take the almost 6 mile trek along the top of the cliff from Fira to Oia passing through Firostefani and Imerovigli -- something that comes gratis, too! We managed to walk the trail in 3 hours even though we were told it would take 4 or more to complete. The route isn't always marked but it is intuitive to stay on the path and follow the cliff with the caldera always to the same side. There are spectacular spots along the way; trails are both paved and just dirt. If staying in Oia, the first step is to take the public bus to Fira for the bargain of less than a dollar, much cheaper than the comparable taxi ride for $20 for the same distance. In our case, one of the treats of starting in Fira was the chance to have a meal in one of the town's finest restaurants, Koukoumavlos Restaurant, as a send-off for our trek. We weren't disappointed; recognized as one of the best gourmet restaurants in Greece, the menu was quite imaginative with a mix of ingredients unique to the chef's artistry.
Finally, even though our trip was about Santorini, we still needed to fly through Athens so how could we do this without visiting one of the wonders of the world, the Acropolis? Go we did, and even though the rest of Athens can be a letdown after sun-drenched Santorini, it's never a letdown to stay in classic landmark Grande Bretagne Hotel on Syntagma Square next to the Greek Parliament with its luxurious amenities.
So did we capture that special time in a place from long ago…no, 35 years have gone by, such is life -- but did we grab a new collection of things, some of beauty, elegance and harmony not always understood or appreciated in our youthful years, absolutely!
Calling all HuffPost superfans!
Sign up for membership to become a founding member and help shape HuffPost's next chapter
This post was published on the now-closed HuffPost Contributor platform. Contributors control their own work and posted freely to our site. If you need to flag this entry as abusive,
send us an email
.