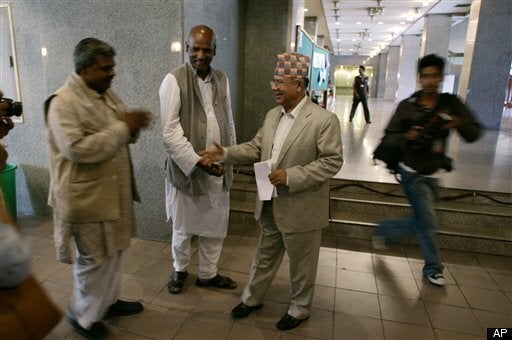 When I flew into Kathmandu in a Royal Airlines DC-3 in September of 1964, the old plane wheezed its way across the mountains and into the verdant high valley. I was a member of the fourth group of Peace Corps Volunteers to the mystical mountain kingdom. Nepal had been kept isolated from the rest of the world for hundreds of years, and Kathmandu was a magical, quasi-medieval city, one of the great cultural jewels of the world.
There were few automobiles and the Nepalese generally either walked, rode bicycles or took bicycle rickshaws. Most men of substance wore the Nepali national dress, the daura suruwal, thin cotton pants that while tight against the ankles then billowed out, a dark Nehru-like jacket, and the ubiquitous topi, a pillbox hat. The women wore saris similar to Indian dress. There were many barefoot porters and laborers in virtual rags, Tibetans in their heavy dress, and a rich mix of cultures and peoples.
There was a broad expanse outside the king's palace where awestruck villagers looked at the great ornate structure where resided the man considered a descendant of God. But most of the city was a narrow warren of streets, many of them with ornate woodwork, often of a religious nature. That only increased the sense of mystery.
Most Nepalese are Hindus, although there are Buddhists and Muslims as well, but their spiritual quality transcended any one faith. One could not be here very long without knowing -- no matter how severe one's agnosticism -- that there was a God or at least some spiritual being that motivated everyone and everything. Despite the poverty, Kathmandu was close to the mythical world of James Hilton's Shangri-la.
Was it any wonder that I wanted to return, to drink once again at those spiritual wellsprings? But why had I waited so long? I asked myself as yesterday afternoon the Jet Airlines jet soared into the valley, a quick hour and a half from Delhi. It had been four and a half decades since I first arrived in Nepal, a lifetime. For minutes, I keep looking out the window, but the mountains sat shrouded in clouds, and I saw little as the plane landed on the tarmac.
I had not even gotten my bag before the touts approached me, and I hurried away from them, and got into a battered taxicab to take me to my hotel. Before I saw anything, the stench assaulted me. I reached to shut the windows in the non air-conditioned car, but the smell remained. The foul odors had metastasized into a malevolent stench that penetrated everything and everyone. There was not so much heavy traffic in the sense of an orderly progression of cars proceeding in two directions, but a mindless jumble of vehicles, seemingly each with a separate route, bleating their horns at each other.
Outside was a mindless jumble of slums, substantial, cheaply constructed cement buildings cheek to jowl with shacks. Block after block. Mile after mile. It was endlessly the same. There were a few women in saris, blossoms in the squalor, but for the most part the people dressed in some fashion of western dress, jeans and t-shirts mainly, but as if every closet in the West had been emptied out and dumped here. There were great piles of empty plastic bottles, guarded like the gold they were, and ragged, forlorn children twisting and turning their way through the traffic carrying clumps of sod. At every traffic light a child beat on the window begging for alms. And everyone there was garbage, all the flotsam of urban civilization, scraps of paper, crumpled cans, rotting refuse. Once there had been stray dogs as efficient scavengers, but even they were largely gone.
We finally reached the tourist area of Thamel and drove along the misnamed Kings Way to my hotel. It is the same narrow street I remembered, but there was generic rock 'n' roll blaring from windows, stores selling Internet services and trekking gear, restaurants serving hamburgers and French fries, tacos and lemon meringue pie, and village girls who had learned enough English words to turn a trick or two with the foreigners. Few westerners have come to Nepal this summer, but the young Nepalese have made Thamel their own, and they paraded up on down what has become the Times Square of Nepal.
Last evening I had dinner in the center of Thamel at the Northfield Café with Rajeev Goyal . I have been working with Rajeev in Washington the past few months trying to double the size of the Peace Corps. Rajeev had also been a Peace Corps volunteer in Nepal from 2001 to 2003 stationed not far from where I had been posted. Since returning to the States, he has been helping the Nepalese in that area in eastern Nepal by building schools and water facilities. He has returned this summer to take a group of these villagers around the country to show them the bad and the good of what "development" has done to their country, and I was accompanying them.
The Northfield Café is a sprawling restaurant, one of the most popular places in Tamel. It serves a large menu of dishes from most cultures except Nepal, but whether it is Southern chicken, salami pizza, tacos, or chocolate cake, the commonality is mediocrity. In the far dark corner a group of three Nepali musicians sat squat legged playing traditional Nepali music on a one-string fiddle and a drum, but the tourists didn't notice them and their subtle sounds were overwhelmed by rock music projected from a bar across the street.
The Northfield Café is one of several restaurants and hotels established by Mike Frame, a farm boy from Northfield, Minnesota. Mike was a volunteer in Nepal One. He signed up for a second tour and established a tiny experimental farm in Marek-Kathare, the remote village where I was also stationed. Mike was a peculiar man and he did not want to go home. So he became the father of tourist Thamel. Mike died a few years ago. Thamel is his legacy.
"For years these people have lived under two fears," Rajeev said, looking out on a street full of hundreds of young Nepalese men milling aimlessly. "The Maoists on one hand imposing upon them and the government wanting to have their allegiance. Many of the young men left and went to Middle Eastern and South East Asian countries and worked essentially as slaves for a hundred dollars a month. Scrubbing toilets in airports in Dubai or Kuala Lumbar where were hated as being Hindus, hated for not knowing English, hated for being Nepali. Now in Nepal there are millions of young people with nothing to do. They are frustrated and rightfully so. They have no work and yet there is so much work to do."
Rajeev paused and looked out at this room full of tables of gesticulating westerners enjoying their sojourn in exotic Nepal. "This bitterness is going to get so bad that this respect for foreigners will go too," he said biting down intensely on each word. "They will wake up and realize that the westerners have done much of this to them. They will realize worship of westerners is part of the insidious caste system that has caused many of the problems."
There is already a glitch in Rajeev's summer project. One of the frequent strikes has shut down the East-West highway and the eight villagers have had to hire a mini-bus to get them to Kathmandu. But the bus has broken down in the jungle and the driver has left the group, saying he has to get what he needs to repair the vehicle. And there is no telling when they will arrive.
I am glad I have come to Nepal, but for far different reasons than I thought. God left Kathmandu long ago, and I know this journey of mine will be far different from what I had anticipated.
Popular in the Community