Artist Sallie Benton, whose one woman show opened at Chelsea's Firsts Street Gallery on October 6, has been a friend of mine for forty years. I made the trip to Manhattan to show my support for her career and for the pleasure of seeing Sallie and her Oscar winning husband, director Robert Benton (Kramer vs. Kramer). Benton, as Sallie fondly refers to him (as do his friends), was the art director of Esquire in its mid-sixties heyday when she fell in love with him. Her art work (she holds an MFA from Yale's School of Fine Arts) is influenced by Manet and Diebenkorn and is collected by such luminaries as Dustin Hoffman, Stanley Jaffee, Sam Cohn, Tom Mankiewicz, Candice Bergen, Bud Yorkin, and Mrs. Robert Altman.
So I made the trip from my home in Valley Forge, Pa., to stay with former Warhol Superstar, Geraldine Smith, as her guest in her spectacular one bedroom apartment on the 44th floor in Manhattan Plaza with a terrace and harbor view of NYC. Geraldine's most famous acting role was in Warhol's Flesh in which she tied a bow around 'the hottest stud' Joe Dallesandro's prize possession. Joe, who was being kept by a man, had had an affair with Geraldine on the side. Today Geri is a drug counselor and I vividly recall the pride with which she showed me her 2006 diploma of certification.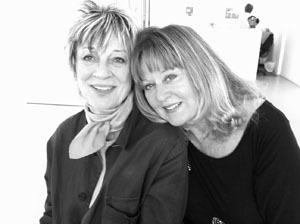 When Geri and I walked into the First Street Gallery in Chelsea, Sallie Benton, as gregarious and beautiful as I had remembered her, greeted me with open arms. She wears her hair short now, spiked and brown with bold blond streaks that evoke a painterly quality, aptly reflecting her life as an artist.
"Where did you two meet?" Geri asked.
"On Moorea, a topless beach in St. Tropez in 1968," Sally replied. "Benton and Newman had just written Bonnie and Clyde and it was on everyone's radar that summer." She chuckled. "Remember the French pronounced it 'Bunny and Cleide'?
"I remember Newman saying he had written it." I said.
"Benton was always laid back in taking credit so if Newman had said he had written Bonnie and Clyde, and if someone asked Benton what he had to do with it, he would say, "I did the advertising. When in fact it was Benton's idea; he co-wrote the screenplay. Neither Newman or Benton, cared much what was said about them."
"One day on the beach when you and Benton were talking with Newman, David introduced my husband and me to Sam Spiegel. Remember? And Sam invited my husband and me on a cruise on his yacht the next morning? A few days later we were having brunch on board off the coast of Corsica with Princess Grace and Prince Rainier. We met them because of you, Benton and Newman."
"I remember that," Sallie said. "What was Princess Grace like?"
"Down to earth, beautiful and terrified of Sam who had a temper."
"Come say hello to Benton," Sallie said, taking me by the hand through the crowded gallery. Benton was working the bar himself as the bartender had not shown up. The last time we saw each other was 1990 and he looked about the same: white beard, white hair and glasses. A scholarly image hiding a rapier wit.
"Good to see you, Benton, after all these years," I said as we embraced. After a few exchanges in which he applauded my efforts to turn my past into lemonade, I mustered the courage to ask, "What are you working on?"
"A sequel to the Titanic," he said with a slight smile. "A semi-autobiographical film," Sallie quipped.
The crowd of art lovers included such as literary giant Mort Janklow, renowned gallery owner Paula Cooper, Cora Weiss, who is both an advocate for woman's rights and an activist for the peace organization Sane Freeze. Amongst the browsers I spotted my old friend writer Paul Alexander, whom I hadn't seen in twenty years.
We kissed and hugged and I asked him what he was up to. "My book about J.D. Salinger is being turned into a major feature documentary," he said.
Geri was pulling at my arm to leave while Sallie and Benton were busy with their guests so I said to Paul, "We're going to split."
"Want to have dinner tomorrow night at Elaine's?" Paul asked.
The following night I met Paul who requested a table in the back of Elaine's restaurant front room. "Elaine hasn't arrived yet," he said . "She's never here this early."
I hadn't frequented Elaine's since 1990, and none of the waiters were familiar. A newspaper photo of me, on the arm of former ESQUIRE editor Bob Brown who was trying to duck from the press, used to be on the wall here. Funny picture. Gone with the past.
Paul and I reminisced, recalling the difficult period when my phone was being tapped and I was the victim of a series of burglaries, events that led me to flee New York suddenly without saying goodbye to friends. Paul was one of these friends.
It was time for our grand exit. As I looked at faces at the passing tables, I saw a familiar one smiling at me. It was Harvey Keitel. I went up to him realizing he had no idea who I was, and said, "It's Carole Mallory." He stood and shook my hand when in fact I was expecting salt and pepper shakers thrown at me, but I guess he hadn't disapproved of my memoir, LOVING MAILER, at least the opening chapter on Beatty. I had walked out of this restaurant on the arm of many men, including Warren, which I recalled in my memoir.
Harvey, looking more handsome than ever (men certainly age better than women), introduced me to his wife and to James Toback's wife and to Toback. Toback and I needed no introduction, though, being old acquaintances. Toback had been a friend of Norman Mailer's.
"I just loved your documentary on Mike Tyson," I said. "I saw it on STARZ. Such compassion."
"I'm reading your memoir now," he said, and quickly I walked away, thinking quit while you're ahead.
Now came the big 'Hello' of the Night. My book party for my novel FLASH had been held at Elaine's. We went way back.
Paul and I approached Elaine herself, seated by the front door and looking better than I had remembered her. Her face was thinner, her hair straighter and shorter and she was happy.
When Elaine last saw me I was a brunette; now I was blond. "It's Carole Mallory," I said and she beamed. "Where have you been?" She asked.
"I've moved to Valley Forge with George Washington's ghost," I said. While she was still smiling, I thought, Exit! Paul followed.
The next day I returned to Philadelphia. On the bus, I realized what a good time I'd had and that not only had I visited NY, but also I had returned home.
Related
Popular in the Community