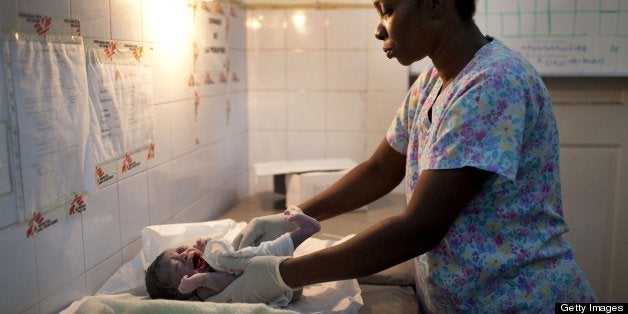 I'm returning to Haiti this week with feelings I haven't had on too many of my previous trips -- optimism and pride. When I first visited back in January of 2012 on the second anniversary of the devastating earthquake that leveled the country, I left feeling a sense of awe and dismay that people can carry on with their lives and even flourish in the face of so much adversity. I felt an overwhelming sense of grief mixed with admiration for a country drowning in poverty yet anchored in dignity and resilience. I felt humbled by women raising their children to the best of their abilities despite having none of the resources so many of us take for granted. I felt strong conviction to do my part to support efforts to improve the health and wellbeing of Haitian mothers.
Since founding Every Mother Counts, I've had the opportunity to visit many countries where women die at astounding rates from preventable conditions related to pregnancy and childbirth. The reasons why women die in the process of giving life are similar worldwide (hemorrhage, infection, hypertension and other medical conditions) as are the conditions that contribute to those deaths -- poverty and lack of access to healthcare, education, contraception, transportation and power and policies that support women's health and wellbeing. In Haiti, what little support girls and women had was largely demolished in January of 2010 and their vulnerability was magnified beyond measure.
During my last trip, we heard about mothers delivering babies far from facilities that could have saved their lives. Roads were poor, so distance wasn't the only factor causing so many to arrive at clinics or hospitals that weren't equipped or staffed to help them. We heard about mothers in labor traveling from one clinic to another over broken, dangerous roads, desperate for life-saving medical care, but dying en route because hospitals were destroyed and those that were functioning were few and far between. We visited one overcrowded hospital where a mother had not arrived to the hospital in time to save her baby yet she had no other option than to share a recovery room with other new mothers and their brand new living babies.
We heard story after story that proved why the rate of maternal mortality in Haiti is reported to be the worst in the Western Hemisphere with 600 of every 100,000 mothers dying from pregnancy-related conditions. We heard all about these tragic situations, but we also heard something else.
We heard about new hospitals being planned and built, new healthcare workers being trained and hired, new opportunities for women to get the reproductive and maternal health care they need. We met with doctors grateful for funds provided for post-earthquake reconstruction that would go towards building the healthcare system Haiti needed. We saw programs that were actively multiplying the number of trained birth attendants who could reach and care for women in remote areas.
It was at one of these programs that we met Cara Osborne, a volunteer midwife with Midwives for Haiti, an organization we had heard of through our friends at Partners in Health/ Zanmi Lasante (whose programs we'd come to visit). Midwives for Haiti was founded by Nadeen Brunk who had been working in Haiti since long before the earthquake, training Haitian women to become midwives. We heard about how these newly trained midwives would return to their communities after graduating from her program and take care of mothers who previously would not have access to prenatal care.
We heard story after story of people with ideas, hopes and concrete plans for how they were going to build a better, stronger, more resilient and durable Haiti. We wanted in on the enthusiasm and potential we witnessed that we believe are the beginning chapters of a success story. That's why last year we funded one of our first grants to Midwives for Haiti to sponsor 15 Haitian women to complete midwifery training. These women will then return to their villages and provide prenatal care for 120 women and deliver approximately 30 babies each month. They'll encourage women to deliver safely in health facilities or with the attendance of a trained provider. While that was unrealistic just a couple years ago, it's now becoming achievable because little-by-little, healthcare providers are being trained and health facilities are reappearing.
On this visit to Haiti, I feel optimistic about the future Haitians can achieve, and proud of the work being done to create that future. I feel invested and committed to helping Haitians achieve sustainable goals that will lead to safer motherhood and opportunities for Haitian women. But I'm also realistic. This is just a beginning. We're just starting to make inroads in a country that still has extremely limited infrastructure. We're just dipping our toes in the water in a country still drowning in poverty, but on this visit, there's hope, there's progress and there's tremendous untapped human potential. We're meeting the women and men who will become the next generation of midwives who will support women in their own communities and who may in turn do the same for their sisters.
Related
Popular in the Community