If asked to paint a picture of the major drivers of climate change, it's a fair bet most people would say that expanding industry, transportation and our overall dependence on dirty energy would be the brushstrokes of this destructive image. But they'd be missing a big part of the puzzle - the loss and degradation of our world's forests - which are equally devastating yet not often exposed to the same global scrutiny as these other drivers.
Forests play a vital role in the earth's global carbon cycle, especially given that they absorb carbon as they grow. But they often are destroyed. We are losing forests at a rate equivalent to 48 football fields every minute. That's often because the land is illegally logged or used to produce palm oil, soy, beef, rubber, paper and other commodities to meet increasing demands of a global marketplace.
With changes in the land sector (including forests) accounting for a quarter of global greenhouse gas emissions, we have reached a pivotal moment. Dramatically heightened local, domestic and international ambition is needed to conserve forests so that our planet is safer for current and future generations.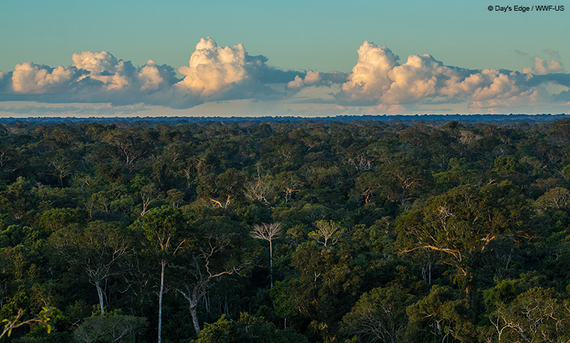 A focus on forests at the UN climate talks in Paris will help us close the widening emissions gap. Carbon reduction pledges going into the Paris negotiations will get us about halfway to where science says we need to be to avoid the worst effects of climate change. Focusing on forests can help bridge that gap.
One way to do so is ensuring the agreement includes incentives for countries to reduce emissions from deforestation and degradation, manage forests responsibly, and increase forests' natural potential to store carbon via REDD+ (Reduced Emissions from Deforestation & Forest Degradation) initiatives and more. But this is just part of the equation.
To save the world's forests and address several major threats to our planet, including the climate change crisis, we need to bring together governments, the private sector and consumers, as well as people who rely on forests for their livelihoods. Together, they can carry the ambition of the Paris agreement into action.
The foundation for this is being built. More than 190 governments have pledged to reduce their economy-wide emissions. Consumers are demanding higher standards for the products they buy. And we've seen a groundswell of support from the private sector to stop or greatly reduce global deforestation and degradation related to the production of major global commodities that make it into our homes and grocery carts. More than 100 companies, for example, have made commitments through the New York Declaration, Consumer Goods Forum and other initiatives to dramatically improve their supply chain footprints.
To build on this momentum, we need to take several steps, including ensuring the private sector commitments are realized. One way that companies are doing so is through voluntary market-based initiatives, such as the Forest Stewardship Council, Roundtable for Sustainable Palm Oil and other certification schemes. Participation in these initiatives is increasing, as the private sector strives to achieve responsible management and sustainable production and sourcing practices. This approach has been met with significant success, and these certifications continue to play a critical role in verifying good practice.
Now it is time to bring market-based initiatives to the next level by converging the ambition of companies with the ambition of governments. Specifically, connect buyers and traders of commodities who want to source sustainably with jurisdictions (countries, states or provinces) that are prepared to demonstrate that they are producing commodities sustainably. This approach could tap REDD+ financing to help a jurisdiction do land use planning, reach producers with extension services, and more.
It also could be a means for engaging with indigenous people and local communities, as well as safeguarding their rights to their land and way of life - as REDD+ programs require. Many indigenous people rely on healthy forests to earn a living and provide their families with food, water and fuelwood. They are essential stakeholders in combatting deforestation and degradation.
Over the next year, WWF will work with companies, governments and civil society partners to create and test this approach, looking back on similar initiatives as examples to build from. In Brazil, for example, corporate commitments to deforestation were combined with government enforcement of a soy moratorium brought on by increased consumer expectations. This contributed to the 80 percent reduction in deforestation in the Brazilian Amazon over the last 10 years. During the same time period, agricultural production increased significantly. As we begin this journey, we'll apply the lessons learned from the Brazil initiative to this approach. If this model is successful, it will unlock the full conservation potential of climate finance. It will fundamentally shift approaches to commodity sourcing in a way that rewards improved governance and sustainability with access to markets.
Funding protected areas, advancing responsible forest management, and engaging with major companies to influence global markets are critical to solving this problem. But even these collective strategies are not enough to save the world's forests. In Paris, we need the US to demonstrate strong leadership, and commit to at least one billion tons of additional emissions reductions in developing countries, including by protecting our forests to ensure a successful global outcome. Together, we must do more and we believe this approach will get us, and the world, toward a more successful climate change picture.
This post is part of a "What's Working: Protecting the Natural World" series produced by The Huffington Post, in conjunction with the U.N.'s 21st Conference of the Parties (COP21) in Paris (Nov. 30-Dec. 11), aka the climate-change conference. The series will put a spotlight on solutions-oriented efforts to fighting climate change and the implications for ecosystems on land and at sea. It is part of HuffPost's What's Working editorial initiative. To view the entire series, visit here.
Support HuffPost
The Stakes Have Never Been Higher
Related
Popular in the Community