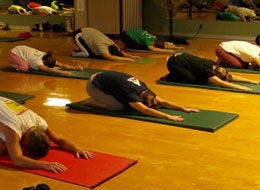 As a teen, I first learned yoga from the classic Yoga in 28 Days, which 35 years after its original publication, is still in print. After a decade of dance study, I began a daily yoga practice that lasted over fifteen years-- including training to become a teacher of Anusara Yoga, a close cousin of Iyengar Yoga, an approach known for its emphasis on alignment.
But then life intervened. An injury, hectic work schedule, maturing body, flagging stamina, and soon yoga fell away. While according to yogic discipline, twists heal the back, my chiropractor frowned on them. Time outs to recover extended into weeks, months, and years. My yoga mat turned into a prop used to stabilize the treadmill.
Instead I began a daily walking practice. But as summer blossomed, up came the memories of doing poses by the ocean. I wondered: In a world of deadlines and to-do lists, is it possible to stay on the yoga mat lifelong?
I decided to find out by scheduling a return to the mat. I signed up for a five-day yoga course at the Omega Institute in Rhinebeck, New York. For over 25 years, Omega, with its diverse offerings in mind-body-spiritual experience, has attracted seekers, students, and professionals to widen their horizons--to learn, to heal, and to commune with themselves and with nature on its verdant campus.
Having been enriched by all my previous visits there, I knew Omega as a supportive environment in which to return.
But still, I had some trepidations. After all, I had been out of practice for five years and during that time period my body hadn't exactly gotten any younger.
Still in the past, I'd lapsed in my exercise or yoga routine--during winters when I had gone couch potato, only to revive in the spring. So I hoped that somehow revival was still possible. Nevertheless, I was mentally prepared to go gently and not assume that my body would now be able to do what had once been easy.
The first day I trekked through the woods up and into a large oval building-- like a giant windowed tree-house-- in which I and the fourteen or so other yoga students would be studying with Deb Neubauer of Northhampton's Anahata Yoga Center aided by her able assistant, Pam Davey.
As I lined up my wine colored mat along with a few yoga props, it felt so good to step onto that cushioned and familiar place of self-experience and self-connection. Through and beyond the actual exercise, whether a given pose comes easily or not, I knew to my core that yoga practice immediately brings you into an embodied experience of yourself.
As we began with forward bends and downward facing dog, two classic warm-ups, dormant muscles were reawakened, stretches expanded my sense of possibility, and after so many years, the flexibility developed over decades of practice was right there. However, the strength was not. Moreover, I had to work very carefully to prevent bearing weight on a wrist with repetitive strain injury (RSI) -- the bane of writers. Pam, the assistant, artfully placed a rolled mat under my wrists so I could do the poses.
Overall, I found that re-experiencing these poses was both familiar and poignant. Familiar because each pose called upon sensations my body knew well, poignant because I had to back off and do the poses in a highly modified form that reflected my body's capacity today. It was kind of like going to a school reunion and barely recognizing yourself.
My return to the mat required acceptance that I could not do every pose. (Forget "Wild Child" a backbend balanced on one hand!) I alternated the workouts with rest and body work performed by skilled staff at the Omega Wellness Center. After a neuromuscular masseuse released the knots in the shoulder muscles tightened by computer use, I could more fully extend and release my arms and shoulders in the yoga sessions.
The last afternoon we did restorative postures, using blankets and props to support our bodies as we rested in comfortable, yet gently expansive positions. My body drank that up--- and at night in the little white cabin on the Omega campus, my body melted into a deep sleep, way beyond the deadlines and to do lists, settling securely into myself--which is yoga's truest gift.
Omega's upcoming Being Yoga Conference in New York City (October 10- 13) features a stellar lineup of major teachers, including (for those returning to the mat with tense shoulders) Gary Krafstow who will offer yoga for the upper back, neck, and shoulders (go to www.eomega.org)