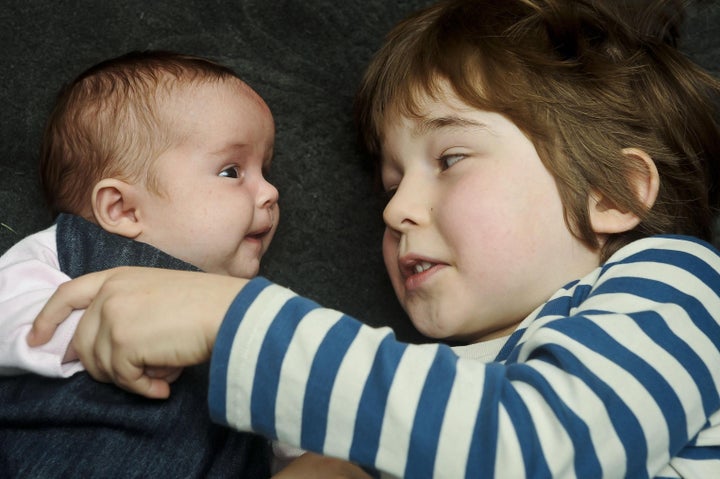 Like most parents, Jody Blake, 38, brags to anyone who will listen about how exceptional her children are. But according to a report by the Press Association, Blake may have a valid reason for thinking her kids are truly phenomenal: Reuben and Floren are twins, despite having been born five years apart.
Blake began fertility treatment in 2005 and five embryos were produced. Two of those were transfered to Blake's womb, while the remaining three were frozen. Following the initial treatment, her son Reuben was born on December 9th, 2006.
Rueben's sister, Floren, was conceived from the same group of embryos, hers being one of the three that had been frozen for five years.
"It does feel quite surreal. I think people are really, really surprised and it almost takes people a few minutes to get their heads around it," she told the paper. "We obviously had nine months to get it straight and to think, 'Gosh we are having Reuben's twin,' but it is incredibly special."
Her husband, Simon Blake, 45, told the paper they weren't sure conception would be possible the second time around, since Floren's embryo had been frozen for so long.
"There aren't a huge amount of reliable statistics because it isn't done that often, but we knew it was a long shot," Simon told the Guardian. "You just can't comprehend that a life could come from some material that's been frozen that length of time."
Though their experience might be the most headline-worthy, the Blakes certainly aren't the only couple out there having twins.
Today, the Associated Press reported that one in every 30 babies is a twin, which is a huge increase over the last 30 years. And cases like the Blakes' may well be related to the increase, as experts are citing fertility treatments as a possible cause.
CORRECTION: A previous version of this story indicated that five embryos were transferred to Mrs. Blake's womb in 2005. Only two were used, while the remaining three were frozen.
Related