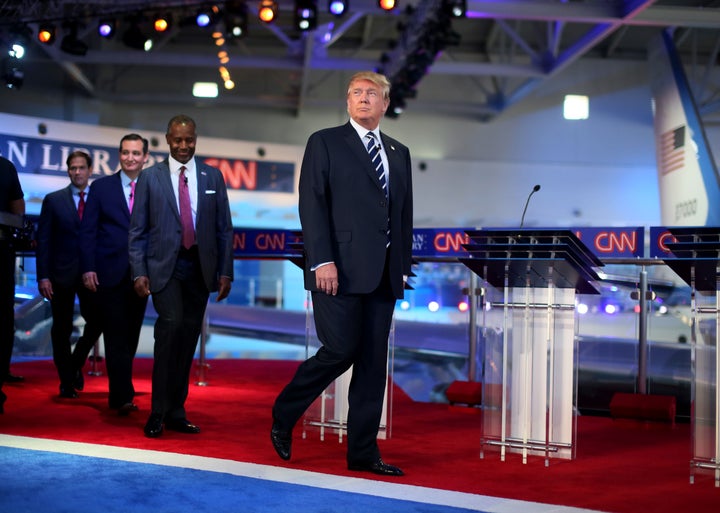 The most politically active members of the Republican Party have warmed to Donald Trump's bid for the party's presidential nomination since last summer, according to a new Huffington Post/YouGov poll, which finds 68 percent now think he could win the general election.
While most surveys attempt to reflect the entire electorate, this one is the latest in a trio of polls focusing solely on Republican activists: well-informed party stalwarts who've run for or held office, served as party officials, worked on campaigns or volunteered their time before elections.
Their views shouldn't be seen as representative of the horserace as a whole, but they provide some insight into the role of GOP political leaders in an election cycle where public opinions have repeatedly flouted the establishment. With days until the Iowa caucus and only a scattered handful of endorsements coming from elected officials in Washington, there are increasing signs that the Republican establishment is losing its grip on its activist base.
Prior HuffPost/YouGov activist surveys map the stages of Trump's political ascent among that group. Last July, while he attracted a significant fraction of support, just over a quarter believed he was capable of winning the Republican nomination or the general election, with even fewer considering him acceptable to most Republicans.
By September, he'd convinced a slim majority he was electable. Much of the data, however, still painted him as a "factional" candidate with intense support in some corners of the party but a ceiling to his appeal. He was still viewed as unacceptable to a majority of the GOP, with a significant group of activists saying they could never support him, or would be angry to see him nominated.
The latest survey, conducted Jan. 14-20, finds that activists now see Trump as one of three candidates, along with Sens. Ted Cruz (R-Texas) and Marco Rubio (R-Fla.), who are capable of delivering victory in November.
As in national polls, Donald Trump leads as the activists' first choice, taking 29 percent, with Cruz at a relatively close 25 percent. Previous waves of support for former neurosurgeon Ben Carson and businesswoman Carly Fiorina have all but entirely ebbed, leaving Rubio, at 17 percent, as the only other candidate in the double digits.
With first and second choice combined, Cruz takes the lead with 50 percent, followed by Trump with 45 percent and Rubio at 33 percent.
A gap persists between two groups: volunteers, who've donated significant time or money, and "semi-pros," who've worked in politics or run for office themselves. The volunteers split solidly for Trump, while the professionals are close to evenly divided between Trump and Cruz.
More dramatic than the horserace numbers is the change to Trump's image and his perceived legitimacy as a candidate.
In September, 40 percent of activists rated him unfavorably. Now 30 percent do, giving him lower negatives than anyone else in the field except Ben Carson, Ted Cruz and Marco Rubio. The percentage who say they could never support him has fallen from 28 percent to 20 percent in that time, while the share naming him acceptable to most Republicans has risen from 40 to 54 percent.
While there's little precedent for candidates who lack political experience winning a nomination, let alone the presidency, a 68 percent majority of the activists surveyed now say that Trump is capable of winning a general election. That's up from just half of the activists last fall and 26 percent last summer, and outpaces the perceived viability of any other candidate. 
Candidates, of course, can shed those perceptions as easily as they earn them. In September, a majority of activists thought either Carson or Fiorina would be capable of winning the presidency; those numbers have since plummeted.
Just two of Trump's rivals, however, seem currently poised to take advantage among the activists if he falters once voting begins. Cruz, at 61 percent, and Rubio, at 60 percent, are the only other contenders currently seen as electable by a majority of activists.
Cruz, who leads in combined first- and second-choice preference, seems especially well-positioned. As in the previous survey, he is the top choice among activists who are self-described Tea Party members, among whom he leads Trump by 10 percentage points. He also retains a narrow lead among evangelical voters, although that could be threatened by evangelical leader Jerry Falwell Jr.'s endorsement of Trump, made after the survey was conducted.
Rubio, the lone establishment-friendly candidate to attract significant support among the activists, is rated positively by 69 percent of those surveyed. While that's down about 10 points from the previous survey, he remains largely popular, with just 11 percent saying they could never support him, and is considered slightly more electable than Cruz.
Other establishment candidates fare considerably more poorly. While former Florida Gov. Jeb Bush has leaned hard on his prospects in the general election, just 17 percent of activists consider him electable. Ohio Gov. John Kasich, who's made headway in polls of the New Hampshire primary, does about equally badly, with 16 percent believing he can win.
An outsider winning the nomination would be a historic upset, and without a single vote yet cast, there's time for both GOP activists and the electorate as a whole to shift. But the current trend lines suggest that the Republican base currently sees its non-traditional front-runners as its best bet.
The survey consists of 500 completed interviews of self-identified Republicans selected from YouGov's opt-in online panelists who met the screening criteria for party activism. Interviews were conducted Jan. 14-20, 2016. Full results of the survey are here and crosstabulations are here.
The screening criteria were as follows: Respondents who think of themselves as Republicans, say they would vote in a Republican primary in their state and say they have either run for office, held elected public office, been a paid staffer for a political campaign or elected official, been a party official or substantively contributed time or money to a campaign.
For weighting purposes, a sampling frame was created based on the American National Election Studies using similar measures of political activism. Cases were weighted to the frame using an iterative process known as raking. Weights were based on party identification, age, gender and education.
The Huffington Post has teamed up with YouGov to conduct daily opinion polls. You can learn more about this project and take part in YouGov's nationally representative opinion polling. Data from all HuffPost/YouGov polls can be found here. More details on the poll's methodology are available here.
Most surveys report a margin of error that represents some, but not all, potential survey errors. YouGov's reports include a model-based margin of error, which rests on a specific set of statistical assumptions about the selected sample, rather than the standard methodology for random probability sampling. If these assumptions are wrong, the model-based margin of error may also be inaccurate. Click here for a more detailed explanation of the model-based margin of error.
Calling all HuffPost superfans!
Sign up for membership to become a founding member and help shape HuffPost's next chapter