As the busy and rushed school schedule becomes routine, time seems to become a distant memory many parents long for, especially when it comes to packing a healthy lunch for kids. With this fleeting luxury of time, we often begin to rely on "fast and convenient" foods and lunch gear as the easiest way to get the kids out the door and on their way to school. But what impact do these "fast and convenient" disposable products and single-serve food items have on our wallets, our health, and the environment? And is it really possible to save our money, health, and planet by packing a healthy, reusable, and waste-free lunch instead of a disposable one? Yes, it can be done!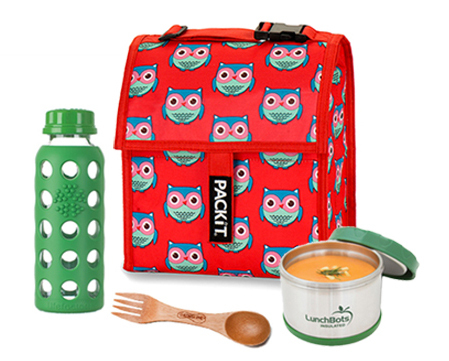 After spending quite a bit of time researching and evaluating lunches, I realized that with a little preparation, it can actually be easier than we might think to pack healthier, reusable lunches. Below you will find out how I discovered that packing kids a reusable, waste free lunch over a disposable lunch is something we can all do efficiently and effectively -- all while saving money and having a positive impact on our health and planet.
What is the Difference Between a Reusable, Waste-Free Lunch and a Disposable Lunch?!

Everything included in a reusable, waste-free lunch should be able to be eaten, reused, recycled, or composted. To help avoid exposure to toxic chemicals in lunches that can be harmful to our health, lunch gear should also be free from the chemicals Bisphenol-A (BPA), phthalates, PVCs, lead, and other heavy metals to name a few. Disposable lunches, on the other hand, include items that over time can cost us more money, especially when buying small prepackaged foods instead of bulk foods; are often made with harmful chemicals, like BPA and lead, which can negatively affect our health; and contribute to waste in our landfills and pollution to our environment.
To pack a reusable, waste free lunch instead of a disposable one, you can begin by:
•Investing in a non-toxic, reusable lunch bag instead of using a disposable one
•Using a reusable, stainless steel or glass water bottle instead of a disposable bottle or carton
•Trying reusable utensils such as bamboo or stainless steel instead of plastic utensils
•Packing a cloth napkin instead of paper napkins
•Getting reusable snack bags and reusable sandwich bags instead of plastic baggies, foil, or plastic wrap
•Trying safe, reusable food containers such as glass or stainless steel to pack fresh, healthy food instead of buying prepackaged foods
•Getting reusable glass or stainless steel straws instead of plastic straws
To help me determine how much it would cost to pack a reusable, waste free lunch and a disposable lunch, I consulted with family, friends, and bloggers. I concluded that a typical school lunch and snack consists of variations of the following:
•Main Course (examples: leftovers from healthy dinners, a sandwich, pasta, pizza, salad with roll, etc.)
•Snack (granola, crackers, yogurt, nuts, etc.)
•Dairy (milk, cheese, yogurt)
•Fruit (apple, banana, strawberries, etc.)
•Vegetable (carrots, celery, broccoli, etc.)
•Drink (juice, water, milk)
Keeping this in mind, I calculated the estimated costs of packing a healthy, organic school lunch and afternoon snack in both disposable and reusable packaging. I was amazed to see the results:
The Savings Per Child Per School Year = $417.60
By packing a reusable, waste free lunch, you could save an estimated $2.32 per child per school day, which equates to a total of $417.60 per child per school year. That's over $400 that could go back into a family's budget for bills, groceries, gas money, and more!
Below are two tables that summarize my calculations, and for more details on my research, you can visit my Lunch Savers guide.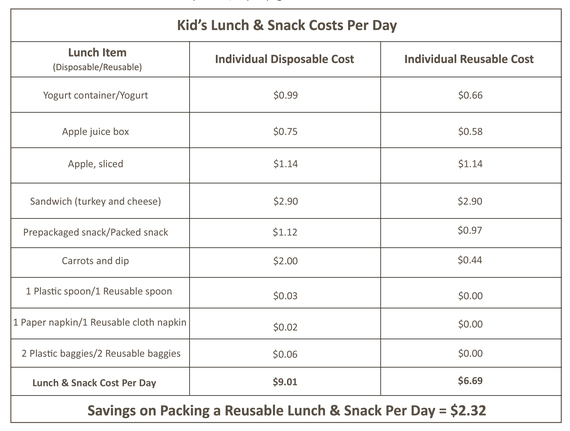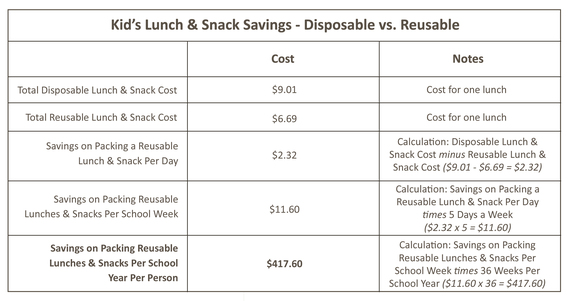 Through my research I also learned that a waste-free, reusable lunch has more benefits than just saving us money. There are health benefits as well:
•More nutritious food: When packing a reusable lunch (not containing prepackaged foods), you are more likely to pack fresher ingredients that don't contain high levels of sugars and sodium, preservatives, and artificial colors and flavors.
•Non-Toxic Gear: When you choose safer, reusable lunch materials (like glass, stainless steel, and organic cotton), you can help avoid the toxic chemicals BPA, lead, phthalates, PVCs, and heavy metals which, over time of ingesting, can lead to health concerns.
There are many reasons why going waste free can help our environment! Simply put, since everything in a reusable, waste-free lunch is edible, reusable, recyclable, or compostable, packing this type of lunch will help you reduce the amount of food and packaging waste going into landfills. In addition, you can also help reduce the amount of pollution in our soil and water from toxins leaching from plastics, which stay in our environment for hundreds to thousands of years.

Time-Saving Tips
It may seem that the hardest part to packing a reusable, waste-free lunch is finding the time to do it, yet with a little practice and preparation it can be a breeze! Below are some of many great time-saving ideas I have found helpful:
•Pack the night before as you're putting away leftovers from dinner. Save some leftovers to pack for lunch the next day and freeze smaller portions for future lunch options. This is also a great way to save time during cleanup since your counter will already be messy from cooking dinner.
•When your kids get home, have them rinse out their lunch containers and place them in the dishwasher.
•Wash and cut fruits and veggies on Sunday for the week.
•Plan your lunches for the week. Write down your lunch idea schedule so you don't have to spend time thinking about what to pack as you make lunches during the week.
Armed with this new information about the benefits of going waste-free, I hope you will find packing reusable, non-toxic lunches to be both a beneficial and rewarding experience for you and your family. And it doesn't have to stop at lunch... challenge yourself to make other areas of your lifestyle healthier and waste-free!
Related