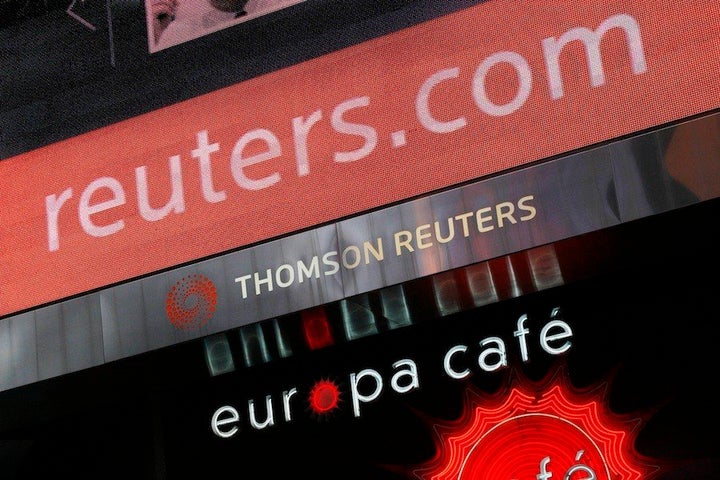 NEW YORK -- What is Reuters? Forty-two percent of Americans polled in May correctly identified Reuters as a global news agency. However, 22 percent had other ideas: London investment bank, New Jersey college, German airline, fast food chain. And the remaining 36 percent? "Don't know."
If Reuters were a start-up company, results like these wouldn't be surprising. But the news agency has been around more than 150 years, boasts 3,000 journalists worldwide, breaks market-moving financial news and -- following a 2008 merger -- is now part of Thomson Reuters, a financial and professional information juggernaut with revenues that exceeded $13 billion last year.
So it's understandable Reuters executives might want to get the word out a bit more.
"It's definitely important for us to raise our profile, as well as to increase the impact of our journalism, in the U.S.," editor-in-chief Stephen Adler told The Huffington Post. "Indeed, to be fully effective as a global organization, we have to be as influential and as well known in the U.S -- the world's largest economy -- as we are elsewhere in the world."
Reuters' recent hiring spree -- including a handful of Pulitzer Prize-winners – has quickly gotten the media world's attention. At the same time, Reuters has relaunched its website to better showcase its vast reporting in a more consumer-friendly way, stepped up social media efforts and increased analysis, opinion and enterprise reporting -- all elements that may play better on the web than in straight wire copy.
Reuters isn't giving up on breaking financial news that paying subscribers want or reporting international wire stories that cash-strapped newspapers, lacking foreign budgets, increasingly need. However, Deputy Editor-in-Chief Paul Ingrassia says the company wants to go beyond breaking news. "I think what we're making a bigger effort to do is not only be first with events," Ingrassia said, "but very quickly and analytically ... report the meaning and impact of those events."
Reuters' goal isn't just to stop getting confused with Rutgers in random polls. The current management team has loftier ambitions. "Our mandate at Reuters is to become the best journalism organization in the world," Adler said.
That's the kind of swagger one expects to hear in the hallways of Bloomberg News, another profitable media company with thousands of journalists around the globe and dreams of being the world's "most influential" news organization. Bloomberg, too, wants it all: a lucrative terminal and professional information business alongside growing global influence. Bloomberg's purchase (and later rebranding) of Businessweek and launch of an opinion site, Bloomberg View, are a just a couple ways the company is trying to increase its influence beyond Bloomberg terminal subscribers.
Reuters still has some catching up to do. In addition to Bloomberg Businessweek and Bloomberg View, the company founded by New York City Mayor Michael Bloomberg has also significantly expanded its reach in Washington D.C. through the BGov subscription service and currently boasts the largest news operation in the capital. (To gain its own share of Washington influence, Reuters recently tried luring Washington Post star Dan Balz, but he decided to remain with the paper.) Just last week, Bloomberg agreed to drop nearly a billion dollars on acquiring BNA -- a move that only strengthens its position against Reuters in premium content geared toward lawyers, tax specialists and government regulators.
By giving Adler a mandate to make big moves, Reuters may hope to avoid being lapped by the Bloomberg behemoth. When asked whether Bloomberg is Reuters' main competitor, Adler rattled off the many subscription platforms that Reuters offers its users, including traders, investment bankers, lawyers, tax specialists and pharmaceutical researchers. Reuters, he said, also reaches "1 billion people a day through our agency business" used by newspapers, magazines and websites.
"Our audience base is thus quite different from anyone else's, as is our revenue model," Adler said. "The better we are, the more our journalism is worth to all of our customers. And we aim to be the best. And, yes, Bloomberg is certainly a leading competitor."
Reuters, a publicly traded company, doesn't have pockets quite as deep as privately-held Bloomberg does. But they're definitely willing to spend for top talent and to expand online.
Last week alone, Reuters hired former Slate media critic Jack Shafer (Tues.), launched a financial news and opinion aggregation site with Reuters blogger Felix Salmon (Tues.), snagged Pulitzer-winning Wall Street Journal veteran editor Alix Freedman (Wed.) and landed Bay Citizen editor-in-chief and Industry Standard founding editor Jonathan Weber (Fri.).
WALL STREET JOURNAL IN EXILE
A year ago, media watchers wouldn't have imagined such a slew of hires coming back-to-back. But Adler -- a former deputy managing editor at the Wall Street Journal and Businessweek editor-in-chief just before Bloomberg's acquisition of the magazine -- started making big moves shortly after becoming Reuters News editor-in-chief last May. Previously, Adler served as editorial director of Thomson Reuters' Professional division, a lucrative business catering to financial, legal, accounting and scientific professionals.
One of Adler's goals as editor-in-chief is to increasingly tap into the vast amount of data within Thomson Reuters to produce articles of interest to subscribers. But first Adler had to build a new editorial leadership team -- one that's looking like the Wall Street Journal in exile. Ingrassia spent over three decades at the Journal and Dow Jones, where he won a Pulitzer for his coverage of the auto industry and later ran Dow Jones Newswires. Three other former Journal staffers are on board, too: former Chief Operating Officer Stuart Karle, data editor Reginald Chua, and enterprise editor Mike Williams.
These days, media executives often joke about how former Journal staffers now run everything except the Journal. Bloomberg Chief Content Officer Norman Pearlstine previously held the top job at the paper, and former Journal reporter Matthew Winkler is Bloomberg's editor-in-chief. Jill Abramson and Marcus Brauchli, the top editors at the New York Times and Washington Post, respectively, also hail from the Journal.
Adler's leadership team isn't all Journal ex-pats. Adler hired Jim Gaines, a former Time Inc. executive most recently at The Daily. And legendary journalist Harold Evans joined Reuters as an editor-at-large, a position that includes writing, advising editors and moderating high-profile events. And some members of the team are old Reuters hands. Chrystia Freeland, who joined Reuters last year, became editor of Thomson Reuters Digital. Enterprise editor Jim Impoco took a role as executive editor of Thomson Reuters Digital. In May, James Ledbetter moved from Reuters.com to become Reuters inaugural op-ed editor, just weeks after Bloomberg View launched.
"When my position was created, there became a much stronger mandate from above to go out and get big names and put the full weight of Reuters behind it," Ledbetter said. Since he took over, Reuters has hired not only Shafer but two former New York Times reporters with Pulitzers on their resumes: David Rohde and David Cay Johnston. "It's getting to be quite a stable," Ledbetter said.
Reuters has tried making inroads into commentary before. Salmon joined Reuters in 2009, the same year the company bought Breakingviews. Even though Reuters ran op-eds and commentary, Ledbetter said the "full weight of the institution" wasn't behind the initiative.
Given the timing of Reuters' opinion-writer shopping spree, Bloomberg appears to be the target. Ledbetter admits that Reuters has kept its eye on the rival company's opinion expansion, but says the launch of Bloomberg View wasn't the primary motivation for hiring more opinion writers to his team. Instead, the rise of the Internet, he said, followed by blogs and social media "has created a genuine reader demand for a certain kind of fast, authoritative, opinion writing." He added that readers "want personalities to be mixed in with the news [and] if you're not producing it, you're limiting your dimensions."
Reuters executives want more writers like Salmon, who mixes authority with personality.
Salmon is quick to point out that Reuters.com is "absolutely 0.0 percent of Thomson Reuters revenue" and therefore not vital to the bottom line. However, he notes, it's "very important to the visibility of the business." The dot-com teams are still a small part of the company's overall news operation, but so far, Salmon says, "We're punching above our weight in terms of the impact we're having."
Reuters and Bloomberg may both be investing in opinion online, but they're not following the same opinion playbook. By publishing two unsigned editorials each day and following more a weekly columnist schedule, Bloomberg's strategy looks more like other long-running newspaper editorial pages. That's not too surprising given that former Times deputy editorial page editor David Shipley co-runs Bloomberg View.
"It feels like the New York Times op-ed page," Salmon said of Bloomberg View. "And the New York Times op-ed page is really good at being the New York Times op-ed page. But I'm not sure why a website would want to be the New York Times op-ed page."
"We're webbier about things and nimbler," he added.
Last week, Salmon launched Counterparties.com with yet another new hire, former Huffington Post business editor Ryan McCarthy. While linking to competitors -- including Bloomberg -- may seem like a departure for Reuters, it's another sign the company wants to be a part of the online conversation. A few months ago, Reuters also moved Anthony De Rosa, a popular Twitter and Tumblr user on Reuters' product side, over to a newly-created social media position. And on Wednesday, Reuters launched another Twitter feed (@ReutersReveals), which promotes Reuters' special reports to an audience that in the past might not have found them.
Reuters executives have been open with staff about their intentions. Adler, in his first email to staff, applauded the company's "outstanding work across the globe every day," but said that "we must aim even higher and compete even harder."
"This means being second to none in speed, accuracy, relevance, and fairness but also -- and crucially -- in enterprise, insight, analysis, and originality," Adler continued. "Building our strength in these areas is essential to our becoming the must-read among global professionals, who are looking for understanding as well as information."
While recent buzz may help raise Reuters' profile outside, there's been some grumbling inside the company. Reuters staffers say there are concerns that too much emphasis is being placed on big-name outside hires at the expense of cultivating talent within. Managers also worry about holding onto their positions in the newsroom amid editorial reshuffling and executives' shifting priorities.
Still, staffers say other management changes have gone over well, including an emphasis on getting out of the office more to build deeper source relationships and the dismantling of the long-running "beat" system that only rewarded stories impacting stock prices. One staffer said it seems clear management wants "to build a news organization that creates a lot more buzz and prestige."
Some staffers believe that management expects to win Pulitzers in the coming years, following Reuters' greater investment in enterprise and investigative reporting.
Both Adler and Ingrassia, however, balk at any suggestion that there's a Pulitzer mandate. "Prize-hunting, per se, is not the objective here," Ingrassia said.
"As I've said to the staff, we want to do work that is so memorable and so distinguished that it is recognized by our peers," Adler said. "Winning awards is one measure of excellence but not an end in itself. We also want people talking about our journalism, sharing it with each other, and using it to make smart decisions and achieve fresh insights."
Related
Popular in the Community