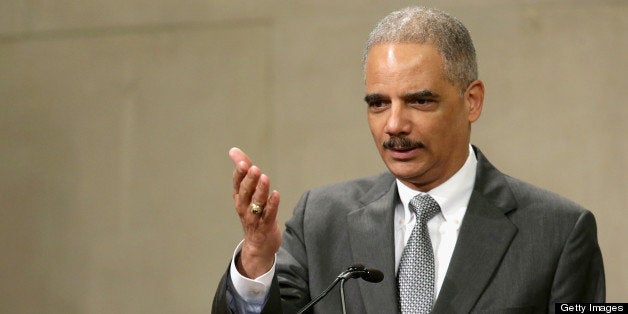 Reuters, which was among nine news outlets planning not to go to an off-the-record meeting this week with Attorney General Eric Holder, appeared at one held Friday.
Politico's Dylan Byers first reported that Reuters was attending and a company spokesperson confirmed it to The Huffington Post.
Barb Burg, vice president and global head of communications, told The Huffington Post that Reuters "did attend a meeting today and only because the off the record ground rules were adjusted. We did not attend yesterday's off the record meeting."
But a number of outlets, including the New York Times, CNN, Fox News, AP and The Huffington Post, balked at the off-the-record conditions for a meeting on press freedom, whereby those attending would not be permitted to publicly discuss what happened.
However, DOJ officials loosened the rules for those who attended Thursday night's meeting, allowing representatives from news outlets such as Politico, the Wall Street Journal and The Washington Post to broadly discuss what transpired inside. Holder reportedly pledged to make changes in how the department deals with journalists in investigations.
Sean Higgins, a senior editorial writer at the Washington Examiner, mocked the Washington Post's coverage of the not-quite-off-the-record meeting on Thursday. The headline: "Washington Post: The Justice Department has allowed us to say AG Holder supports press freedom."
Regardless of the ground rules adjustment, the AP still did not attend Friday, according to a company spokesperson.
It's unclear if other news outlets that initially turned down an invitation appeared today given the slight change in the ground rules.
A DOJ spokesperson did not immediately respond to questions about attendees on Friday.
UPDATE 5:55 p.m.: Here's the full list of attendees at Friday's media meetings, per DOJ:
11 p.m meeting participants:

Marilyn Thompson, Thomson-Reuters Washington D.C. Bureau Chief; Stuart Karle, Thomson-Reuters Chief Operation Officer; Robin Sproul, ABC News Washington D.C. Bureau Chief; John Zucker, Vice-President, Law and Regulation, ABC

3 p.m. meeting participants:
Susan Goldberg, Executive Editor of Federal, State and Local News, Bloomberg; Thomas Golden, Attorney, Willkie Farr; David Lauter, Washington Bureau Chief, Washington Tribune; Lee Levine, Attorney, Levine Sullivan Koch & Schulz; Susan Page, Washington Bureau Chief, USA Today; Barbara Wall, Vice President and Senior Associate General Counsel, Gannet Company

DOJ representatives:
Attorney General Eric Holder; Deputy Attorney General James Cole; Margaret Richardson, Chief of Staff to the Attorney Generall; Jenny Mosier, Deputy Chief of Staff to the Attorney General; David O'Neil, Chief of Staff to the Deputy Attorney General; Stuart Goldberg, Principal Associate Deputy Attorney General; Paul O'Brien, Deputy Assistant Attorney General, Criminal Division; Deborah Sorkin, Chief of the Policy and Statutory Enforcement Unit, Office of Enforcement Operations, Criminal Division; John Lynch, Chief, Computer Crime and Intellectual Property Section, Criminal Division; Nanda Chitre, Acting Director, Office of Public Affairs
REAL LIFE. REAL NEWS. REAL VOICES.
Help us tell more of the stories that matter from voices that too often remain unheard.