Two Reuters journalists detained in Myanmar after reporting on "ethnic cleansing" of Rohingya Muslims have appeared in court, with prosecutors formally charging the pair under the country's Official Secrets Act.
Wa Lone, 31, and Kyaw Soe Oo, 27, had been involved with Reuters' coverage of the crisis in the state of Rakhine, where killing and abuse of the Rohingya minority have been blamed on the Myanmar army. The United Nations estimates more than 650,000 Rohingya have fled their homes in the face of what the Office of the High Commissioner for Human Rights called a "well-organised and coordinated" campaign from Myanmar security forces to drive them from the country.
The two journalists were detained on Dec. 12, after agreeing to meet some Myanmar police officers for dinner. The men say they were arrested upon leaving the restaurant after receiving documents from the officers. The country's ministry of information said the journalists were arrested for "for possessing important and secret government documents related to Rakhine state and security forces," claiming they "illegally acquired information with the intention to share it with foreign media."
Under the country's Official Secrets Act, the men may face up to 14 years in prison. Prosecutors formally charged the journalists under the act in court on Wednesday.
Fellow journalists appeared in the courtroom Wednesday in support of the pair. 
The case of the Reuters journalists has been taken up by politicians and human rights observers worldwide, including former U.S. President Bill Clinton. On Tuesday, Clinton called for the men to be "released immediately." 
Amnesty International said the men had "done absolutely nothing wrong." James Gomez, Amnesty's Southeast Asia director, called for the pair to be "immediately and unconditionally released."
"This is clearly an attempt by the authorities to silence investigations into military violations and crimes against Rohingya in Rakhine State, and to scare other journalists away from doing the same," he said.
"These arrests have not happened in a vacuum, but come as the authorities are increasingly restricting independent media. Journalists and media outlets, in particular those who report on 'sensitive topics,' are living with the constant fear of harassment, intimidation or arrest. This clampdown on freedom of speech must end."
The European Union's envoy to Myanmar, Kristian Schmidt, said in a letter to the nation's leader, Aung San Suu Kyi, that the arrest of the journalists "amounts to a serious intimidation against journalists in general," Reuters reported.
"Journalists should ... be able to work in a free and enabling environment without fear of intimidation or undue arrest or prosecution," Schmidt wrote.
"We therefore call on your government to provide the necessary legal protection for these two journalists, to ensure the full respect of their fundamental rights and to release them immediately."
Reuters correspondent Andrew Marshall said his colleagues "are innocent men who were arrested for doing their jobs" and also called for their release.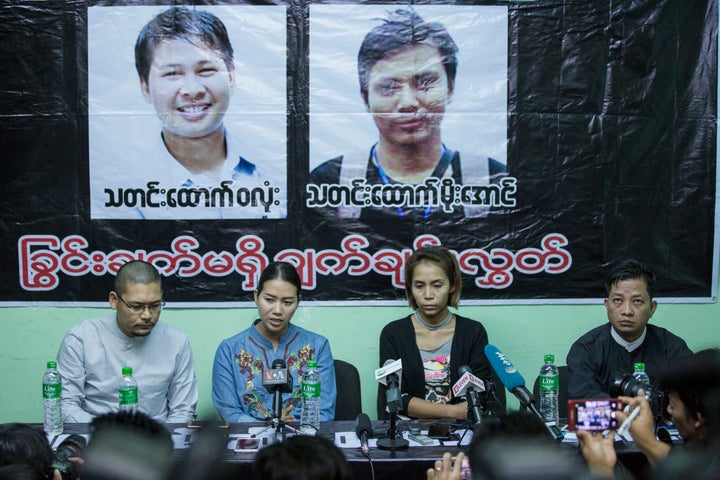 Calling all HuffPost superfans!
Sign up for membership to become a founding member and help shape HuffPost's next chapter