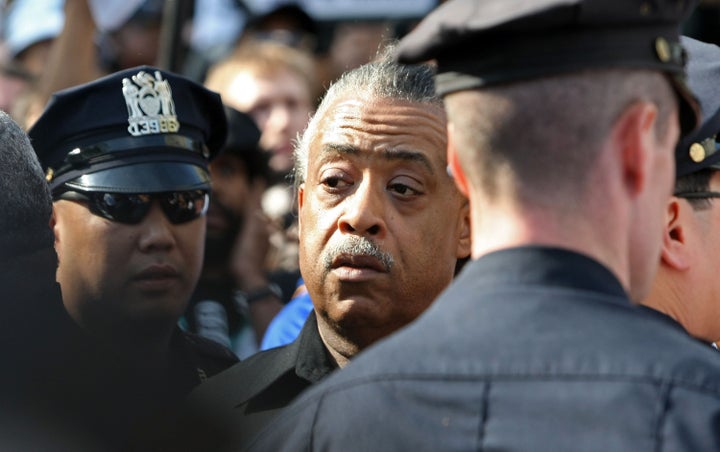 According to Levitt, the NYPD also has allegedly tried in the past to discredit Sharpton by spreading rumors that he is gay.
The confidential informant attended a NAN meeting on May 3, 2008, and reported back to the NYPD's Intelligence Division, according to information that Levitt said he obtained from a police document that was marked "secret."
According to Paul J. Browne, NYPD's head spokesman, the intelligence unit was in fact involved in intelligence gathering inside the National Action Network headquarters during that meeting.
But, Browne said, they weren't after any dirt on Sharpton or his organization.
"Neither the Rev. Sharpton nor the National Action Network, but a separate individual who was present was the subject of the NYPD Intelligence Division's interest at the May 3, 2008 meeting in question," Browne said in an email to The Huffington Post.
Levitt said the document also included a detailed description of NAN's protest plans, the names of prominent blacks who would participate and the locations where protesters would gather on the day of the planned protests.
But perhaps the most shocking claims made in Levitt's post are those around an NYPD plot to discredit Sharpton by spreading rumors, beginning in the '80s, that he was homosexual.
According to Levitt, "Two undercover police officers who spied on black protest groups in the 1980s told this reporter in 1998 that the department was so intent on discrediting Sharpton that they were tasked by their superiors to spread rumors that he was homosexual."
In a statement released this afternoon, NAN attorney Michael Hardy said the organization might sue the city over the allegations.
"We are weighing all legal options, including whether there was a violation of federal consent decrees," Hardy said.
A number of high-profile African-American leaders chimed in on what a NAN spokeswoman called a "blatant attempt to discredit Rev. Al Sharpton with malicious and defamatory falsities, including that he is homosexual."
"The NYPD's spying actions are an intolerable abuse by law enforcement, and remind us of the bad days when J. Edgar Hoover recklessly spied on Dr. King and other Civil Rights leaders in the 1960s," said Marc Morial, president of the National Urban League, in a joint statement released by the leaders and the National Action Network. "It's time for NYPD to disclose the full extent and nature of its spying operation on all Civil Rights organizations. We will not stand for a return to this abuse of process in the 21st century."
Benjamin Jealous, president of National Association for the Advancement of Colored People said in the statement, "If NYPD is spying on civil rights leaders, it is outrageous and must be stopped."
Rev. Jesse L. Jackson Sr., added: "African American leaders have historically been the subject of unlawful spying by law enforcement officials seeking to discredit our leaders and our movement. The revelation about the New York Police Department spying on Rev. Al Sharpton and the National Action Network in 2008 are wrong -- Police Commissioner Kelly, as he promised over a year ago, must issue a full fact finding report on the matter, fully disclose the spying activities of the police department and make restitution to Rev. Sharpton and NAN for this invasion of privacy."
Even music mogul Russell Simmons added his two cents, saying that he was "deeply concerned" about the reports and that "It is troubling to think that those who are ordered to protect us are in fact working against us."
"The unjust investigations and targeting of civil rights organizations is unacceptable," Melanie Campbell, president of National Coalition on Black Civic Participation and Black Women's Roundtable, said in the joint statement. "We stand with NAN and others in the civil rights community calling for NYPD to be transparent about the nature of this investigation immediately."
It is unclear, based on recent judge's opinions on the rules that govern police surveillance, whether or not the NYPD was operating within its guidelines when it allegedly sent an informant into NAN meetings. The rules are "vague enough that no one seems to be able to determine now exactly what the department can and cannot legally do," Levitt wrote.
Browne, the NYPD's spokesman, had no immediate comment regarding the allegations of spreading rumors that Sharpton was homosexual.
Popular in the Community