At Union Seminary in 1998, the Rev. Anthony Lee helped lead a worship service on World AIDS Day. Tony (as he was called back then) described the pressures of violence and poverty, along with AIDS, in his African-American community in Washington, D.C., and called for a holistic medical, social and spiritual cure.
Today, Lee is back in the D.C. area as the founding pastor of a thriving church called Community of Hope, located in Prince George's County. He is again working in a largely African-American community that suffers from rates of HIV/AIDS similar to some countries in Africa.
Lee is on the AIDS working group for the Prince George's County Executive Health Commission, but his most powerful, effective and radically spiritual work happens within the context of his church.
Four times a year, Lee steps onto the pulpit and gets tested for HIV in front of his entire congregation. It is just one of the ways that Community Of Hope is a place of healing, and Lee offers a model of ministry that every church can learn from.
In connection with the 19th International AIDS Conference that starts on July 22, HuffPost caught up Lee to learn about his church and its Gospel-centered approach to the HIV/AIDS epidemic.
How long has Community of Hope been around, and who are the people who worship there?
Community of Hope started six years ago in a night club right on the D.C.-Prince George's border, in an area with some of the worst statistics around violence, schools and HIV/AIDS. We felt that the church was at its best when needs were at their most.
We have a range of folks who are part of the church, including people in great need, working-class, as well as the black intelligentsia. We have people working on their GEDs and we also have a heap of people with Ph.Ds. Everyone is welcome. Our tag line is: We don't care who you are, what you've done, who you did it with. We don't care if you did it last night, or woke up doing it this morning. You are in the right place in the right time to become all that God has called you to become.
Am I right in remembering that the night club was a strip club?
Yeah, the club had strip nights.
And so you would take down the poles and put up pews? How did that work?
[Laughs] We had folding chairs. The funny thing is that we brought in our own sound system because we didn't think their sound system was strong enough. We would put a white sheet over the alcohol, but we couldn't cover up everything, so the vodka sign would be glowing during the service. And we would have church right there.
We weren't intending to start the church in a club, but the deal we had for somewhere else fell through. I was disappointed, but my father in ministry, the Rev. Dr. Granger Browning, was excited.
Rev. Browning told me: "Tony, you don't understand, there are going to to be two groups of people who say the same sentence when you start the church. The 'super holy' people are going to question, "What kind of church would start in a nightclub?" But the people who need to come to church are going say, "Wow, what kind of church would start in a nightclub?"
When was the first time you recognized that HIV/AIDS was an issue you wanted to deal with head-on in your church?
We outgrew the club in about 9 months and we moved into our current space on New Year's Eve, which was our first Sunday, and we did HIV testing that first Sunday. We wanted the community and the congregation to know that the blessing of having a permanent location wasn't just for us to shout -- it was for us to work .
Can you tell me a little bit about your outreach teams and the fact that they hand out condoms?
When you look at the numbers of HIV and AIDS in our area, you can see that they are really bad. So we do testing, we have a barbershop and beauty shop outreach where we leave harm reduction information, we do trainings on HIV 101, and then we also have club tours. That is where our street team goes into the clubs handing out prevention material and condoms. Our tag line in the club outreach is: God Loves You. Love Yourself Enough To Protect Yourself.
What do you say to people who insist that handing out condoms is only encouraging bad behavior?
So, at Community of Hope we preach about abstinence and about sexual purity as the standard. But we also have to deal with the reality that everyone is not living the standard. And we have to give the resources and the information so that, even if they are not going to live up to the standard they are not putting themselves at risk for STDs and HIV.
For us it is a both/and; it doesn't have to be an either/or.
HIV is a preventable disease. We have to get out there and be relevant enough and realistic enough to deal with it. We aren't going to stick our heads in the sand and act as if people aren't having sex and engaging in risky behavior.
You work shows caring about people's actual bodies, that their physical bodies matter, not just their spirits -- that those two parts are related.
In scripture you have Jesus ministering to people where they were in their physical situation. If you look at the miracles, some of them were around food and some around physical healing; and that allowed there to be teaching around the kingdom of heaven and people being able to receive it.
For us it is about dealing with the whole person. Not just this spirit person but dealing with their actual practical reality in life. It is not just HIV stuff, it is school system, it is about addressing the policy issues.
If we don't impact the culture, systems and institutions in which people live, then it is very hard to talk to people about what they are supposed to do and not do in their spiritual lives.
Tell me about that woman I met who looked like she was out of central casting for "Upstanding Black Church Lady". She doesn't have buttons or look like what you might think of an AIDS activist, but she is influential in your HIV work, right?
She runs it. Her name Rev. Laverne Harley, an ordained minister, coming out of the Pentecostal, COGIC [Church of God in Christ] background. She is that kind of old-school, charismatic sister/preacher. But she is also doing amazing work in the community with victims of homicides, homelessness and HIV and AIDS.
She doesn't look like someone who would be out in the trenches, but she is out there at such a level and most of what we do is because of her connectedness and vision.
So tell me why you first decided to get tested in the pulpit?
We realized from the first service that we needed to create an atmosphere where people feel comfortable being tested. Because if you are at church and the church is preaching abstinence, but then you go up and get tested and you're not married, what you are saying is, "Oh, I've been doing something." But what we talk about at Community of Hope is that getting tested is a sign of leadership.
We say that even if you have not had sex in a long time, we want you to get tested so you can help create an atmosphere in which someone who 'got some' last night can go get tested and not feel like people are going to be in their business.
So, that needed to happen from the pulpit on down. So, myself, all my ministerial leadership, all the leaders in the church, get tested. We had to shape a culture where there wasn't a stigma around getting tested.
What happens when someone does test positive?
We have partnership with various full service testing organizations. So it is all confidential. People know that the Pastor is not going to find out if they test positive unless they want him to. So if they do test positive, then our collaborative partners take them right there into a full servie model to walk them throught this process, while also lifting up the church as a resource.
The church is available if they want to reach out and talk to one of us, but it is up to the individual. We don't do professional HIV case management, but we collaborate with people who do.
Our tagline for testing is: Know where you stand. And who you stand on. Get tested, but whichever way it goes, know that you can stand on God.
In the upcoming AIDS Conference there is talk of a vaccine. How do you see your church moving forward?
I'll be going to the conference and following all the pieces. It is a significant crisis for us that we can't afford not to follow what's happening.
This interview has been edited and condensed for length and clarity.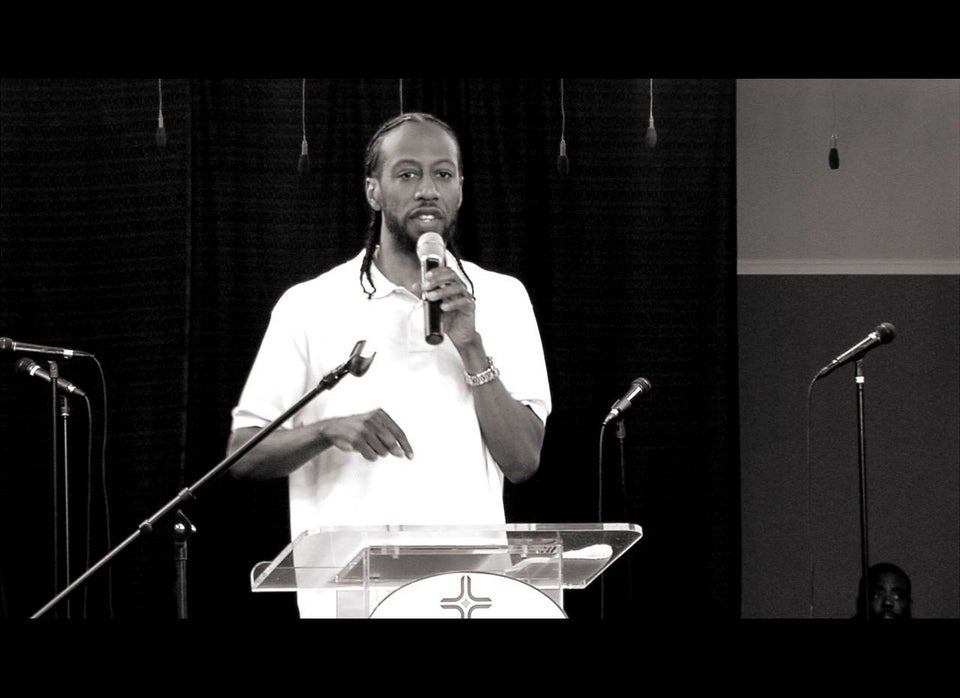 Community Of Hope's HIV/AIDS Ministry
Related
Popular in the Community