Florida pastor Jim Merritt got the birthday gift of a lifetime on Jan. 1 when a federal judge ruled it unconstitutional to prohibit same-sex marriages anywhere in the state.
The ruling went into effect on Jan. 6, and Merritt celebrated the day by opening the doors of Holy Cross Metropolitan Community Church, where he is senior pastor, to perform free ceremonies. With the help of his fellow church clergy, Merritt oversaw 20 same-sex marriages, in addition to marrying his longtime parter, Al Leach.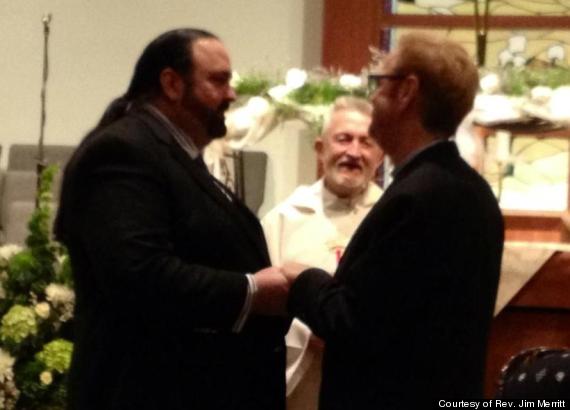 Merritt, right, and Leach wed.
"It was the best birthday gift I could have gotten," Merritt told The Huffington Post. "Al and I have been together in a committed relationship for over 20 years... For us to achieve marriage equality at home was a joyful occasion."
Holy Cross was decorated for the occasion and a local organization catered a reception that ran from 10 a.m. to 9:30 p.m. Merritt, who leads his denomination's marriage equality efforts around the globe, said the church hoped to provide a "normal" wedding experience while accommodating as many couples as possible. Many invited friends and family to attend, and some even stayed for the other ceremonies just to "be a part of this historic moment," the pastor said.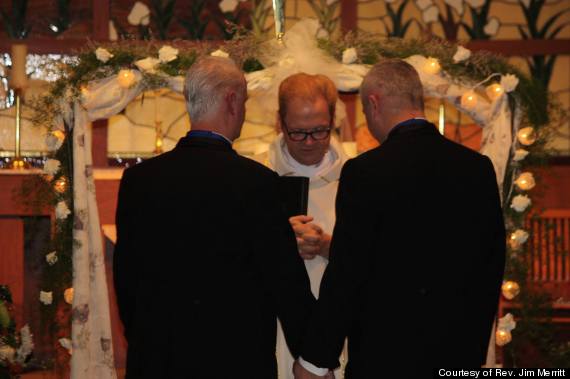 Merritt performs marriage ceremony.
The ruling was particularly potent in a state that has had a long, uphill battle for marriage equality. In the 1970s, singer Anita Bryant publicly headed the Save Our Children campaign which fought to overturn a state ban on discrimination based on sexual orientation. Her campaign won with 69 percent of the vote.
But in 2004, Merritt and Leach sued Orange County Clerk of Courts Lydia Gardner for denying them a marriage license and were represented by none other than Ellis Rubin -- the same attorney who had represented Bryant back in the 70s.
"He told me it his was his opportunity to do penance for his sins," Merritt told HuffPost.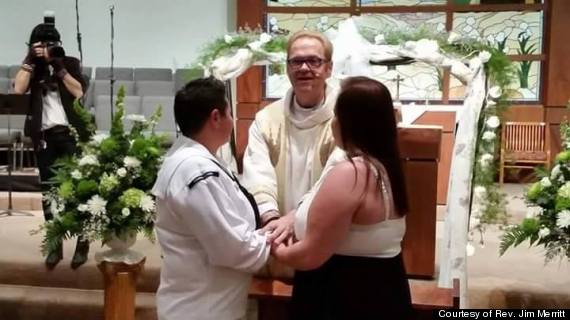 Merritt performs marriage ceremony.
Same-sex weddings took place throughout the state on Tuesday, and many in Merritt's congregation expressed awe and relief that they had lived long enough to see the day come, the pastor said.
Despite the joyous occasion, Merritt said his church received threats of protests in the days leading up to the ceremonies. He also expressed concerns for his own safety as the weddings continue.
"I have to be careful about my own security during highly publicized periods of life," the pastor said.
Even as the publicity fades, however, the weddings will continue. Merritt and Leach leave Sunday for a two-week cruise -- auspiciously planned before the ruling even took place. And when they return, the pastor said he has at least two weddings a week booked for the foreseeable future.
"We have legal weddings all the way scheduled into 2016," Merritt said, all of which he believes are for same-sex couples. "We expect this to be a large part of our practice."
Support HuffPost
The Stakes Have Never Been Higher
Related
Before You Go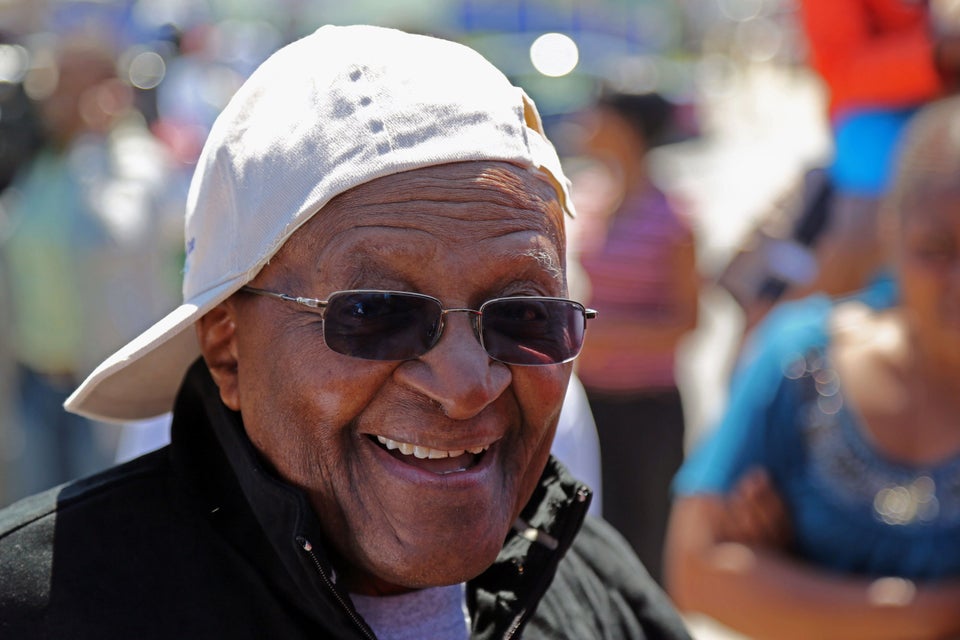 Statements On LGBT People From Faith Leaders
Popular in the Community