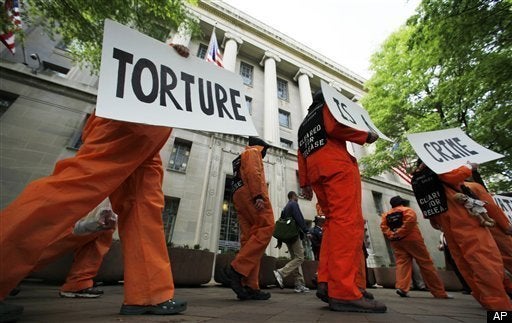 A nationwide group of religious organizations is demanding that the Obama administration thoroughly investigate allegations that three detainee "suicides" at Guantanamo Bay in 2006 may have been a cover-up for something more sinister.
In an article published on Jan. 18 by Harper's magazine, Scott Horton presents evidence that suggests the current administration has "failed to investigate seriously--and may even have continued--a cover-up of the possible homicides of three prisoners at Guantánamo in 2006."
Rev. Richard Killmer, the Executive Director of the National Religious Campaign Against Torture (NRCAT), issued a statement today urging Obama to support a commission of inquiry to conduct a full investigation of the incident.
"A former Guantanamo guard has recently stepped forward with information suggesting that the three detainees died at the hands of U.S. personnel," Killmer said. "This evidence of murder by torture demands a full and thorough investigation by the President and Congress and the appointment of a Special Prosecutor by the Department of Justice. Congress and the American people must learn what happened to those three detainees for the sake of justice, confidence in our institutions, and the soul of our nation."
Despite the findings of a 53-page law-school study that details evidence of a murder/cover-up at Guantanamo, the incident has been widely dismissed and ignored by the government and media. The Department of Defense released a statement calling Horton's article "nonsense" and saying that the DoD "categorically and unequivocally rejects these claims," while a spokesperson for the Department of Justice called the article "speculation at its most dangerous."
After leading a rally in front of the White House on June 11, 2009, 33 members of NRCAT were invited into the White House to petition for a thorough investigation of torture under the Bush administration, says Killmer. Since then, White House officials have met with the organization on six different occasions, but each time they make it clear that Obama is not interested in investigating the transgressions that occurred under Bush.
"The President opposes a commission of inquiry because he doesn't want to look backwards-- he wants to look forward," Killmer said. "But caring for my grandchildren is about looking forward. This is about the future, and we need to make changes so this kind of thing doesn't happen again."
REAL LIFE. REAL NEWS. REAL VOICES.
Help us tell more of the stories that matter from voices that too often remain unheard.