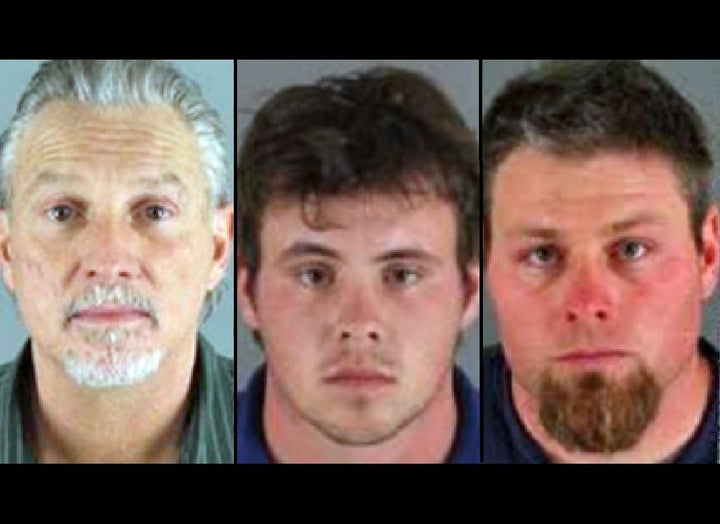 Authorities in California said they have uncovered a case of incredible cruelty involving a pastor and two members of his church. The three men are allegedly responsible for the physical and psychological abuse of a young boy who prosecutors say was forced to dig his own grave.
The Rev. Lonny Lee Remmers, the 54-year-old officiating pastor of the Heart of Worship church in Corona, Calif., has been charged with assault with a deadly weapon and child abuse. Two members of the church, Remmers' stepson, Nicholas James Craig, 22, and Darryl Duane Jeter Jr., 28, have each been charged with nine felonies related to the incident.
The charges filed against Craig and Jeter include one count each of kidnapping, making criminal threats, false imprisonment and assault of a person by force; two counts of assault with a deadly weapon; and three counts of child abuse.
Authorities said they are considering additional charges against the three men.
Craig and Jeter are accused of taking a 13-year-old boy, who was living at a group home run by the church, to a secluded area near Barstow on March 18. Once there, the two men forced the boy to dig his own grave with a shovel then get into the grave while threatening to kill him. The men threw dirt on him and beat him with a belt when he tried to climb out, police said.
The following day, the boy was allegedly zip-tied to a chair at the group home and sprayed in the face with Mace, investigators said; the boy was denied treatment for about an hour.
"That same day ... Remmers (allegedly took) a pair of pliers to the boy's nipples while the victim cried and screamed for him to stop," said John Hall, a spokesman for the County of Riverside District Attorney's Office.
The abuses the teen suffered were committed as a form of discipline after his 30-year-old mother told Remmers that she believed her son had misbehaved, Hall said.
The boy's mother, who has not yet been named by police, has not been arrested. Authorities said they are still trying to determine is she was aware of the alleged incidents. Meanwhile, the boy and his 7-year-old sister have been placed in protective custody.
According to the Riverside Press-Enterprise, Remmers had previous run-ins with the law. In 1998, he was sentenced to 46 months in federal prison for criminal contempt. Remmers refused to live up to a settlement agreement stemming from a telemarketing scam, the newspaper reported.
Remmers and his wife, Lisa Remmers, are both listed as plaintiffs in a separate civil fraud case filed in Ohio last year. The disposition of that case is pending.
Calls to a phone listing for Remmers' church went to voicemail Tuesday. According to the church's website, its mission is "to raise the church body to be true disciples of Christ, meaning that if Christ would not think it, say it, or do it, neither will we."
On April 4, Remmers and his co-defendants each pleaded not guilty. Riverside County Superior Court Judge Becky Dugan set Remmers' bail at $35,000, and at $150,000 each for Craig and Jeter.
It was not immediately clear Tuesday whether Remmers or his co-defendants had obtained attorneys. All three men are scheduled to appear in court again April 19.
If convicted as charged, Remmers faces up to seven years in state prison. Craig and Jeter each face up to 19 years behind bars.
Related
Popular in the Community