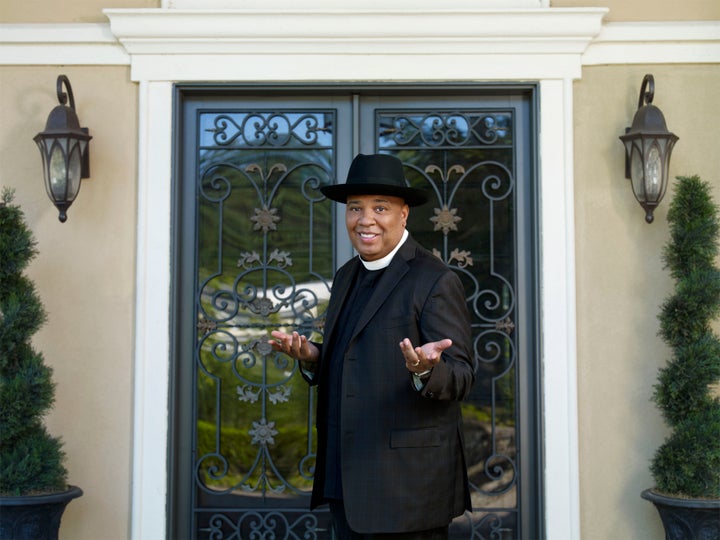 At 48, Joseph "Rev. Run" Simmons is finally hitting his stride with a healthy diet and exercise routine that he says is on par with achieving the kind of physique he'll need to keep up with his Run-D.M.C. group mate Darryl "D.M.C" McDaniels.
"I just did a concert with D.M.C. after 13 years, and after losing some pounds for that, I felt really good," Simmons told The Huffington Post. "We got good reviews for having lots of energy on stage and I realized that if I'm going to continue to do shows ... I gotta be in Mick Jagger-type of condition."
But aesthetic goals (and criticism from the public) aside, Simmons says his new healthy-living routine is rooted in something far more serious -- combating his higher-than-average risk for Type 2 diabetes.
"I found out that [my father] had diabetes in his older age and as I was moving along in my life ... I realized that I had to start losing weight," he said, explaining how he's taken up walking and recently dusted off his treadmill in an effort to stay the course during the chillier winter months. "[It was] for many reasons, but the number one reason was for health."
And while family history factors in to why Simmons needs to get his health in check, diabetes educator Jeannette Jordan said it's a myth many people need to dispel.
"One of the biggest [misconceptions] out there is people feel like diabetes runs in [their] family, so it's inevitable that they're going to get it," Jordan said, touting her employer Novo Nordisk's "Ask. Screen. Know." campaign, for which Simmons is now an ambassador. "The message that we're trying to get out is that it doesn't have to happen to you the same way. Yes, family history is a risk factor, but it doesn't mean that because this happened to your mom it has to happen to you.
A diabetes diagnosis also doesn't mean life-altering changes, Jordan said. "What we need to do is not that difficult ... moderation is actually the key. We don't take away everything that you love, it's just how much we eat," Jordan said, stressing the importance of knowing which foods turn into sugar, forgoing sweetened soft drinks, and realizing that you can limit yourself to just one cheddar biscuit from Red Lobster and still enjoy your meal.
"The myth is that life is going to change so drastically, '[I'm] not going to be happy with my dining anymore', and that's not true. You can live well with diabetes if you have it. But the first thing is, you have to be screened, you have to know if you have it. Ask yourself if you're at risk and then do something about that," Jordan said.
And just ahead of the holidays Simmons said he's relying on them for support. "They're right there for me; they know what I'm doing to keep my weight under control ... and [during the holiday season] I believe in being proactive instead of reactive," Simmons said. "I have all types of things set up so I know, this is what I'm going to eat when this sweet tooth moment comes, this is what I'm going to eat when dinner comes around. And no, I'm not going to wait until the big dinner. [For Thanksgiving], I didn't wait for the one big moment, I had already eaten twice, the right way, before dinner, so when dinner came, I wasn't starved."
Popular in the Community