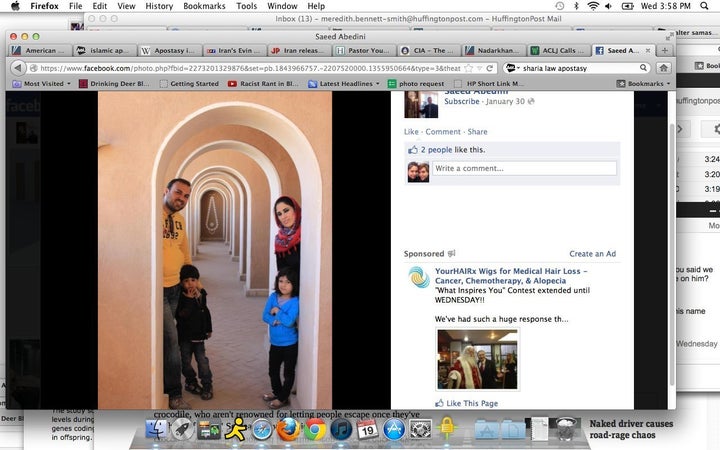 According to the American Center for Law and Justice, a conservative Christian group which announced today it would be representing the pastor, Saeed was granted U.S. citizenship in 2010 when he married his American wife. He and his wife, Naghmeh, have two children, a 6-year-old daughter and 4-year-old son. And in 2008 Saeed was ordained as a minister with the American Evangelistic Association.
"When he became a Christian, he became a criminal in his own country. His passion was to reach the people of Iran," his wife Naghmeh told Fox News. "He comes from a very close-knit family, and he loved evangelizing and passing out Bibles on the streets of Tehran. This was his passion," she said.
In a statement, Saeed's new lawyers from the ACLJ said their client may soon face the death penalty.
"This is a very troubling pattern that we have seen inside Iran - Christian husbands and fathers who are punished for their religious beliefs," said Jordan Sekulow, Executive Director of the ACLJ. "What makes this particular case so much more disturbing is that Pastor Saeed, who was born and raised in Iran, has been granted U.S. citizenship. He's been in prison for nearly three months simply because of his Christian faith. Now, he's been indicted by an Iranian court - a development that could very well result in a death sentence. In addition to our legal work, it's important to get this story out - to generate global support for Pastor Saeed and to engage the U.N. and the U.S. government in securing his release."
The ACLJ has made freeing Iranian Christians part of its mission. They helped launch an international media campaign earlier this year that contributed to the release of Pastor Youcef Nadarkhani, who was found guilty in 2010 of apostasy and sentenced to death for refusing to recant his Christian beliefs.
Under Shariah, or Islamic law, a Muslim who converts to Christianity can be given the death penalty, reports Fox News.
Read more: http://www.foxnews.com/world/2012/12/19/american-pastor-imprisoned-without-notice-charges-while-visiting-family-in-iran/#ixzz2FX2TdJzM
Related
Popular in the Community