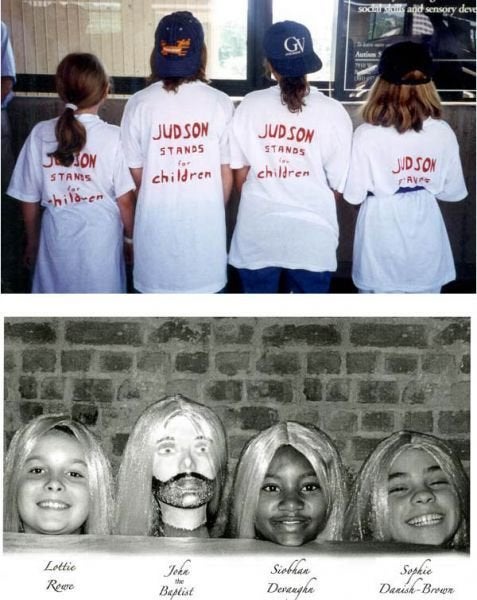 On Sunday, April 29, the Rev. Sean Harris, pastor of Berean Baptist Church in Fayetteville, North Carolina, preached a sermon that sanctioned physical violence toward children who show "effeminate" or "butch" behavior.
One week later, families at Judson Baptist Church in New York City will be using the Sunday School hour to create "Cards Of Hope" which they intend to send to the children who attend Sunday School at Berean Baptist Church.
"The idea for this Sunday will be to talk about discrimination, acceptance, and how we believe God loves all of us, no matter our differences," explains Judson's church school director Andy Frantz. "I hope to be able to explain to our kids, as age-appropriately as I can, what happened at Berean Baptist Church this week and then ask them to make cards for the North Carolina Church's Sunday School children."
In his sermon, Pastor Harris offered his congregation "special dispensation" to "crack that wrist" and "give him a good punch" to their "sons who act girlish" and to "reign in" daughters who are "acting too butch."
Harris has since half-heartedly retracted the violence he proposed in his sermon and in an interview Michelangelo Signorile, said that he meant them "figuratively," claiming that Jesus, too, in the Bible, "conjures up violent images." In related news, North Carolina will vote on a anti-gay marriage amendment on May 8th and churches are playing a major role in the campaign.
Judson Church is encouraging other congregations to join them in making cards this Sunday, May 6, and sending them to the Sunday School at Berean Baptist Church. The goal, according to Judson Church, is to let the children of Berean Baptist know that "there are those of us in this world who believe God loves everyone, regardless of their sexual orientation, and that there is no such thing as "dispensation" when it comes to physical violence against any child."
Churches wishing to participate in 'Cards Of Hope' can send them to:
The Children of Berean Baptist Church Sunday School
Berean Baptist Church
517 Glensford Drive
Fayetteville, North Carolina 28314
Calling all HuffPost superfans!
Sign up for membership to become a founding member and help shape HuffPost's next chapter
BEFORE YOU GO