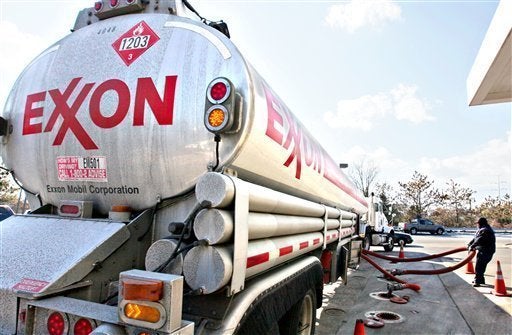 Finally. After years of denying its role in the campaign of climate denial, Exxon has revealed a dirty secret, that it has and likely still is directly funding junk scientists.
The Worldwide Giving Reports are a key part of the data from which we have derived the ExxonSecrets funding linkages for the past decade. Through the years, most ExxonMobil Foundation and corporate grants (the ones they report to the IRS anyway) have gone to think-tanks, organizations who have in turn propped up the small army of denial scientists, amplified their voices and injected them into the media and policy arenas.
Thanks to Exxon's revealing this little secret, we now have a direct link between the Exxon black bag o' cash and two scientists who have made their careers as global warming deniers.
The Observatory is the research arm of the Harvard-Smithsonian Center for Astrophysics (CfA), which has little to do with either the Smithsonian or Harvard at this point, other than in name (founded as a joint venture in 1973). In past episodes, Smithsonian has distanced itself from Baliunas, who discredits their name.
Sally Baliunas built her denial career downplaying the significance of the destruction of the ozone layer, publishing a report entitled "The Ozone Crisis" in 1994 for the George Marshall Institute. Baliunas was, at the time, the chair of the Marshall Institute's Science Advisory Board and Fred Seitz was the Chairman of the Board...a full throttle denial team if ever there was one.
Remember the Marshall Institute? Oh yeah, Exxon announced that they had dropped their funding last year...who needs Marshall when you have their scientists on a leash.
Here is an excerpt from SallyBali's Ozone junk science:

Sound familiar? Talk about lies and misinformation, check out the projected cost estimates of getting rid of CFCs! Wow, was Sally wrong...its a wonder she wasn't so ashamed as to never publish again...but wait, there is no shame for a denier!
During the early Bush years, Soon and Baliunas were back in action, joint authors of a denial classic attacking mainstream climate conclusions.
This polar bear paper is key because, old Willie proudly admits both Exxon and American Petroleum Institute funding to support the research. However, Exxon didn't report this funding in its Worldwide Giving Report or to the IRS...they never said a word about it...
After an October 17th 2007 House Science Committee hearing entitled, Disappearing Polar Bears and Permafrost: Is a Global Warming Tipping Point Embedded in the Ice?, Representative Brad Miller of North Carolina penned a letter to Exxon demanding answers. He wrote, "Exxon has the right to fund any research or publications it wishes. However, the Congress and the public have the right to know why ExxonMobil is funding a scientist whose writing is outside his area of expertise to create the impression that expert scientists have conducted rigorous, peer-reviewed work that says the problems with polar bears are unproven or unserious."
As far as we know Rep. Miller never got answers.
By now, Willie Nilly has emerged from Sally Bali's shadow to become one of the go-to skeptics, appearing as a key speaker at the two recent Heartland Institute's Denial-Paloozas in New York. Soon is again a featured panelist at next week's 3rd Heartland Institute Denial-Palooza (wait, didnt they just have the 2nd one about 2 months ago?) Senator Inhofe and Rep. Dana Rohrabacher (R-Calif.) will join the shrinking but noisy denial crew in DC on June 2nd.
The Exxon AGM season is like Christmas for us at ExxonSecrets and this year Santa treated us right. Now, Rex Tillerson, what exactly have you been paying Soon and Baliunas to do and for how long? Clearly it didn't start in 2008. Answers please.....we're waiting...
Popular in the Community