It was 20 years ago that President George H.W. Bush signed into law the American with Disabilities Act of 1990 (ADA). Disability, which is defined by the ADA as "a physical or mental impairment that substantially limits a major life activity," can have devastating consequences for individuals and families, especially if the added burden of discrimination is encountered -- thus the need for the act.

Similar to the Civil Rights Act of 1964 that made it illegal to discriminate on the basis of race, religion, gender and national origin, the ADA laws provides legal protections for individuals with disabilities.
For the occasion, I had a chance to speak with Soula Antonio, President of VSA International.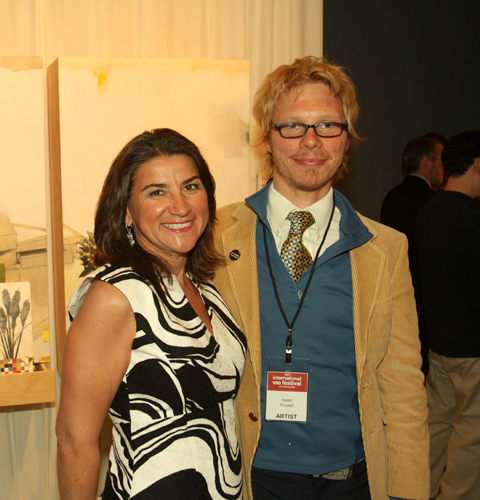 Soula Antoniou, President of VSA, stands with artist Issac Powell (Photo: Joel Didrickson)
Max Eternity (ME): Hi Soula, could you give a brief history of VSA Arts--why was it created?
Soula Antoniou (SA): It was founded in 1974 by Jean Kennedy-Smith at a time when there was virtually no programming for people with disabilities. It was created to conduct festivals. Since then, VSA has grown globally, with affiliates in the US and 51 countries worldwide.
ME: What are some of today's challenges facing artist with disabilities.
SA: I think what we hear most from our artists is the stigma; the assumption that people with disabilities can't do, instead of what they can do. If you are emerging, seeking to get into the field, it's hard. Employment is continually an issue for artists with disabilities.
ME: What are some of the options that VSA offers visual artists--how do you see VSA changing artists' lives?
SA: Well, the wonderful thing about VSA is that we work with all art forms and all ages. We really believe in a continuum of learning. In the K-12 setting we work to create arts in the schools, and with emerging artists, to level the playing field. With professionals, we showcase their work, and generate public awareness.
In trying to create pathways to employment we partner with organizations to create opportunities for artists. With Williamstown we have an apprentice program, so that young artists in theater will get the same training as others. We partner to create programs in film as well. We want to level the playing field, and change the perception of persons with disabilities, so that the mainstream organizations will continue to include people with disabilities in their programs and events.
ME: How many artists would you say have some sort of disability?
SA: There are 54 million Americans with disabilities--650 million worldwide, but we don't really break it down by artists. We beak it down holistically, so that people can be artists if they want.
ME: I am aware that VSA is exhibiting right now at the Smithsonian; tell me about that.
SA: Yes, this year we hosted our VSA festival, honoring the 20th anniversary of the Americans with Disabilities Act. It was the largest gathering of artists with disabilities in the world. At this moment, at the Smithsonian, there is an exhibition entitled Revealing Culture. It is a groundbreaking exhibition, because it is fully accessible; designed by Michael Graves, incorporating the principle of universal design. There is a tactile element in each piece, and the show reveals the concept of disabilities in a new light. It's fabulous.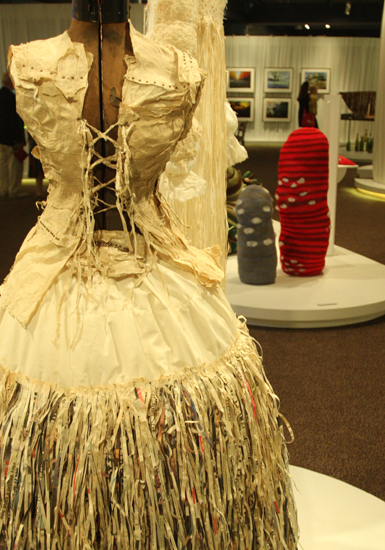 "Raw Suffering of a Woman" by Leslie Hass (Photo: Joel Didickson)
ME: In addition to a visual arts program, you also have a support programs for creative writing.
SA: Yes, we work across all art forms. We work with young writers; we have an online literary journal. We also have a writing program for young students who can write about whatever interest them.
We have a wonderful playwright program, and we run a one act play every year about people with disabilities, professionally produced at the Kennedy center.
ME: On your website, I see you have an artist registry; how does that work?
SA: It's for artists to sign up--it has about 12,000 artists right now. We use it as a way to network artists with each other, to response requests for people looking for artwork, and as a way to get information out, that young artists might be interested in. We send updates for opportunities to our network of artists.
ME: What would you say to an artist who has recently become disabled?
SA: I would say continue to work on your art. Like anything else, you might have to make a few adaptations. If you love what you do you should still try to do it. And that's what you hear when you talk to our artists.
Calling all HuffPost superfans!
Sign up for membership to become a founding member and help shape HuffPost's next chapter