These days, Detroit is considered a pretty cool place to be artwise. Most recently, W magazine and the LA Times have run feature stories extolling the virtues of the erstwhile Motor City as a place where aesthetic entrepreneurs can set up shop with minimal capital investment. (Christian Landers' book Whiter Shades of Pale sardonically notes that Detroit is an especially agreeable place for artist-posers with modest trust funds.) While the grassroots efforts at creating aesthetic community are an important part of what's happening in the city, the average media representations are still those of abandonment and ruin.
Locals know the genre of photography that revels in Detroit's devastation as "ruin porn." These images, often taken by outsiders, present the idled factories and dissolute neighborhoods as monuments of melancholy, constituting a romantic dystopia of a failed civilization returning to the state of nature. Among the recent masters of the form is New York-based photographer Andrew Moore, whose book Detroit Disassembled (Diamani/Akron Art Museum, 2011) has been favorably reviewed, among other places, in the New York Times.
The cover image from Moore's book is one of the featured photographs in the current exhibition Detroit Revealed: Photographs, 2000-2010 at the Detroit Institute of Arts, put together by DIA Associate Curator of the Graphic Arts Department Nancy Watson Barr. The supersized super-detailed color print shows a view looking into a cavernous factory corridor, which is lit from above by a skylight supported by rusted trusswork and lined on either side by piles of industrial detritus, moldering brick walls and broken windows. Its sheer beauty recalls Walter Benjamin's famous observation, in witness to the rise of fascism in Germany in the 1930s, on the ability to enjoy destruction as an aesthetic pleasure of the highest order. It's also somewhat misleading in that the image was shot at the Ford Motor Company Rouge complex, which for the most part is still operational and has been retooled with high-tech facilities for producing the top-selling F-150 pickup.
An arguably more reliable set of images is the work of Detroit artist Scott Hocking, who embraces Detroit's decaying areas but does so with an eye toward a broader historical and philosophical view. Hocking's images, while aesthetically pleasing as photographs, are actually records of his walkabouts and projects among the city's industrial ruins and other neglected spaces. The photographs in the DIA exhibition document monumental works Hocking created in two of Detroit's legendary abandoned automobile plants.
Ziggurat documents a sculptural installation Hocking built in Fisher Body Plant 21, a building that had been abandoned for the more than 20 years. The installation was constructed over several months between winter 2007 and summer 2008. It consisted of some 6200 wooden flooring blocks retrieved from around the empty building. The project reveals a Sisyphean aspect to Hocking's work in that he continued to labor at it in full knowledge that it would ultimately be destroyed either due to either human intervention or exposure to the elements.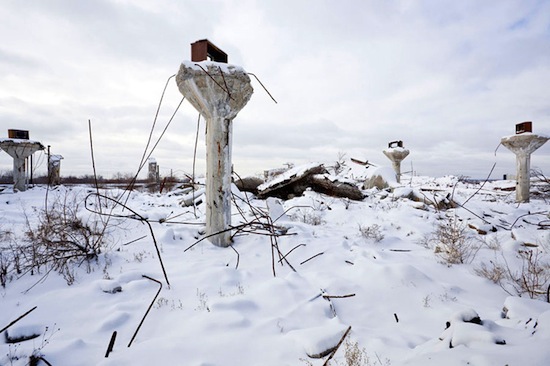 Photo credit: Scott Hocking, Garden of the Gods, West, Snow, 2009-10 (courtesy of the artist and Susanne Hilberry Gallery).
The Garden of the Gods pushes the inevitability of entropy even further. It is sited in the old Packard Plant, a 3.5 million square foot facility, nearly half a mile in length and believed to be the largest abandoned industrial site in the United States, which has been abandoned for decades. On a section of collapsed roof in the building designed by Detroit's premier architect Albert Kahn, Hocking placed a series of old wooden TV consoles he found on a lower floor atop structural columns that had remained upright. Over a period of months, some of the columns toppled and more of the roof collapsed, events also documented photographically. Named after a sedimentary rock formation in southern Illinois, Garden of the Gods isn't a ritual of mourning but an acknowledgment of natural processes that have occurred throughout history.
The images of Dawoud Bey, Carlos Diaz and Corine Vermeulen constitute a kind of visual anthropology, surveying the faces and places of different populations that make up the city. Although Bey is the more well known, Diaz and Vermeulen, both local residents, are represented by equally compelling images. Diaz's 2010 series Beyond Borders: Latino Immigrants and Southwest Detroit comprises portraits as well as the homes and gardens of the city's Mexican Town community, examples of each which are in the show. Vermeulen's images are taken from her Your Town Tomorrow series depicting postindustrial Detroit and its denizens as harbingers of America's potential alternate future.

The exhibition, installed in the photography galleries in the museum's lower level, begs to be compared with one of the acknowledged masterpieces in the DIA collection, the Detroit Industry mural cycle by Diego Rivera on the main floor almost directly above. Like the mounting of Detroit Revealed, the creation of Rivera's murals in 1932-33 took place at the height of an economic and political crisis, namely the Great Depression. Breathtaking in scale and awe-inspiring in its ambition, Detroit Industry depicts the productive might of the system, given the eponymous designation Fordism, that was to propel Detroit, and in the process America, to global prominence after the Second World War. By comparison, Detroit Revealed is substantially less grand, embodying a more fragmented and temperate vision of personal strategies for survival after the fall.
"Detroit Revealed: Photographs 2000-2010" continues at the Detroit Institute of Arts until April 8, 2012. A catalog with essays by exhibition curator Nancy Watson Barr, John Gallagher and Carlo McCormick is available. Visit www.dia.org or call 1-313-833-7900 for information.
Related
Popular in the Community