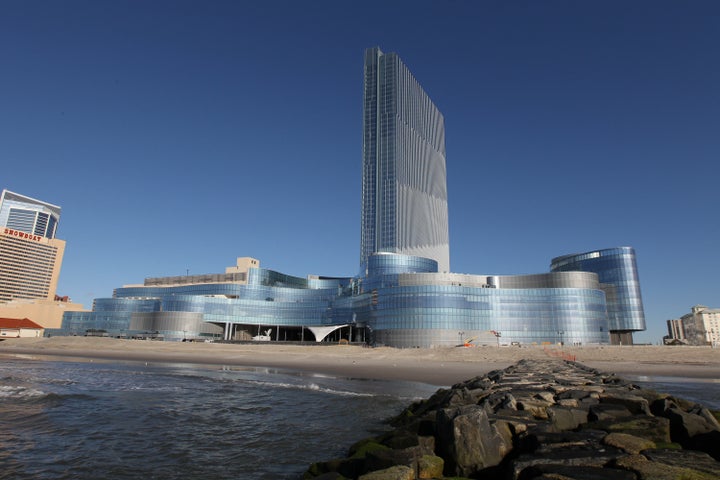 At the far end of the boardwalk, past a line of squat, peeling buildings, there's no missing it. The tall glass tower of Revel, Atlantic City's latest hotel-casino, reflects the sky and sea, and a steady stream of cars turn off Pacific Avenue to enter the parking garage. That 7,739-car garage* is larger than the sum of all parking garages in the city of Philadelphia, but that's just one clue of what's to come inside of the mega-resort.
Most guests wander in through the boardwalk entrance into the casino floor, but if you've secured one of Revel's 1,800 ocean view rooms*, you could leave your car on the 11th floor of the garage and enter right into the hotel without even glancing at a slot machine. That's not to say Revel's 130,00-square-foot gaming area isn't impressive. With 113 gaming tables and DigiPits, it's a great place to spend your latest paycheck.
But for all it's grandiose architecture and Vegas-style perks, AC's 12th resort leaves people wondering, do we need another resort?
With potential casino-fatigue in mind, the team behind Revel wanted the tower to become a "lifestyle destination," not a gambler's haven. The rooftop garden covered in lush, green native plant life, cavernous gilded hallways filled with retail spacing and in-resort "street food" assimilate an area that's tailored more for the entertainment of neighborhood residents than the usual bused-in casino clientele.
"We wanted to be good urbanists. We wanted to be really respectful of A.C. as a city first and foremost," said Michael Prifti, from Philadelphia's BLT Architects, who led the project. It's not an easy city to be completely respectful of in a 20-acre space. The formerly desolate plot of land the resort now occupies is at the very end of the boardwalk, sitting on Absecon Bay, a quiet perch surrounded by water on two sides, notorious as a gathering spot for the homeless as well as an array of late-night troublemakers. Just blocks away sits the Atlantic City Aquarium, a popular spot for visiting and area families, and within just a few minutes from the new resort's doors, you can find several parks and two or three residential strips. The view outside of Revel's doors is a far cry from the view a guest might have at Ceasars, or Bally's, where taffy and blinding lights assault patrons on all sides. Here at Revel, you can't ignore the neighborhood. Without the cushion of wall-to-wall shiny gaming, the spectrum of income in this part of town varies greatly, as does the type of entertainment sought by the mixture of guests attracted to Revel.
"Typically people who work [in Atlantic City] don't live here... but why not? We made an investment in a neighborhood catalyst. It's a lifestyle destination above all else," says Prifti. "If you live here, you should eat here." The resort opened its doors with 14 epic restaurants, including Amada, a quirky and chic tapas bar from Philly's own chef Jose Garces, American Cut from 'Iron Chef' Marc Forgione, and an already popular quick service window inspired by a food truck, serving a variety of tacos under a kitchy 'Lite Brite' menu. Prime retail space called 'The Row' will feature 55,000 square feet of retail shops. Entertainment seekers will also enjoy Ovation Hall, Revel's spotlight music hall, a 5,500-seat theatre that has big plans for sporting events and Broadway caliber theatre and is currently the home of a series by a post-baby Beyonce, who will take the stage next month. For guests who enjoy a more quiet brand of revelry, the resort claimed their main-floor roof space for The Sky Garden, a stunning green space with seating, winding walking paths around the building's parameter, and a 114-foot-high* view of nothing but sparkling blue ocean. Just below, a once secluded stretch of the beach is undergoing a hearty restoration, rushed in part by the creation of the resort, but open to the public.
The boardwalk surrounding the hotel has already completed its renovation in time for the hotel opening, and there's much more to come. Revel plans to offer a beach concierge service and daybed rental for all beach-goers, not just those staying in the crystal tower. Everything in the resort is meant to be welcoming to all guests, from flattering hallway lighting that changes with the time of day to comforting lighting in the resort hallways. Surprise design elements like a breakfast restaurant that sinks into revolving wall plates after it closes, and an entrance hallway covered in bright red flowers, keep guests guessing.
Revel is doing its part for the neighborhood in other ways: There are some 10,000 people who can call themselves employed because of the creation of the resort; 5,000 of those jobs directly at Revel. According to the Press of Atlantic City, "Revel's workers include 800 city residents, fulfilling a pledge by the company to provide local employment." The news source also reports that the resort has serious intent to use $125 million of a $261.4 million* 20-year graduated tax rebate from the state of New Jersey, to rebuild the neighborhood.
Will the renovated boardwalks and shiny new south inlet condos create enough of a buzz to lure in Atlantic City's underwhelmed residents? The $2.4-billion* resort is betting on it, but Revel may leave the prototypical Atlantic City customer perplexed. Revel, it seems, caters more to a bespoke, stylized "Boardwalk Empire" crowd. With prime up-market clientele waiting, can Revel still cater to the visored early-bird buffet crew, with wads of money curled up in their palms just waiting to be lost inside of buzzing machines?
CORRECTIONS: The actual number of parking spaces at Revel's parking garage is 7,739. The resort will eventually have 1,898 rooms. There are 113 traditional and digital tables. The Sky Garden is situated 114 feet above sea level. The 20-year tax rebate that Revel secured was worth $261.4 million - the total investment was $2.4 billion.