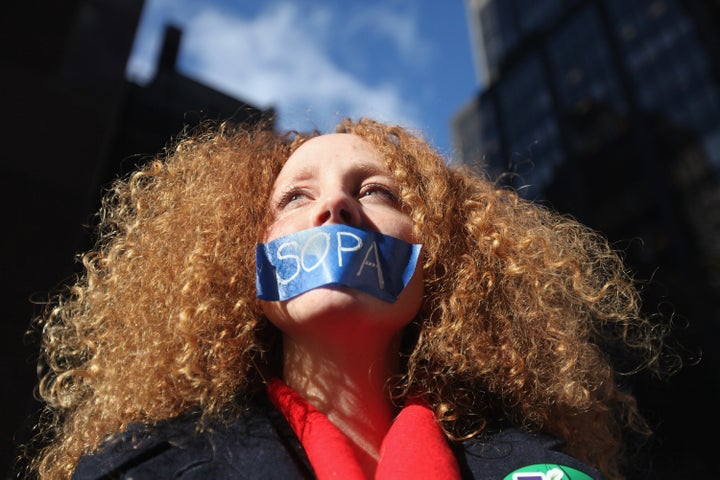 We've all heard of the geeks -- Jobs, Bezos, Chambers, Ellison, Gates, Jacobs, Zuckerberg. But political Washington has never much concerned itself with the geek community. Yesterday, that changed. Yesterday, American geeks roared at establishment Washington, and Washington listened and acted.
In 2010, it was healthcare; 2011 was all about spending and the deficit. On both issues, the establishment won. But 2012 has started off on a different footing: the American people told Congress in one clear voice to keep its hands off their Internet.
With sites like Google and Wikipedia leading the charge, Americans overwhelmed congressional phone lines demanding that their senator or congressman oppose the House's Stop Online Piracy Act (SOPA) and the Senate's PROTECT IP Act (PIPA).
These twin bills were well-intentioned efforts to stop overseas rogue websites from pirating copyright content, like music and movies. But they were also the creatures of the content lobby and were designed as one-sided nuclear missiles to destroy any website that hosted illegal content or linked to an illegal site.
In a stunning shift, this week more than 40 members of Congress withdrew their support for or announced their opposition to SOPA and PIPA. How did this happen, especially when the Senate bill sailed through the Judiciary Committee last spring in a unanimous vote?
Last week, the focus was the International CES, where over 150,000 tech leaders visited over 3,100 innovators introducing some 20,000 new products, many of them connected to the Internet. The CES was an exhilarating display of innovation and convinced all who attended that these technologies are the future and the engine for our economy. From the keynote stage I called on an "army of geeks" to oppose this anti-innovation legislation. Rep. Darrell Issa (R-CA) and Sen. Ron Wyden (D-OR) contributed to the cause by hosting a joint press conference at CES to voice their opposition to the bills and offer an alternative (the OPEN Act), which would still shut down foreign rogue web sites - but through an existing government agency, the International Trade Commission.
By the weekend, House Majority Leader Eric Cantor said he would not bring the PIPA legislation to the House floor while the White House said it would not support the PIPA or SOPA legislation as drafted. Then, on Monday and Tuesday, members began breaking ranks and announced their opposition to PIPA and SOPA. Finally, yesterday our website along with thousands all over the U.S. went black and urged users to contact their members of Congress.
They did. Politico reported that on Wikipedia more than 5.4 million people began the process of contacting their politicians, and Google said it received four million signatures on its petition. Anyone on Capitol Hill Wednesday in any Congressional office heard phones ringing off the hook. By the end of the day, Politico also reported that at least six of the original 40 Senate co-sponsors had removed their names from the SOPA bill and another 22 had agreed to changes. This for a bill that passed unanimously out of Committee! On the House side, scores of members tweeted, posted their opposition on Facebook or told calling constituents they would not support the SOPA bill.
In over 30 years of fighting in the Washington trenches, I have never witnessed such a mass exodus of support for legislation happen so quickly. I have spent an entire career fighting on behalf of innovation and often against the copyright owners, and too often the copyright owners won based on lobbying power rather than what was best for the nation. But not this time. Despite overwhelming their opposition in lobbying dollars, the copyright industry lost the American public.
What made the fight against SOPA and PIPA the issue that finally awoke the fire of the American people on both sides of the aisle? Three good reasons.
First, Americans are fed up with Congress. The RealClearPolitics average shows more than 80 percent of Americans have an unfavorable opinion of Congress.
Third, Americans feel that no one can control the Internet, least of all an entrenched business lobby, and they certainly don't want Congress messing with it.
Thus, members of Congress are abandoning the sinking ship of this legislation.
But it's not over. Senate Majority Leader Harry Reid has promised a Senate vote on SOPA next week. The content community will agree to an amendment on the technical Internet shutdown provisions and declare the bill fixed. But that is only one objection to the bills. They will still allow anyone to sue a fledgling website; it will still allow a private right of action against entrepreneurs; and it will still make it illegal to hyperlink to a website copyright owners don't like.
Yesterday the geeks won and took their revenge on an industry that has long had Congress take its money and do its bidding to expand copyright laws, terms and penalties. Although the copyright owners haven't surrendered yet, they know that the will of people is against them -- and now the will of Congress has followed.
But it wasn't just the geeks; all of America, left, right, red and blue, rose up and said, "Hands off our Internet!" This is a national victory.Gary Shapiro is president and CEO of the Consumer Electronics Association (CEA), the U.S. trade association representing more than 2,000 consumer electronics companies, and author of the New York Times bestselling book, "The Comeback: How Innovation Will Restore the American Dream."
Popular in the Community