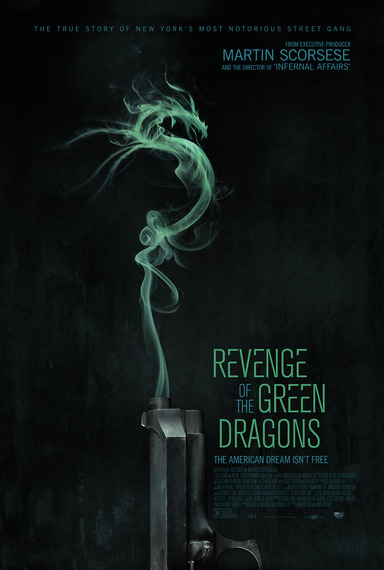 The film "Revenge of the Green Dragons," directed by Andrew Lau & Andrew Loo and presented by Martin Scorsese, is based on the true story of a now-extinct, brutally bloody Chinese gang that worked in Manhattan's Queens and Chinatown in the 80's and early 90's.
This movie portrays the gang's growth through the recruitment of Asian children. The Green Dragons brought them into United States illegally through a complex network of human traffickers, then baptized them into a world of crime and gang violence, using weapons, drugs, torture, executions, extortions, kidnappings, and rapes all with the excuse of helping these children find the "American Dream."
This film will make you sick with the graphic depictions of violence in its many bloody scenes, but the truly shocking aspect of this film is that almost everything depicted is true. The film was based on Frederick Dannen's electric New Yorker article, which chronicled the realities of this Asian-American gang.
From Andrew Lau, director of INFERNAL AFFAIRS, which was remade into Academy Award Winning © THE DEPARTED by Martin Scorsese, Revenge of the Green Dragons resurrects the issue of illegal immigration from Asia and the government's challenges in containing it.
Watching this film is like following a trickle of blood from Hong Kong to New York. It asks us to reflect on important issues, such as how domestic violence pushes youth to lose themselves in the criminal underground. This movie will likely be consider the Chinese "Goodfellas."
REVENGE OF THE GREEN DRAGONS stars Justin Chon (TWILIGHT), Kevin Wu, Harry Shum Jr. (GLEE and the upcoming CROUCHING TIGER HIDDEN DRAGON II: THE GREEN DESTINY), Shuya Chang (CHINESE PUZZLE), Jin Auyeung (THE MAN WITH THE IRON FISTS), Eugenia Yuan (MEMOIRS OF A GEISHA) with Geoff Pierson (J. EDGAR), Billy Magnussen (the upcoming INTO THE WOODS) and Ray Liotta, reuniting him with Martin Scorsese for the first time in nearly 25 years since GOODFELLAS.
Directed by: Andrew Lau & Andrew Loo
Running Time: 94 Minutes
Distributor: A24
Theatrical Release: October 24th
REAL LIFE. REAL NEWS. REAL VOICES.
Help us tell more of the stories that matter from voices that too often remain unheard.