One of humanity's most basic instincts is that of revenge. Stories of retribution are some of the oldest, and also some of the most entertaining, if not inspirational. Characters contemplating vengeance abide by their own fashion codes. There are those seeking understated elegance to avoid drawing unnecessary attention to the act of reprisal. Others can only be satisfied if there is an audience to witness the full life's dramatic theater. No matter your payback strategy, one particular collection by the Academy of Art University graduate and rising designer Kenneth Ning showcased many performance-enhancing choices for the modern avengers during his solo debut at New York Fashion Week: Men's.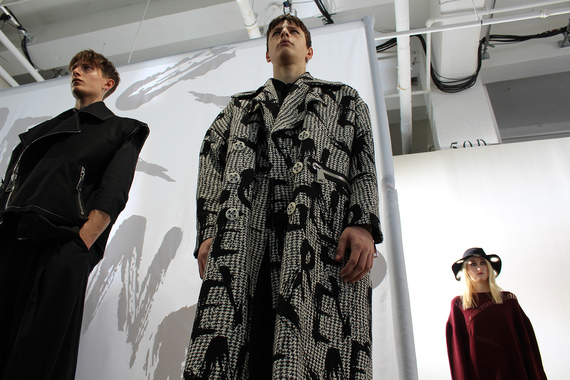 Mostly inspired by cult film directors Quentin Tarantino's and Takashi Miike's films, Ning's latest collection was a study of revenge and the people who seek it. The loose shorts, paired with looser pants, adorned with belts particularly stand out as the ones most comfortable for delivering retribution. Interesting tailoring blurred the gender distinction between the two flared bottoms pants in grey, and pinstriped. Both bottoms were paired with a dark hued, sleeveless silk top.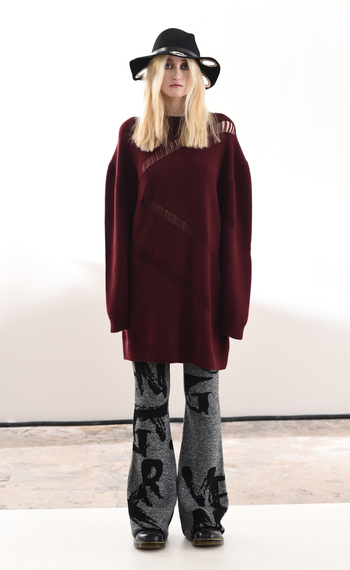 In the state of revenge, mood can be a matter of life and death. In fashion, the same attitude comes from styling. Manifesto Magazine's fashion director Jonathan Yee did an impressive job with his styling debut. Ning's woman felt powerful, while wearing a high-waisted flared pants in the shade of asphalt, paired with a maroon silk blouse. His man, equivalently stoic, was dressed in a pair of grey high-waisted boot-cuts along with a nearly identical silk maroon bomber. A sure to be hit with the statement seekers, Ning' impeccably tailored suit, featuring the keyword "revenge," was perhaps the most daring look of the collection. Ning choice of strong colors, and his surgery-precise tailoring including a soft-shouldered long trench coat with a high waistline felt fresh among the ocean of trenches this season.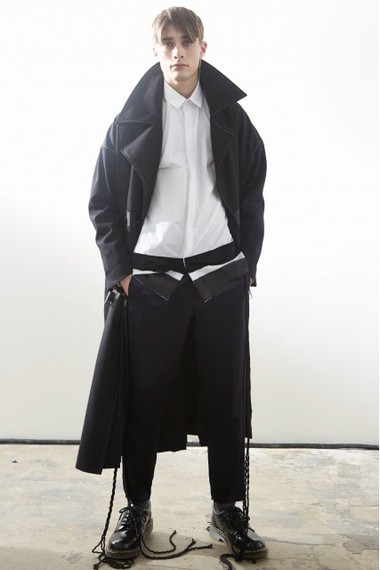 Ning presentation also featured a few re-interpreted looks from the fashion industry's distant past, many ideas borrowed from the Western film genre that has so much influenced Tarantino's own. However, Ning manages to bring them forward with some unexpected twists, like the hardware in the form of oversized metallic O-rings. Such adornments added a not-so-subtle touch of modernity to the classic Western look. The slimmer fit on the hips down to the inseam has furthered a taste level consistent with today's culture.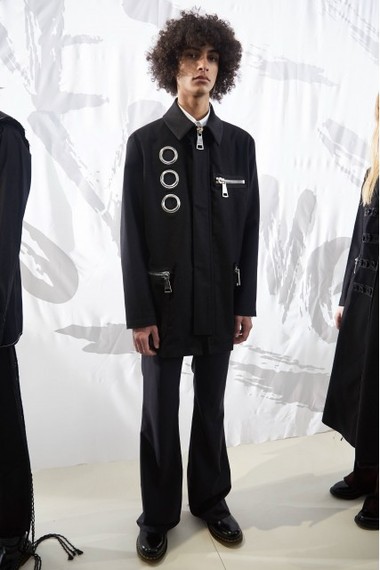 The idea of aggression, as there is no such thing as a friendly 'eye for an eye', echoes prominently throughout the collection. It was best exemplified in the frayed seams and metallic, over-sized zippers that juxtaposed the soft fabrics. Silence can be extremely vengeful as long as you are well-dressed to amplify it. Just remember the opening scene of 13 Assassins, where a samurai dressed in the open shirt sits in silence; his face is a mask, and revenge on his mind.

Additional reporting by Dairia Kymber Harvin, Academy of Art University Fashion Journalism MA student.