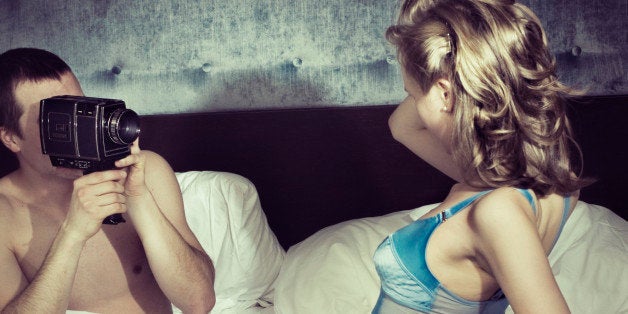 A law passed in Israel on Jan. 6 states that uploading explicit pictures or videos without the subject's consent is a form of sexual harassment, punishable by up to five years in prison. And given the horrifying stories of "revenge porn" victims, we hope to see similar legislation pass worldwide.
Several of the men and women who commented had willingly shared intimate photographs online and reported few or no repercussions or regrets. However, respondents whose images were posted by ex-partners -- or so-called friends -- were much more likely to report long-term effects like sexual shame, disruption to their education or employment, and trust issues.
One user created a "throwaway" Reddit account to share her story:
When I was married, my then husband and I made a homemade porn. I thought it was a good idea at the time and I was very wrong. Not too long after we made said porn, I found out he had been cheating and I left him. I had completely forgot that we had even a video until a co-worker came to me and said he got a very interesting email from my ex (they were friends) and showed me the link. That f**king asshole uploaded the video to porn site. He sent the link to everyone we know, including family. I was completely mortified to find out he had done this.

Needless to say, I had to quit my job and move back to my home province. I was being harassed at my job (I worked in a factory, it was mostly men that worked there). I couldn't bear to see or hang out with any of my friends.

To the younger female redditors, no matter how much you trust and love him/her, do not make videos or let your [partner] take pics of you naked, that shit will come back to haunt you.
This user was just one of many to express such regrets. Here are five things victims of revenge porn reported feeling:
1. Humiliation. "My ex logged into my Facebook and took naked pictures that I had sent to my new [partner] over messenger and posted them for all to see," one user posted. "My family saw, my friends saw, my Facebook got shut down for nudity and it took forever to get back. Now I'm extremely paranoid about my passwords and check my content religiously."
2. Concern for their personal safety, especially when revenge porn postings are accompanied by personal information like email addresses, full names and phone numbers. One Redditor didn't feel safe in her home after her naked pictures and contact information were shared online: "I got moved to accommodations that had on-duty personnel staffed 24 hours a day for my safety once I reported everything," she wrote.

3. A need for hypervigilance. Years after her ex-boyfriend uploaded intimate images of her, professor Annmarie Chiarini shared her story in The Guardian:
I oscillated between panic and persistent anxiety. I would wake up at 3am and check my email, my Facebook page, eBay, then Google my name, a ritual I performed three times before I could settle back down. In September 2011, I was thrown into panic again after I read an anonymous email alerting me to an online profile that featured nude pictures of me.
4. Fear of being watched during sex. One Redditor commented that her worries of being exposed on the Internet have affected her sex life: "I confiscate all forms of technology and make sure the laptop is closed (fear of webcam) before I have sex."
5. Body shame. A Redditor who was underage when a "friend" unknowingly took pictures of her changing into a bikini and posted them around their school wrote that the experience made her ashamed of her body: "The school got my parents in to look at/discuss it. My mother believed I'd taken them, and kids branded me a slut and a whore and made references to my body for the rest of my school life. I despised my body for many years after that."
If your life has been impacted by "revenge porn" and you'd like to share your story, send your age, first name or initials, and geographic location to women@huffingtonpost.com.
Related
Popular in the Community