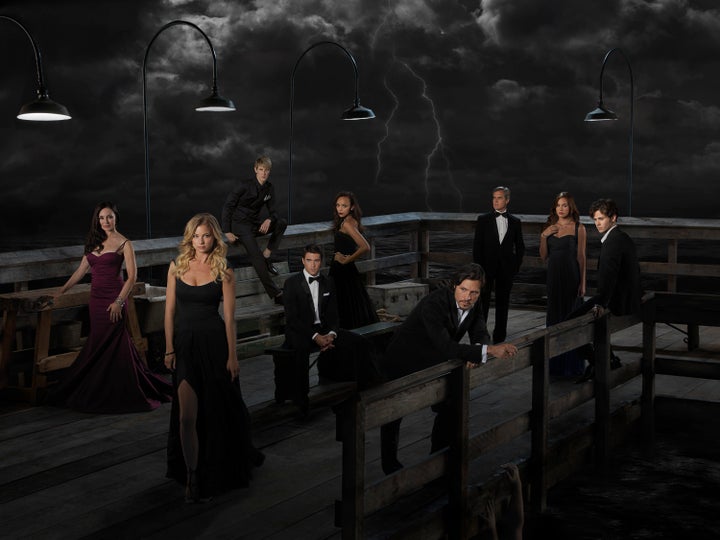 "Revenge" is back (Season 2 premieres Sun., Sept. 30, 9 p.m. ET on ABC) so HuffPost TV caught up with some of the show's ever-growing cast -- including Madeleine Stowe, Gabriel Mann, Josh Bowman, Margarita Levieva and newcomer Barry Sloane, as well as creator Mike Kelley -- to get some scoop on Season 2, where things pick up after the first season finale cliffhanger, new faces, hot sexcapades, "Revenge" babies, flashbacks and much, much more.
Not having seen the entire Season 2 premiere yet (ABC only sent out the first two acts to the media), the king of tease Gabriel Mann, who plays Nolan on the show, said we won't be disappointed. "Much like the Season 1 finale, I think they're hedging their bets that they have a winner in the end here that may shock even you guys," Mann said.
Emily (VanCamp) is with a new man, Daniel (Bowman) is with Ashley (Ashley Madekwe), Nolan has a new lady and Jack (Nick Wechsler) is with Fauxmanda (Levieva), who is pregnant with their child; but even though everything has changed, some things will always stay the same. (A giddy Kelley was gushing to Levieva, telling her that the crowbar she wielded in Season 1 will be making a comeback!)
Keep reading for more teases and introductions to the newest Hamptons players on "Revenge" ...
The Season 2 Premiere
Mann: "Two of our main characters get their clothes off in the first 15 minutes. Everybody has really upped their game. It sounds like a whole lotta hype to be like, 'Whatever you saw last year -- times two, times three, times four this year.' I just didn't know how the writers could go there. Oh ye of little faith, Gabriel Mann! Of course they're gonna take it to the next level. Just the fact that we now have 15 to 20 principal characters, and all those storylines are getting equally serviced in the most delicious way ... I think it'll be quite a memorable season."
Bowman: "The darker side of Daniel isn't really coming out yet -- it's more that he's getting a bit more power. He's become obsessed with work and obsessed with being a part of the company and taking over in the right way, and not being part of what his father is about, which is the kind of dodgy dealings. He wants to run it right and be the right person for it. And then this man, Aiden Mathias [Barry Sloane], comes along ... but obviously I don't know his actual intentions. He kind of uses me, and I guess in a way, we use each other to better ourselves in our positions. It's all a game of chess."
The New Guy
Sloane: "I think, along with everybody else on this show, there's a gray area with Aiden. I don't know if he's good or bad, but there's a genuine friendship between Aiden and Daniel, and Aidan's kind of pushing Daniel to do what he's wanted to do with Grayson Global all along -- he's giving him that nudge to do it now. But there is a dark edge to this season, continuing along from where it peaked at the end of Season 1. It's gritty."
And The New Girl
Mann: "Everybody gets together with somebody this season, and everybody has wild sexcapades. One of the big pleasures has been working with Dilshad Vadsaria, who plays Padma Lahari this season. I was a turbo nerd superfan of hers from 'Greek' ... that we're now working together is amazing."
The Return Of The Queen
Stowe: "It was a great finale, and I was so excited to play it. Mike originally had the idea to just have the car drive up to the tarmac, but I was like, 'We've got to see Victoria walking the plank so the audience believes this!' So we had a great time pulling this little scam on the audience. I wasn't showing up for press junkets ... it was fun to tease."
Mama Drama
Stowe: "Jennifer Jason Leigh's on the show now, and she is phenomenal. I've been working with her a lot. She plays Emily's mother. You've got these two women who are kind of on parallel paths, oddly enough. Victoria doesn't know what Emily's after, but we're kind of after the same thing -- but we'll never realize it. I think they have to keep it going as long as they can."
Mann: "I'm calling Season 2 'Mama Drama From Hell,' and I'm hoping we get to throw the Ross Mama into the mix, too. That has yet to be thrown my way, but there seems to be a larger family we have yet to meet. Could be interesting. But the gift of having Jennifer Jason Leigh on our show this year ... it's just like iconic, next level, one of those actors that you always go to to see how it's done when it's done well. The fact that she has joined us has been thrilling. There are truly some Hitchcockian scenes in the mistaken identity of the Emily Thorne/Amanda Clarke saga that will definitely factor in once mom hits town in a very twisted -- and sometimes very moving and tragic -- way. I'm not gonna lie, I've watched the monitor a few times and gotten a little verklempt because there's some really beautiful work that's happening this year. That's something I haven't teased yet: I got teary watching JJL and some ... other people working on the show. It's very exciting."
Levieva: "I don't think she's confused about who her daughter is -- at least not from my point of view. But I don't know if there's that motherly instinct where she picks up on the fact that Emily is maybe related, but I carry her name. So she thinks I'm her daughter -- at least I think so. For a little bit at least."
Sparring Partners
Mann: "Well, not that Emily and I were ever not going to somehow be sparring with one another. I thought maybe this season was ending on a kinder, gentler note ... but no. I think it's always interesting to pull people apart in a violent way, because then it makes their coming back together oh so much more interesting. There's a tease for you!"
Bowman: "Well I haven't been sparring with anyone, to be honest. I spar with Henry [Czerny] a lot because there's that rift between Daniel and his father Conrad. But Ashley he's in a relationship with, so that'll be interesting to see. But Aiden comes in, and he has ties with Emily, and I don't know their history at all, so that starts to rise from the depths."
Sloane: "It's been really exciting to come be a part of this show. There's already a love triangle, and then I'm kind of getting involved and making it ... I don't know what. But I'm involved in it!"
Bowman: "It's an octagon at this point! [Laughs.] Emily's been with everyone on the show! She is the 'Revenge' bicycle."
Stowe: "There's going to be a big surprise with Henry [Czerny] and me. We just shot it and it's great."
Flashbacks!
Stowe: "Something I've long wanted to see is going to happen, Mike just told me -- we're going to see kind of an origin for Victoria, in flashback, to understand why she became who she became. This goes way deep."
Barry: "We've done a few flashbacks, as is common, and that's been fun. Through those, you'll learn more about the past relationship between Aiden and Emily, which then aides everything we know."
Bowman: "Flashbacks are so key because they set up how Emily feels about my family and what my family did, and her past relationships, like with Aiden. You need those -- that's what keeps the show moving in new directions. She has that love with Jack, but that's kind of on the backburner because he's with Amanda, and in love with me, but I'm with Ashley, so she's on her own now ... but she's got her ex-lover. I don't want to call him sloppy thirds [laughs], but you know."
Fauxmanda
Levieva: "It's a big season for her -- physically, literally, emotionally. [Laughs.] There's so much going on this season. I can't give away too many details, but I can say that there's a scene with me and Emily [Van Camp] and Jennifer [Jason Leigh] and Mason Treadwell [played by Roger Bart] and Nick [Wechsler], and we're all in the same room -- it's not a long scene, but there is so much going on. Like I have this relationship and that one, and I can't talk about this one because I'm trying to hide from that person."
Kelley: "She's so grounded this year ... but this next episode, I'll just say that Mason Treadwell, he can press some buttons. And there's a scene I love in the last episode we shot -- it's her baby shower and there's another pregnant woman there, and Amanda looks at her and says, 'Twins?' And the woman's like, 'No.'"
Dream guest stars
Mann: "Just because I am such a superfan of everything she's ever done -- though I don't know how it would factor in necessarily -- could we get Allison Janney on the show? Please? And I would love to carry over my working relationship from the movie I did on hiatus, 'Chavez,' and have John Malkovich pop through for a couple of parties."
Sloane: "I want Christina Ricci -- in a heartbeat. I think she's a great actress. I don't know what part ... "
Bowman: "We've got to bring in Madeleine's mom -- Victoria's mother -- who's that gonna be? Raquel Welch? Joan Collins?"
Stowe: "I know who we're talking about [for Victoria's mom] -- it'll blow your mind. Blow your mind. It's actually something Mike and I have talked about from the beginning, and now they're talking to her. I can only tell you that she's not from this country."
Tell us: Are you excited for more "Revenge"?
"Revenge" Season 2 premieres Sun., Sept. 30, 9 p.m. ET on ABC.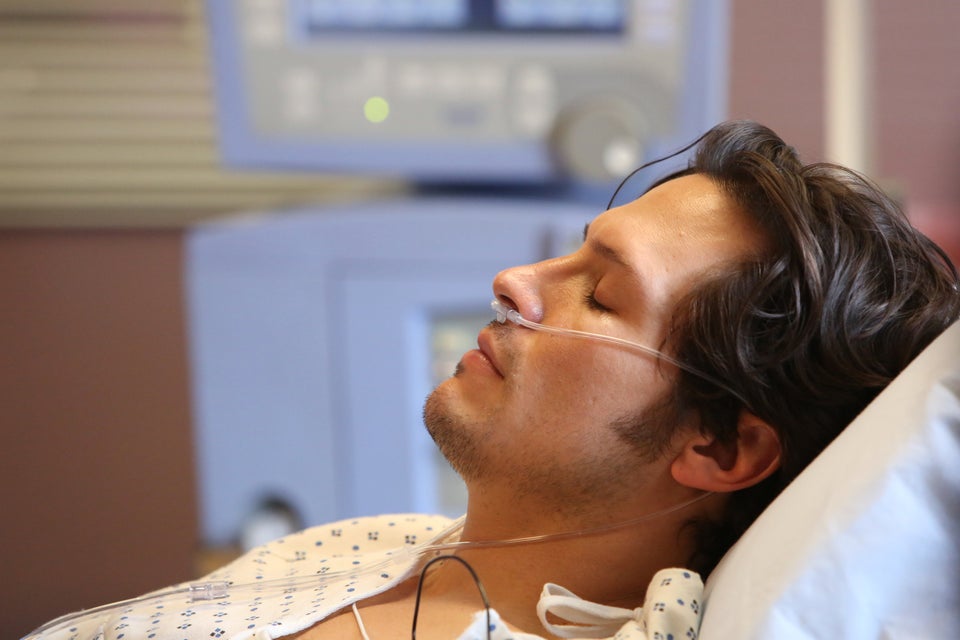 'Revenge' Season 2
Related
Popular in the Community