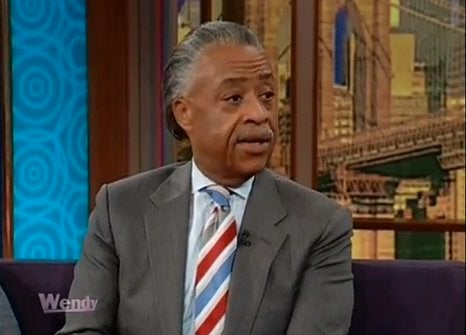 Al Sharpton appeared on "The Wendy Williams Show" on Tuesday and covered quite the spectrum of topics including his hair, rumored girlfriends, Occupy Wall Street, Herman Cain, and his difficulty using teleprompters. One of the more surprising moments came when Williams wanted to learn more about Sharpton's dramatic weight loss, the roots of which come from an unexpected experience.
Sharpton told Williams that "about 10 years ago, I went and led a protest in Vieques, Puerto Rico against the navy bomb. They gave me 90 days in jail, and I went on a fast for the first 40 days. So I start liking how I look." He continued that he really likes to diet now and "[doesn't] eat any meat, only [eats] fish twice a week, and only vegetables and fruit." Sharpton told the audience he weighed 305 pounds at his peak and lost about 125 pounds.
Sharpton's weight loss was not the only thing Williams was dying to know about. She moved on to Sharpton's "romantic life," which caused Sharpton to get a tad nervous. He deflected the questions repeatedly until Williams named his rumored girlfriend, actress and designer Lisaraye McCoy, and showed a picture of the two together. Both are divorced. Sharpton denied the romance but had nice things to say about his friend, Lisaraye. "She came to me for some advice...She's very smart, a brilliant person...and I think it's so unfair that everybody you shake hands with once you're single again, you're dating."
Sharpton also revealed that he "wrestled with the teleprompter," when he first started hosting his MSNBC show, "PoliticsNation." "I'm the king of the freestyle, so we just got rid of [the teleprompter]" during segments with guests. "I just put up the opponents on PoliticsNation and just freestyle," Sharpton said. "It's real."
Finally, the two talked about a thing Sharpton is very famous for: his hair. He revealed that his hair is all-natural ("this is no weave!") and that he goes to the same Harlem salon every week to maintain his 'do.
WATCH
Popular in the Community