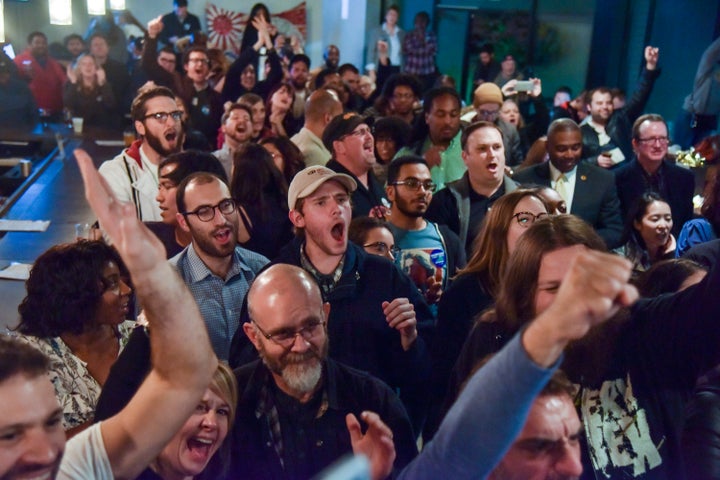 Run for Something started just a few months ago, but since our launch on inauguration day, we've had a clear vision ― recruit progressive millennials to run for office. Last Tuesday, people around the world saw that vision take shape with 32 wins and another four that are still too close to call. To keep the momentum going, we've created a new holiday, National Run for Office Day, to tell real people now is the time to step up.
The idea is simple, or least it should have been. More local candidates running grassroots-style campaigns means more authentic voices talking to voters, which means Democrats up and down the ballot do better. But the party institutions for decades have chosen to focus resources in "winnable" races, avoiding contested primaries and largely ignoring campaigns at the local level.
This strategy hasn't worked out. State and local offices never truly received the respect or resources they deserved. The party didn't understand just how key these races are in mobilizing voters. Progressives in these areas have been left unengaged for decades. In the eight years following Democrats control of the presidency and both chambers, Democrats have lost about 1,000 total seats― from state legislatures to governors' mansions. Today, Republicans control 56 percent of all state legislative seats.
On Tuesday, the game was changed― just look at Virginia. Seven of RFS's 10 candidates for Delegate won or are still too close to call. Nationwide, nearly 50 percent of our endorsed candidates won their elections. The usual win rate for candidates challenging an incumbent is 10 percent.
These victories provided an enormous boost to statewide candidates. In districts with highly competitive Delegate races in Virginia, Democratic vote turnout increased by 40 percent. That is a phenomenon that we refer to as "reverse coattails." Essentially, it means that the folks running for state and local offices were responsible for increasing turnout for statewide candidates like Governor, Lieutenant Governor, and Attorney General. In all but one of our Virginia House races, our candidates performed better than Gov. McAuliffe did in 2013.
As they say in Silicon Valley, this is a feature, not a bug.
That's why RFS is launching National Run for Office Day. This new holiday is part of our continued push to tell every American about their potential to lead in 2018 and beyond. The microsite, www.runforofficeday.com, is where folks can sign up for candidate resources. A series of videos from high profile people, including Sens. Kamala Harris, Kristen Gillibrand, and Elizabeth Warren, Jason Kander, Ai-jen Poo, Alicia Garza, Our Revolution's Nina Turner and Voto Latino's Maria Teresa Kumar, are urging people across the country to run.
This partnership of over 40 key progressive organizations is the largest recorded effort to recruit potential candidates to put their name on the ballot.
We're at a crossroads and it's entirely possible that if we don't invest in state and local races, in the next few cycles that we could lose another 1,000 seats, leaving the party in ruins. The key to winning in 2018 and beyond doesn't lie in hoping that a Congressional or statewide candidate will carry everyone else to victory, or betting on a national ad campaign or gimmicky messaging. Building the movement and gaining ground means remembering the old Tip O'Neill adage that "all politics is local."
Over the last ten years Democrats have lost 1,000 state legislative seats. We can't afford to lose another 1,000. Let's get new voices heard and new names on the ballot.
Popular in the Community