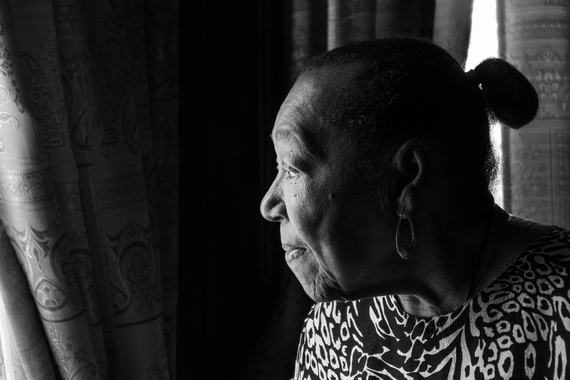 A bill that might protect homeowners like Lillie Williams from reverse mortgage scams has stalled in the Illinois House of Representatives. Jon Lowenstein/NOOR
After racing through the Senate, a bill that would provide protections to senior citizens considering taking a reverse mortgage appears to have stalled in the House and could die in committee.
For those who are not familiar with the product, reverse mortgages are vehicles where seniors 62 years or older take out the equity in their home. Although there are tax and insurance implications for the mortgage holder, the money is not due until the person either dies or no longer lives in the home as a primary residence.
According to lawsuits filed in federal court and an injunction filed by Attorney General Lisa Madigan, Diamond preyed for years on elderly black homeowners on the city's South and West Sides. Often relying on a black woman named Cynthia to gain residents' trust, he would convince these homeowners to take out a reverse mortgage for needed home repairs, charge exorbitant closing costs, secure most, if not all, of the money from the mortgage, and do little, no or shoddy repairs.
A number of the people were in danger of losing their home to foreclosure.
For many families, the home is not just the emotional heart and central gathering place for the family.
It's also a critical part of their financial legacy.
Long-term residents like Williams, who bought the North Lawndale house with her sister Ethel Winters in the early 70s, bring stability to the community.
Losing the home, then, has implications for the family and the broader neighborhood.
Among the people who say they were victimized by Diamond: Clyde Ross, a key figure in the Contract Buyers League that fought to help black people purchase their homes in a more fair manner in the 60s; and the mother of former Farragut High School and New England Patriots star "Mini-Mack" Herron.
Diamond declined repeated requests for comment.
His lawyer Dennis Both referred me to court documents.
Filed by Sen. Jacqueline Collins in February, the bill would require a cooling off period and counseling for potential buyers, and prohibit people involved in the reverse mortgage from getting part of the proceeds.
Bob Palmer, policy director for Housing Action Illinois, the non-profit group that presented the legislative framework to Collins, said the bill was meant in part to address the activities of lenders like Diamond.
The proposal sailed through the Financial Institutions committee that Collins heads, went to the floor for a general vote and passed unanimously in late April.
Assistant Majority Leader Art Turner became the chief sponsor in the House on April 29.
Rep. LaShawn Ford signed on as Alternate Chief Co-Sponsor a few days later in early May.
Turner said through a spokeswoman at that time that he hoped to have the same result.
But that seems unlikely at the moment, as the bill appears to have stalled in the Rules Committee, with no additional action since then and legislators' attention has been focused on battling with Gov. Bruce Rauner around budget cuts and other financial issues.
Tuner did not return a call with a request for comment about the legislation's prospects.
"On Memorial Day we will call our state reps and ask them to remember the 100's of Senior citizens and their heirs, that lost their homes and millions of dollars [to] predatory reverse mortgage scam artist like Mark Diamond," Hood wrote in an email.
The session is slated to end on May 31.
Only then will it become known whether the state's seniors will have additional protection from those who would do them and their families out of one of their most precious assets, or whether they will remain as vulnerable as ever.
Related
Popular in the Community