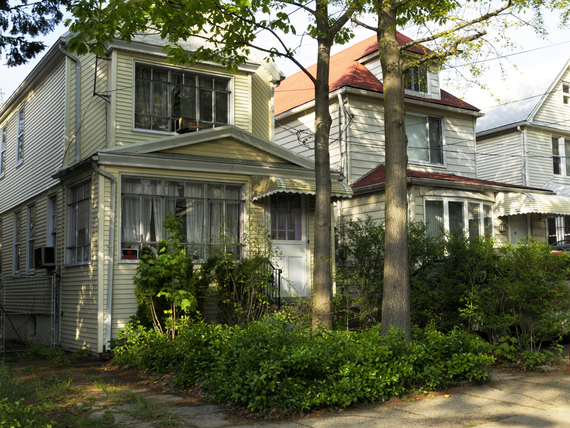 Shirley, a 79-year-old homeowner, has lived most of her life in the Manhattan home her parents bought over 70 years ago. In 2009, Shirley decided to take out a reverse mortgage, or Home Equity Conversion Mortgage (HECM) in order to provide additional income for herself and her sister, who both rely on Social Security benefits as their sole source of income.
Reverse mortgages are designed to allow older homeowners to convert some of the equity in their homes into a loan that will enable them to remain in their homes for the rest of their lives. After they die, their heirs have a year to repay the loan. Homeowners who opt for a reverse mortgage do not make monthly mortgage payments. Instead, they take a lump sum payment at the time of closing, receive monthly installments, or use the proceeds to pay off an existing mortgage and receive no payments. They agree to be responsible for paying their homeowners insurance and property taxes. If they do not, or if they fail to meet a few other specific conditions, the bank can start foreclosure proceedings.
Shirley came to NYLAG in 2015 after she tried to pay her property taxes and discovered that Champion Mortgage, her mortgage servicer, had already done so without her consent. Champion was demanding that she repay thousands of dollars she did not have in unpaid property taxes and homeowners insurance. Worse, NYLAG discovered that Champion had instituted a foreclosure proceeding against her in court a year and a half earlier - without Shirley's knowledge.
When I got involved in Shirley's case, I requested numerous documents from Champion's attorneys in order to figure out what had happened. It took four months, an order from a court Referee, and complaints to the New York State Department of Financial Services, the New York Attorney General, and the Consumer Financial Protection Bureau to get even basic information about how much money Shirley owed and for what. Champion claims that Shirley owes the servicer approximately $15,000 for a combination of unpaid property taxes and homeowners insurance. Despite the fact that New York City allows payment plans for homeowners who have outstanding property taxes, Champion paid Shirley's arrears, called her entire loan balance due, and began a foreclosure case against her. Champion refused to provide her with a repayment plan for her outstanding charges, so Shirley is now applying for a grant from New York City's Human Resources Administration that might allow her to keep her home.
Shirley's case is unfortunately not unique. NYLAG has seen increasing numbers of reverse mortgage foreclosures in New York City and on Long Island. Many of the seniors we meet at legal clinics report significant problems with their reverse mortgage servicers, including failure to offer repayment plans or to honor existing plans; failure to notify homeowners about outstanding charges; and failure to communicate clearly about what is occurring. These problems are exacerbated by the fact that most seniors do not have legal assistance. Additionally, many seniors may not have understood the requirements of their reverse mortgages originally, as New York does not require an attorney to be present at the closing.
Reverse mortgage foreclosures in New York receive fewer legal protections than conventional mortgage foreclosures. Servicers are not required to give homeowners 90-day notice before a foreclosure starts, and generally reverse mortgages do not receive settlement conferences where homeowners are given the option to negotiate with the bank or apply for a loan modification. As a result, the foreclosure process is often much faster than conventional mortgage foreclosures, leaving homeowners without the time they need to work out a solution and keep their homes.
There are no loan modification programs for reverse mortgages, and repayment plans are governed by regulations created by the Department of Housing and Urban Development (HUD), which insures most reverse mortgage loans. HUD's regulations for reverse mortgages have changed repeatedly in the last few years and have been difficult for both advocates and servicers to interpret. Many servicers, for example, mistakenly cite out-of-date HUD regulations when refusing to provide repayment plans. HUD guidelines also often leave repayment plans to the servicer's discretion, leaving no recourse for homeowners.
The problems I've described--the lack of legal protections, servicers' inadequate communications with senior homeowners and/or their attorneys, and changing guidelines from HUD--may very well prevent many seniors from holding on to their homes. The clients we assist generally do not have the ability to find alternate housing or money to move, a process which can be difficult at any age. These seniors also never thought that they would need to move when they were in their eighties, often in poor health: the reverse mortgage was supposed to prevent exactly that outcome.
There are multiple steps that can be taken to remedy these issues. New York State should enact more significant legal protections for vulnerable senior citizens in reverse mortgage foreclosures, such as allowing them to participate in settlement conferences. Enforcement agencies at both the state and federal levels should investigate reverse mortgage servicers to ensure that they communicate clearly with borrowers and are willing to work out solutions that keep homeowners in their homes. (In recent promising development, the New York State Department of Financial Services recently began an investigation into the reverse mortgage practices of Champion Mortgage and Reverse Mortgage Solutions, another servicer.) HUD should also clarify existing reverse mortgage guidelines and consider adding new ones. Possible changes might include requiring face-to-face interviews with seniors before beginning foreclosure cases and requiring repayment plans within prescribed parameters, rather than giving servicers discretion about whether to offer repayment plans.
The reverse mortgage program is intended to offer older homeowners the chance to stay in their homes for the duration of their lives, and any new guidelines or legal protections must always take that broader goal into consideration.
Related
Popular in the Community