Many desi women, such as myself, have been praised for their dark eyes as being mysterious. However, this physical trait is ruined by the presence of dark under-eye circles that cast shadows even when covered by three layers of concealer and finishing powder.
The dark shadows are amplified because they are surrounded by dark lashes, skin and hair. Consequently, I've learned that no expense should be spared when searching for a product that makes you look fresh and well-rested, even when you aren't.
The two greatest challenges for concealers are color and texture. For bluish dark circles, you need a warm color like that of a cashew or apricot to counteract the darkness. Any other shade results in the reverse raccoon eyes effect that highlights fine lines and demarcates foundation.
Texture is challenging because many eye contours are populated by fine lines that act as depositories for excess concealer, which results in a spackle effect. Yet, if the concealer is too slick, it will fade away quickly. If your skin is oilier, try thicker concealers that are typically housed in pots or tubes. And if your skin is drier, try liquid or gel formulations that are housed in tubes.
After much trial and error, I've found a few concealers and developed a makeup routine to fix my reverse raccoon eyes. Here's what I've learned:
Clé de Peau Beauté Correcteur Visage Concealer in Miel is as expensive as it sounds, but simply worth it. The sleek black tube accented with gold lettering belie its ability to mask genetics and poor sleep. The texture is thin, soft and blendable, which you can layer without spackling. I apply one swipe right below my lids and then blend using soft strokes to the corners using the Stila One Step Complexion Brush #33. If you swipe concealer in the inner corner, you can leave too much behind resulting in crud.
I love that the color (a warm cashew-apricot) dominates the bluish tinge of my dark circles, without mercy or apology. My only complaint is that there are four shades, of which Miel is the darkest. Clé de Peau should create more shades so that more women of color can benefit from this fabulous product.
On days when my face lacks éclat, I dab a touch of Chanel Correcteur Perfection Long Lasting Concealer 40 just on top of the Clé de Peau concealer. Again, the color is perfect for me, as it is a warm apricot that temporarily karate chops any remaining tiredness and fine lines into submission. The liquid gel texture is light and reinforces the warming effect. I just tap the Chanel cover-up on the dark circles and gently blend it in with my ring finger, being careful to not disturb the concealer underneath.
I have used Chanel on its own but since my skin is normal-to-oily, the liquid gel does not last. However, when it is layered on a tackier product. it stays locked in place.
Finally, I lightly dust on Make Up For Ever HD High Definition Microfinish Powder to set my makeup. This powder does not ashen my complexion and it creates a smooth finish. Sometimes in my rush to get ready, I fail to blend properly. I then take my ring finger and gently tap my under-eye circles into warm, apricot freshness.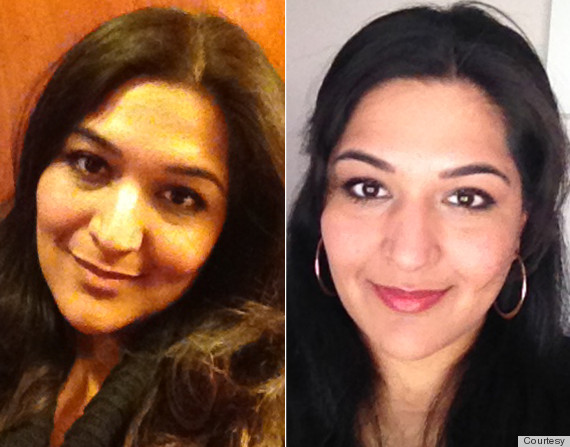 I realize that my recommendations are expensive. (I still can't believe that I broke a 100 dollar bill for Clé de Peau concealer.) Initially, my first world guilt was further compounded when I got home and looked at the other half-finished concealers in my makeup case.

Each one promised me the illusion of sleep and all of them failed. They looked warm in the packaging and wimped out when they confronted my desi circles, or worse, they matched but quickly faded. I was tired of wasting my money on products that failed but I felt guilty for buying even more concealer.
However, I realized that when a concealer is great, you can't compromise.
Want more HuffPost Style beauty content? Check us out on Twitter, Facebook, Tumblr, Pinterest and Instagram. (For everything else check out our main HuffPost Style Twitter, Tumblr, Pinterest and Instagram @HuffPostStyle.)
---
Do you have a beauty story idea or tip? Email us at beautytips@huffingtonpost.com. (PR pitches sent to this address will be ignored.)