There were naked men, and penises a plenty, men without their clothes -- plain and simple, and strapping young bucks ready to go. The occasion was not a gathering in the Castro, but a feminist-themed exhibit, "Man as Object: Reversing the Gaze," which is currently on display at the SOMArts Cultural Center in San Francisco (through November 30th).
"Man as Object: Reversing the Gaze" is filled with men stripped naked -- both literally and figuratively; collectively, this body of work exposes women's sometimes cheeky (no pun not intended), provocative and striking commentaries on the opposite sex. Take a tour of the exhibit, and you'll see pieces which are serious, silly, funny, critical, erotic and banal.
Even in this day and age, "Man as Object: Reversing the Gaze" can be seen as a provocative exhibit. However, the nature of its provocation is really more of a reflection of where we stand as a society. "Man as Object: Reversing the Gaze" is intended to turn the tables, so to speak, and re-envision issues around gender, society and the "politics of exposure."

In Man as Table, for example, Della Calfee has turned men into objects by photographing two crouching naked men embracing each other while supporting a glass tabletop. Let go of the literal image and the implicit image suggests a world of meaning.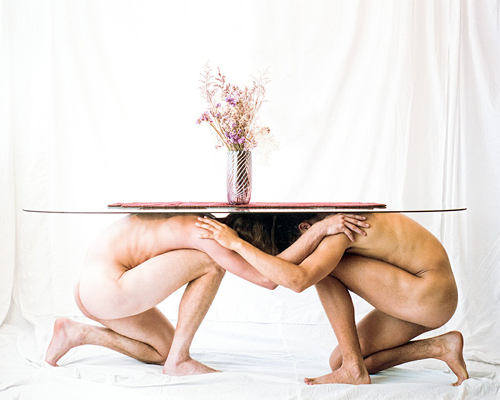 The scope of this exhibit encompasses various ways in which women view man-as-object, and in doing so, it reverses the traditional approach of male artists objectifying women. Sometimes, those re-envisioned issues are aesthetic or cultural, and sometimes they are social or political.
The exhibit includes a lenticular postcard that juxtaposes Gustave Courbet's famous Origin of the World (1866) with ORLAN's recent Origin of War -- turn the postcard one way and it depicts a woman's pubic region, turn it the other way it depicts a man's.
San Francisco State University Assistant Professor Tanya Augsburg selected 117 pieces from 900 submissions for the exhibit. Featured artists include Guerrilla Girls on Tour!, Lynn Hershmann, Carolee Schneemann, Annie Sprinkle, Juana Alicia, Nancy Buchanan, Jill O'Bryan, Sylvia Sleigh, Elizabeth Stephens, May Wilson, and Melissa Wolf.
The diverse perspectives on masculinity found in "Man as Object: Reversing the Gaze" come from straight, transsexual, transgender, lesbian and multi-cultural artists in various media, from paintings to sculpture, as well as installations, performance, video and that newest hybrid form of creative expression, social media.
The majority of artists in "Man as Object: Reversing the Gaze" are from California, though there is also a notable contingent of artists from elsewhere around the United States, including Michigan. Among them is Carol Morris, who lives in Ann Arbor. Her collage scrapbook of images from gay men's magazines serves as a sly critique of the rules of attraction and the nature of desire.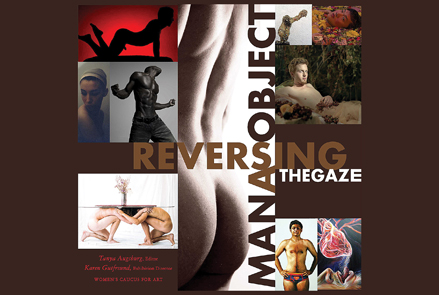 "Man as Object: Reversing the Gaze" is sponsored by Women's Caucus for Art and made possible through grants and assistance from SOMArts Cultural Center, the San Francisco Arts Commission and the San Francisco Foundation. The exhibit is accompanied by a full color catalog by curators Tanya Augsburg and Karen Gutfreund, and includes essays by Lynn Hershman Leeson, Annie Sprinkle and others. Check out this age-restricted video on the exhibit here.
On Wednesday, November 30th there will be a closing reception, screening & panel discussion which serves as a perfect opportunity to visit the show if you haven't already done so. At 6:15 & 6:30 p.m., a landmark film by Carolee Schneemann, Fuses (1965), will be screened in the SOMArts theater. "It is different from any pornographic work that you've ever seen -- that's why people are still looking at it!" the noted artist / filmmaker has remarked. And at 7:00 p.m., a panel discussion with Schneemann, Sprinkle and Augsburg will take place on the topic of "Looking at Men: Then & Now."
Thomas Gladysz is a San Francisco arts journalist. A syndicated critic, his articles on the visual arts have appeared in most Bay Area newspapers. Gladysz has also been a columnist and contributor to regional publications including "ArtTalk" and "PhotoMetro." In 2010, his interview with Allen Ginsberg on the subject of photography was included in "Beat Memories: The Photographs of Allen Ginsberg" (National Gallery of Art).

Related
Popular in the Community