On May 29, 2016, on Philadelphia's Main Line, I had the opportunity of attending a dazzling show of artist Ann La Borie's most recent work. La Borie is showing her lyrical mono-prints at the St. Asaph Gallery in Bala Cynwyd, Pa.
La Borie, a mother of two talented grown offspring has never given up on her identity of being an independent woman with talent as an artist which she was driven to express. After the cooking, cleaning,childcaring, it was time for La Borie's creativity. What a treat for us all! An inspiration. Her many years as an interior designer in an architectural office are reflected in her art. Using these experiences she creates exciting compositions by combining organic and geometric lines and the skillful use of pattern and color.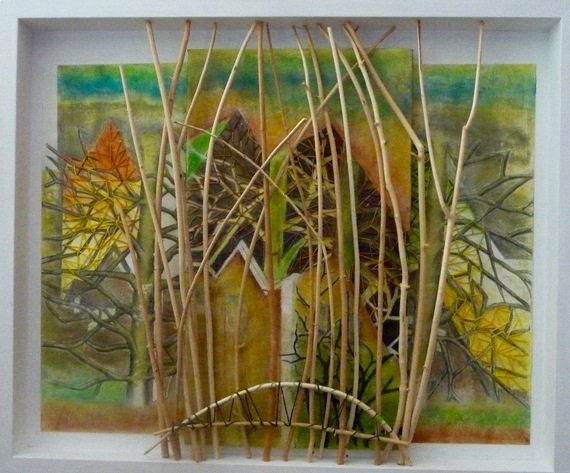 When La Borie lived in Nova Scotia's Cape Breton, she created books of photography of the plant life that surrounded her cottage. Here, inspired by nature, she began drawing on mylar. She used a straight edge or other drafting tool for geometric objects.The line was fluid and less predictable when she drew an organic shape such as a tree or vine. Using an exacta-knife she cut into the mylar to make a stencil when the drawing was complete. By placing the stencil over ink coated plexiglass only the ink was transferred onto paper. The emerging mono-print was the mirror image of what was on the plexiglass. And Voila! A distance was opened for possibilities of invention.
La Borie uses other mediums such as charcoal, colored pencils, ink, soft and oil pastel on the new print. For instance the image of a vine or a window may remain or it may become an abstracted part of a pattern or rhythm.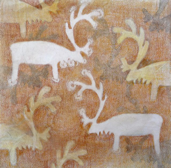 La Borie's work in clay, mixed media, collage, pastels, charcoal and conte crayon on mylar has been shown at: The Muse Gallery, The Plastic Club, The Main Line Art Center, The Schuylkill Center, Saint Joseph's University, The Clay Studio, Post Open Studio Tours and The Pennsylvania Academy of Fine Arts.
Most recently La Borie embellishes her work by sewing or weaving in thread or yarn. Surprise is a welcome by product of this mixed media and can lead to unanticipated results. Just as La Borie's life may be an unanticipated result of a life well led. She is a role model for women who have married, had children and not given up on their own creative muse. Life goes on for women at all stages of life and Ann La Borie is living proof of this.
Brava to Georgia O'Keeffe, Picasso's mistress Francoise Gilot, and Ann La Borie.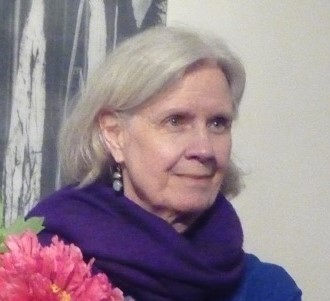 As was written in comments about her art in the guest book, "Undervalued." So, folks, run don't walk to the Aspah Gallery, Bala Cynwyd, 27 Conshohocken State Road, Pa. M-F 9-3. See La Borie's art --on display until May 29 --for a real treat and motivation if you feel you need a kick start for your creative muse.
Calling all HuffPost superfans!
Sign up for membership to become a founding member and help shape HuffPost's next chapter