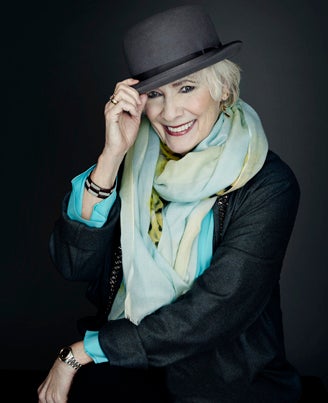 Just after delivering a dreamy version of the Jerome Kern/Ira Gershwin ballad, "Long Ago and Far Away," the legendary and seemingly eternally young performer Betty Buckley almost welcomed her opening night audience to The Bottom Line, before laughing and acknowledging her near mistake. It was an understandable slip—many of her loyal fans at Joe's Pub had no doubt followed her from at least as "long ago and far away" as that mythic West Village venue where she performed for many years.
In "Story Songs #2," her fourth show at Joe's Pub at the Public (she'll be performing two shows a night from October 12-15), the actress and singer exemplified both versatility and fearlessness. Versatility because she covered a diverse range of musical genres, including rock (Steely Dan and Lisa Loeb), pop (Paul Simon, Joni Mitchell, and Mary Chapin Carpenter), Broadway (Jason Robert Brown), and the Great American Songbook (Kern/Gershwin and Johnny Richards/Carolyn Leigh), with her old friends T Bone Burnett and JD Souther thrown in for good measure. Fearlessness, because "Story Songs #2" presents all-new material—much of it complex and some of it not easily accessible—rather than relying on her "greatest hits" or tried and true songs from her 17 albums or award-winning Broadway roles. Buckley is an artist who admirably continues to push her own limits, to creatively grow and explore, providing her audiences with both inspiration and entertainment in the process. (The plan is to release "Story Songs #2" as a follow-up album to her nationally-acclaimed "Story Songs").
After a moody, bluesy instrumental opening number, Oregon's "Ecotopia," that showcased the virtuosity of her four top-notch backup musicians (Grammy-nominated musical director/arranger Christian Jacob on piano, Tony Marino on bass, Oz Noy on guitar, and Dan Rieser on drums), Buckley took the stage. Dressed in a chic black pant suit over a hip camo-patterned top set off by her signature white pixie haircut and sparking eyes, she launched into Steely Dan's "Any Major Dude Will Tell You." Deeply feeling the lyrics, she used the song to convey a message of hope during dark times: "Any major dude with half a heart surely will tell you my friend; Any minor world that breaks apart falls together again. When the demon is at your door, in the morning it won't be there no more. Any major dude will tell you."
Buckley continued her "hopeful" theme with a new song written by Tony Award-winning composer Jason Robert Brown. Simply entitled, "Hope," Brown wrote the song when he was distraught the morning after the 2016 election. The closing lyrics are: "When life is crazy and impossible to bear, it must be there. Fear never wins. That's what I hope. See? I said 'hope.' The work begins." This song was an example of the "newness" of "Story Songs #2." Although some of the pieces are fairly well known—for example, "Quiet" by Paul Simon, "Shades of Scarlett Conquering" by Joni Mitchell, and two Steely Dan songs—others, like "Hope," are relatively unknown. However, thanks to Buckley's heartfelt and articulate expression of the lyrics, the emotions behind even the more unfamiliar material shine through.
One of the evening's highlights was "Falling in Love," a charming Lisa Loeb song of lost love that suited Buckley's voice perfectly. When she sang the wistful lyrics, "The time between meeting and finally leaving is sometimes called falling in love," accompanied by the sad twang of Oz Noy's guitar, she created a memorably emotional moment that clearly moved the audience.
While overall, "Story Songs #2" leaned toward quiet and thoughtful lyrics, Buckley did rock out on a couple of songs, notably Steely Dan's "Don't Take Me Alive," (aided by the skillful shredding of guitarist Oz Noy and the other band members), which she cheerfully acclaimed as her "favorite driving around Texas song." Another great rock number was Mary Chapin Carpenter's audience-pleasing "I Feel Lucky," which Buckley ended with a joyful "Woo!" showing that she's still got it going on, nearly 50 years after she made her Broadway debut in the musical 1776.
Buckley closed the set with JD Souther's poignant "Prisoner in Disguise," a song originally recorded by Linda Ronstadt. Buckley confided that she'd sung "Prisoner" publicly only twice before: once at The Bottom Line and once in a limo in New York City, to a young actress named Gilda Radner who was saddened that although she had just been hired to star in a new TV show called "Saturday Night Live," her friend Bill Murray hadn't been (yet). As Radner lay with her head in her lap, Buckley crooned to her: "The city is no place to hide in. Everybody knows your number. And you know that you could never be alone if you tried…You must be a prisoner in disguise." The reminiscence of this sweet, long-ago moment provided a touching ending to an intimate, emotional evening.
Ella Fitzgerald once said, "The only thing better than singing is more singing." Fortunately for her fans, Betty Buckley keeps on singing, taking chances, exploring new artistic territory, and yes, getting better.
For more information about Betty Buckley, visit http://www.bettybuckley.com/
Related
Popular in the Community